LP absolutely loves school and each day she comes with with more news, things she's made and activities to carry on at home. She's a whirlwind of energy after a day at school with so much to tell us and so much to share. A couple of weeks ago she came home with something extra – Barnaby Bear, who had come to visit for the weekend.
Barnaby Bear came with his own book, a diary of his year, spending time with a different family each week. It showed photos of smiling children, lots of adventures and one very loved bear. It was clear that LP wanted to show Barnaby just what a weekend with us was like – and I'm glad it was a weekend we had plans!
LP put caring for Barnaby at the top of her priorities for the weekend, changing him into his pyjamas each night, cleaning his teeth and letting him sleep in her bed before getting him dressed again in the morning.
She spent time introducing him to Little Man and they all played together at home, relaxing together and watching TV together. Barnaby slotted right in to our family life for the weekend and he was excited for our big day out on the Sunday.
We took Barnaby to Chiltern Open Air Museum with us and he loved riding on LP's lap in the car before spending the day seeing the sights from the comfort of his pushchair. Little Man found him a stick man friend and the children explained everything to Barnaby, what they could see, the things they enjoyed, involving him as much as possible.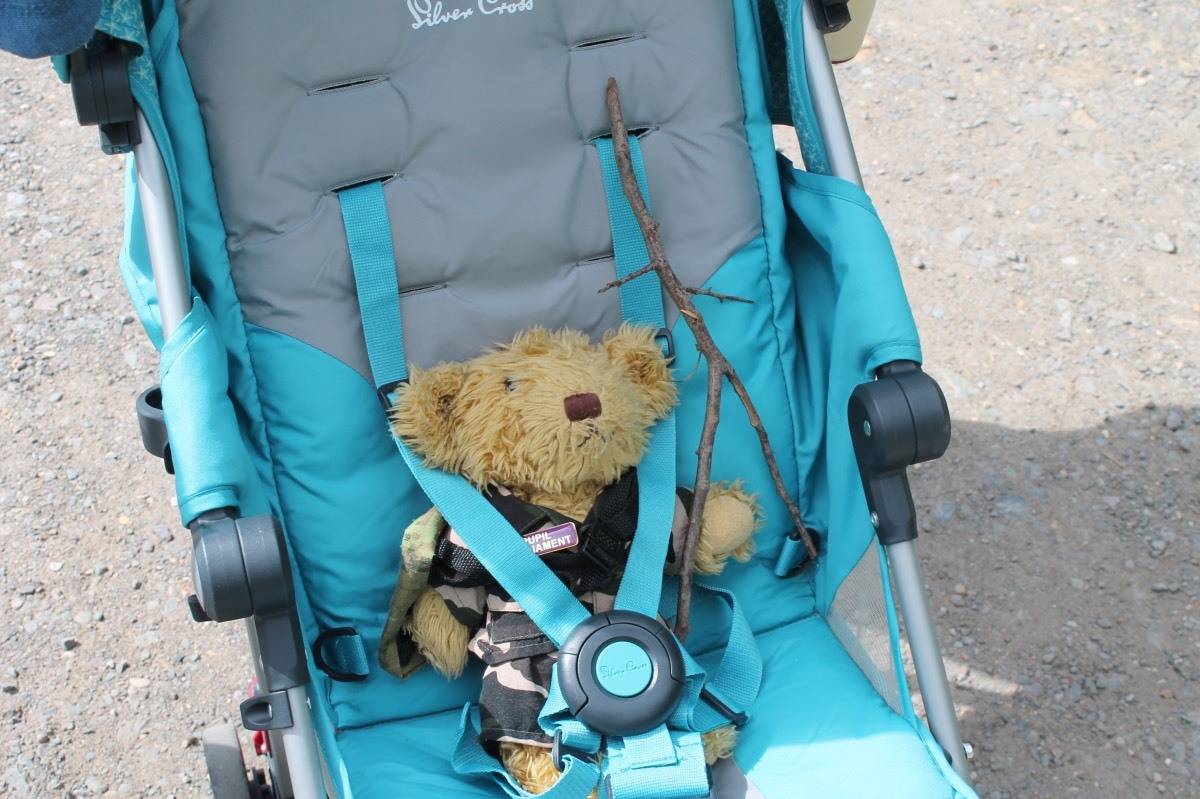 LP made sure she involved Barnaby in everything, bringing him into photo opportunities, going in the adventure playground with him and even sharing her strawberry ice cream with him. She loved having his as company for the weekend.
On Sunday night when Barnaby had gone to bed for the last time it was down to me to fill out Barnaby's diary, talk about the things we had done and print photos to stick in – all ready for the teacher to tell the class about on Monday.
I had mixed emotions filling the book our – writing adventures that a stuffed toy had been on – but looking at LP's face in the photos, seeing how happy she was and knowing how hard she had worked to make sure Barnaby had a lovely weekend – I couldn't help but smile.
What a lovely activity for the school to arrange. How much thought went into it – to organise clothes, his own backpack, a wash cloth, toothbrush and his own diary to write it. Yes, it gave me one more thing to do on a Sunday night but it was something that made LP so happy – and every other child each weekend. Who knew that taking a much loved toy on a day out could be such a rewarding adventure?