*We were provided with this experience for the purpose of this post however all opinions are my own.
Last weekend we were invited by Activity Gift to have afternoon tea on the Thames as a family. We love afternoon tea but have never had it on a boat trip before so we were excited to get aboard and set sail!
What is Activity Gift?
Activity Gift are an online supplier of activity gift cards in countries around the world. If you're looking for a gift for someone, you can buy an Activity Gift gift card and the recipient can exchange it for an activity that is perfect for them, in a location that works for them too.
River Thames Afternoon Tea Cruise
One of the activities available is the River Thames Afternoon Tea Cruise. It includes traditional afternoon tea as well as a scenic boat cruise up and down the Thames.
The cruise is run by City Cruises and departs from Tower Millenium Pier, right next to the Tower of London. It's a great location, making it the perfect afternoon tea experience to add to a day trip to London or a weekend break.
The afternoon tea takes place daily with a sailing time of 3:30pm and boarding starts at 3:15pm. We arrived earlier and waited on the pier until the boarding time and it was lovely watching the boats go by.
Tables are allocated in advance so it doesn't matter what time you arrive, your table will be there waiting for you. One thing to note though is that window tables are only available for parties of two people – if you are booking the experience for a larger group than two, you will be seated further from the windows.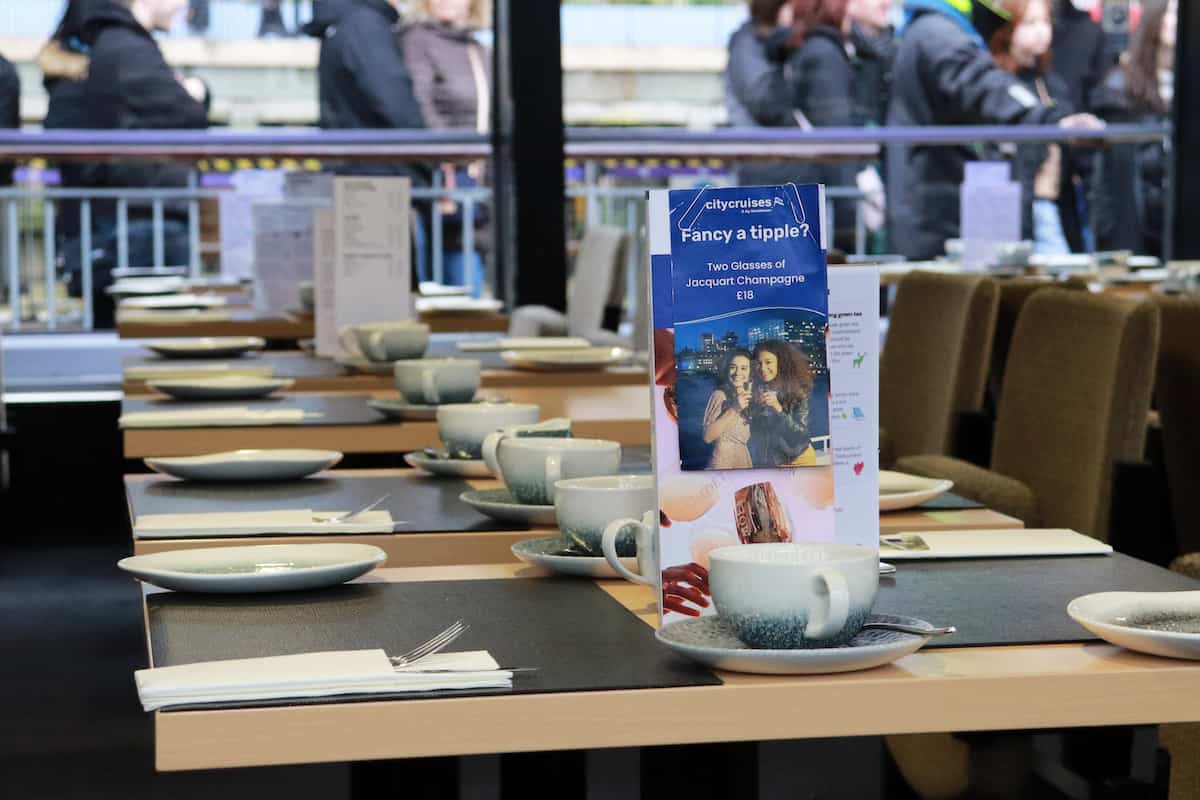 The afternoon tea
When we were seated on the boat our drinks order was taken, however it did take until we were part way through our afternoon tea for the drinks to actually arrive. There was a choice of Tea Pigs tea, coffee or hot chocolate with other beverages available at any extra charge.
It took awhile for the afternoon tea to arrive at our table too but all the special dietary requests were brought out first. When our food arrived we were surprised that the children and adults all had the same afternoon tea – we're used to the children getting a simpler afternoon tea but they were excited to have a bigger, grown up, afternoon tea experience.
The afternoon tea was served on beautiful tiered cake stands and included a selection of sandwiches, mini pastries and scones with clotted cream and jam.
The sandwiches were obviously freshly made, with lovely soft bread and a variety of fillings. Coronation chicken, smoked salmon and cream cheese, egg mayonnaise and simple cucumber sandwiches. They were a great way to kick off our afternoon tea.
Next, we had a tier of sweet treats. A lemon meringue tart, a jam filled cake and a strawberry macaron as well as a black forest filled chocolate boat to share. They cakes were delicious but it was strange having to share the boat between to of us as it wasn't very big to start with.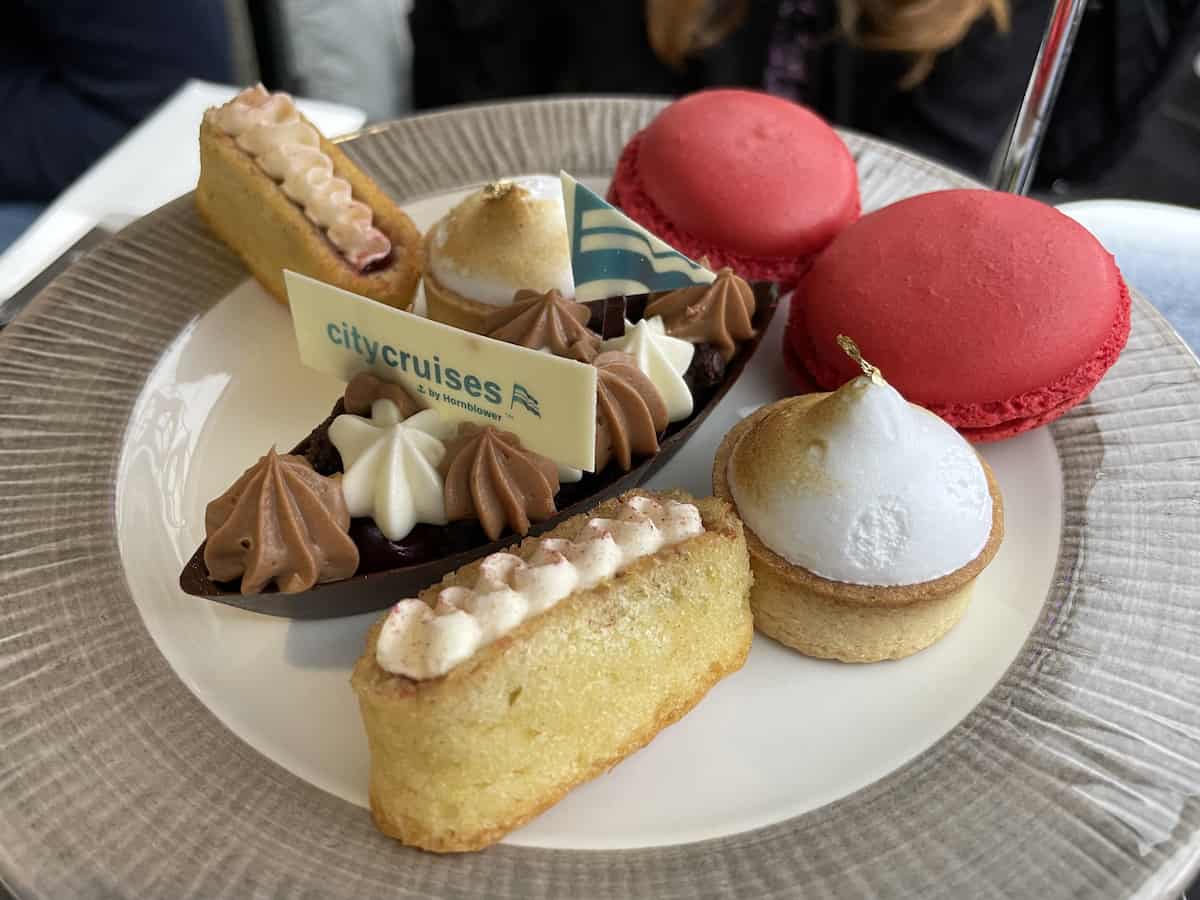 The afternoon tea finished with scones served with clotted cream and strawberry jam. The scones were lovely but very small and just one each. We are used to afternoon tea having two good sized scones per person.
The afternoon tea was lovely but a lot smaller than other afternoon teas we've had in London. The cakes were very much bite size and the scones were a little disappointing as they were so small but the sandwiches were perfect and overall we really enjoyed the afternoon tea.
We would have loved a menu with the afternoon tea. The spread we received was different to the menu online and we weren't told what any of the sandwich fillings or cakes were. A menu would have been lovely to peruse whilst we were waiting for the afternoon tea to arrive.
The afternoon tea cruise experience
During the cruise there was a recorded commentary playing however, it was very hard to hear it above the noise of the boat and the general hubbub of people talking. It would have been nice to have some background music and maybe a flyer with details of what we'd be seeing on the cruise for those who couldn't hear the commentary.
The cruise took us from the Tower of London, all the way to the Houses of Parliament before taking us back past Tower Bridge and on towards Greenwich before turning around and returning to the same pier we sailed from.
The whole cruise took just under two hours and we really enjoyed having a lovely new experience. It's definitely something different to do in London.
You can find out more about Activity Gift over on their website and you can find the Afternoon Tea River Cruise here.