Welcome back to another week of the Ordinary Moments. If you haven't joined in before this is a weekly linky that launches every Sunday morning and is open until midnight on the following Saturday. It's a linky that celebrates any ordinary moments in your life – or the not so ordinary some weeks too. Basically – anything goes. I'll be sharing and commenting on the posts that are linked up during the week and there's a badge at the bottom of the post if you'd like to add it to yours too.
We spent half term glamping in Devon and we did something we've never done before – cut the holiday short and came home. The weather really wasn't great for a holiday – with constant sideways rain and the strongest winds we have ever seen.
So, we spent three nights in our safari lodge instead of four, had two big days out in the drizzle and another morning at soft play and then we went home. The children were amazing throughout and just so happy to be somewhere together that they didn't complain once – and didn't mind coming home early either.
I think our break has put life into perspective for me. I feel incredibly lucky to have a warm home to come back to, to not know what it feels like to be really cold constantly and to be able to come inside and turn the heating on when the weather isn't great. Other people don't have that luxury and so our holiday wasn't what we expected but I did find it quite a grounding experience.
I can't wait to go back to Devon and Cornwall, to see more of the part of the country I love so much. But, I'll happily wait until spring before I venture that way again. I hope whatever you got up to that you had a lovely half term – and that back to school goes smoothly too.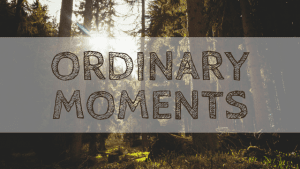 If you have an ordinary moment this week, come and link up – I'm looking forward to reading the moments that you share and will comment and share them on Twitter through the course of the week. Thanks so much for taking part.
You are invited to the Inlinkz link party!