Disclosure: We were invited on this break for the purpose of this review however all opinions are my own.
Sometimes it's so nice to have a weekend somewhere on a self catering holiday where you can just be together as a family, spending time together, switching off and just getting away from day to day life. Last weekend that is exactly the experience we had when we were invited to stay at Caalm Camp – and we can't wait to go back.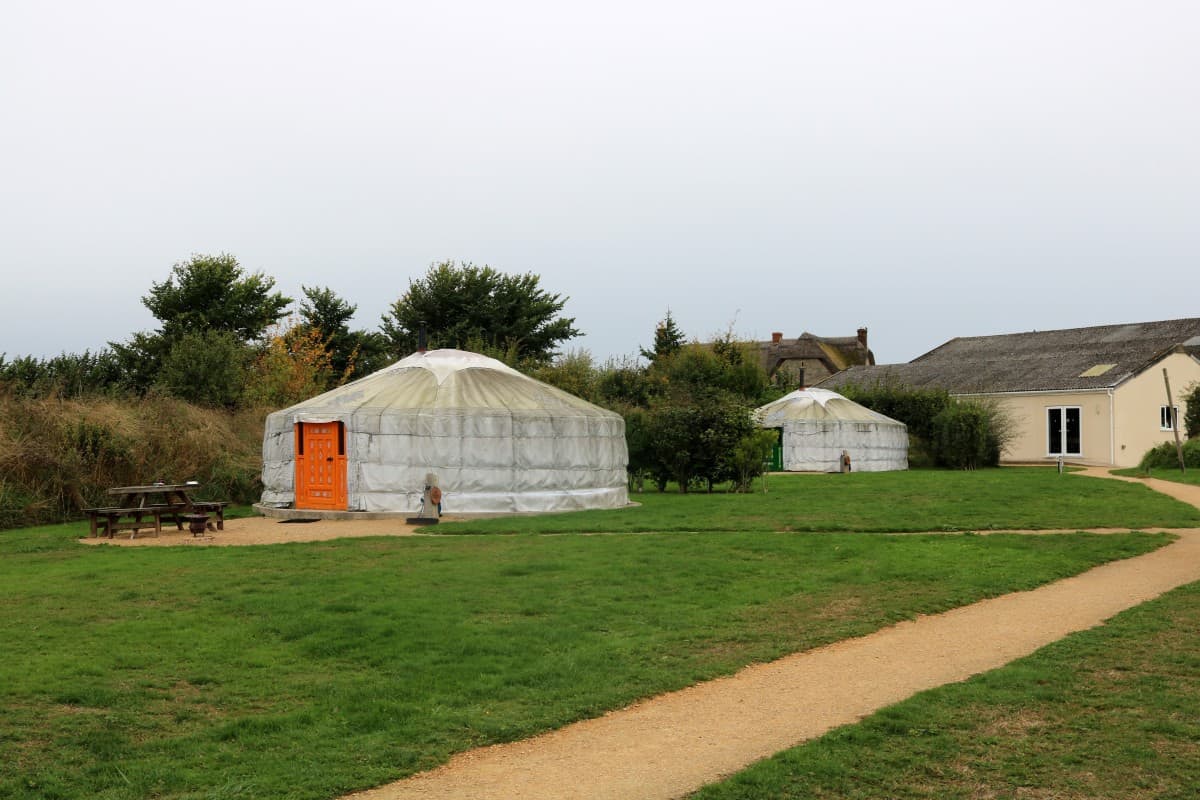 Caalm Camp is a collection of six yurts in the Dorset countryside, near Shaftesbury. We'd never stayed in a yurt before and didn't know what to expect but it's safe to say that our weekend was far removed from a typical camping experience – and was very much glamping at it's finest.
To give you all the home comforts you need, Caalm Camp has the Haybarn which houses individual shower rooms for each yurt, a fully equipped kitchen with two ovens and hobs as well as a cupboard and fridge for each yurt and also a big lounge and dining room full of seating, books, toys and even a TV and DVDs to watch.
It was so nice having our own bathroom where we could leave our wash bag and toiletries, locking the door when we left and knowing it was there to go back to whenever we wanted a shower or when the children needed to use the toilet. Having to take your wash bag with you to the shower block on camping trips – and even glamping trips – is something that no-one enjoys so Caalm Camp have made it so much nicer for everyone who stays there. The shower rooms were so much nicer than typical camping facilities too – it was lovely.
The yurt was absolutely beautiful. We had the furthest one away from the facilities which wasn't that far away at all but it meant we had maximum quiet – with no-one walking past our yurt and fields as far as we could see.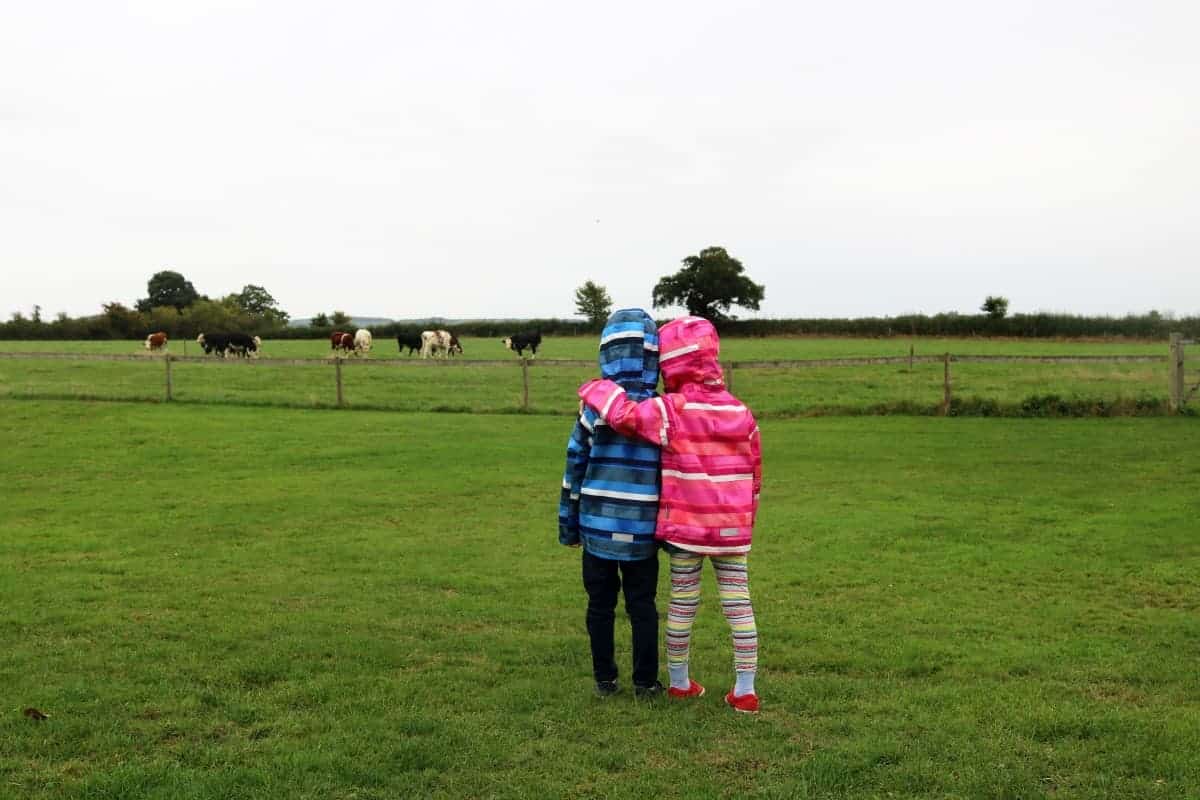 Our yurt was really lovely and traditional. It had a wooden door complete with a proper lock and the wooden interior was beautifully painted and decorated with wonderful designs. It had a huge bed for Dave and I, two day beds for the children and the yurts can accommodate two extra roll away beds on request. All of the beds had luxury hotel quality bedding with extra blankets too and storage drawers under the beds as well.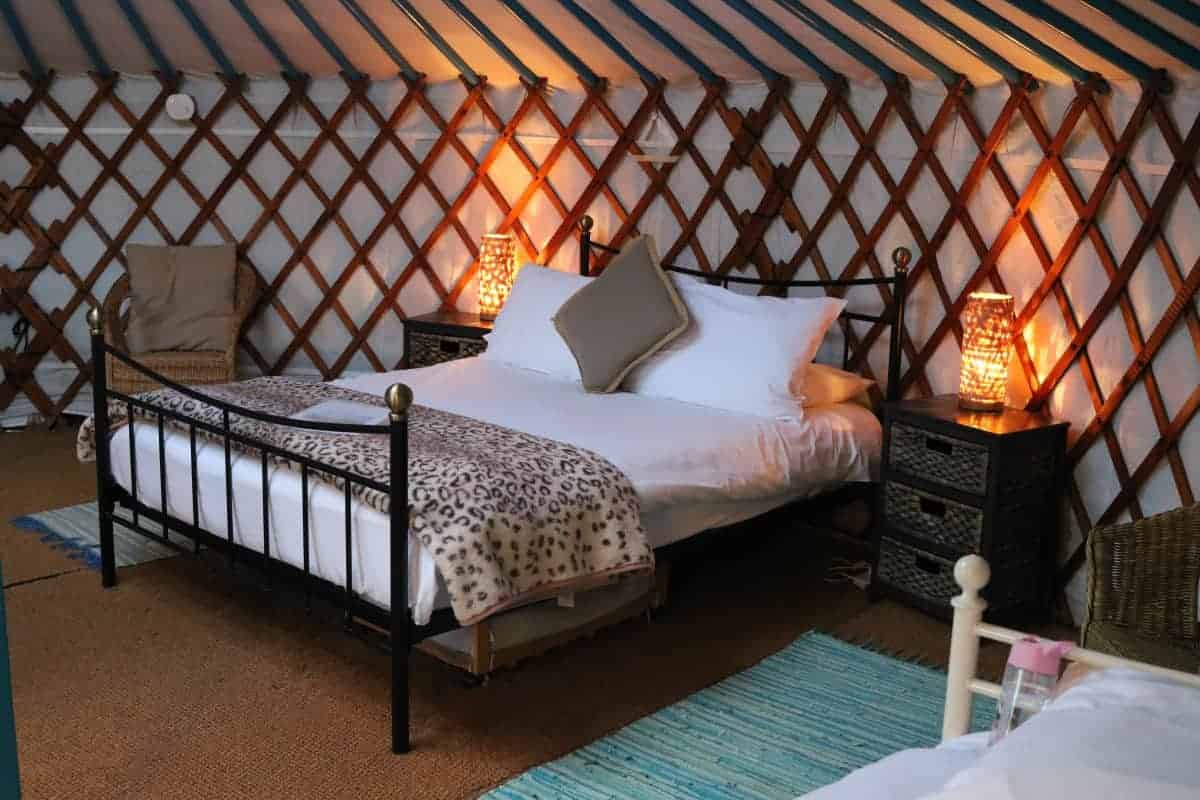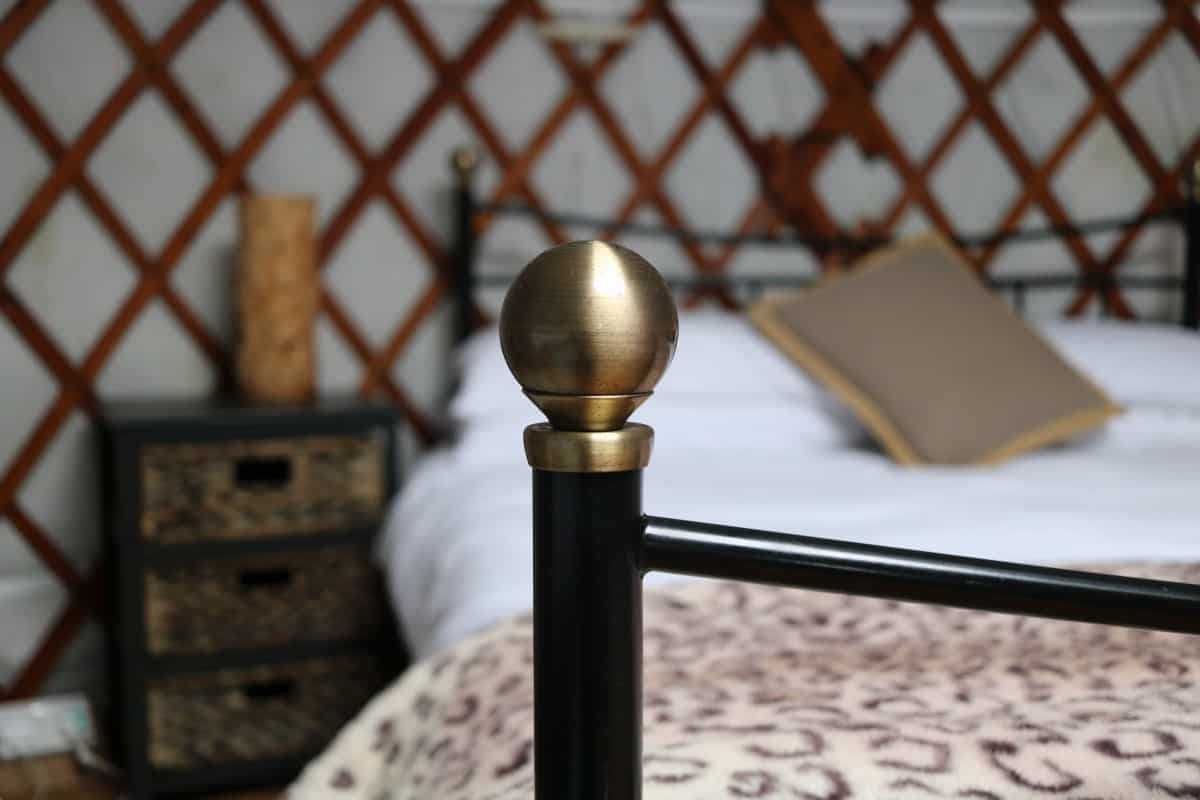 The yurt had electric lights and more plug sockets than we usually get in hotels – even ones next to the bed! It had coat hooks, a door mat and even a little kitchenette set up with a hob and traditional kettle to make cups of tea. There were a few utensils, pans, crockery and a washing up bowl meaning that you could make basic meals – soup or hot dogs – in the yurt if you wanted to. Outdoor shoes aren't allowed in the yurt so we took slippers with us to wear whilst we were inside.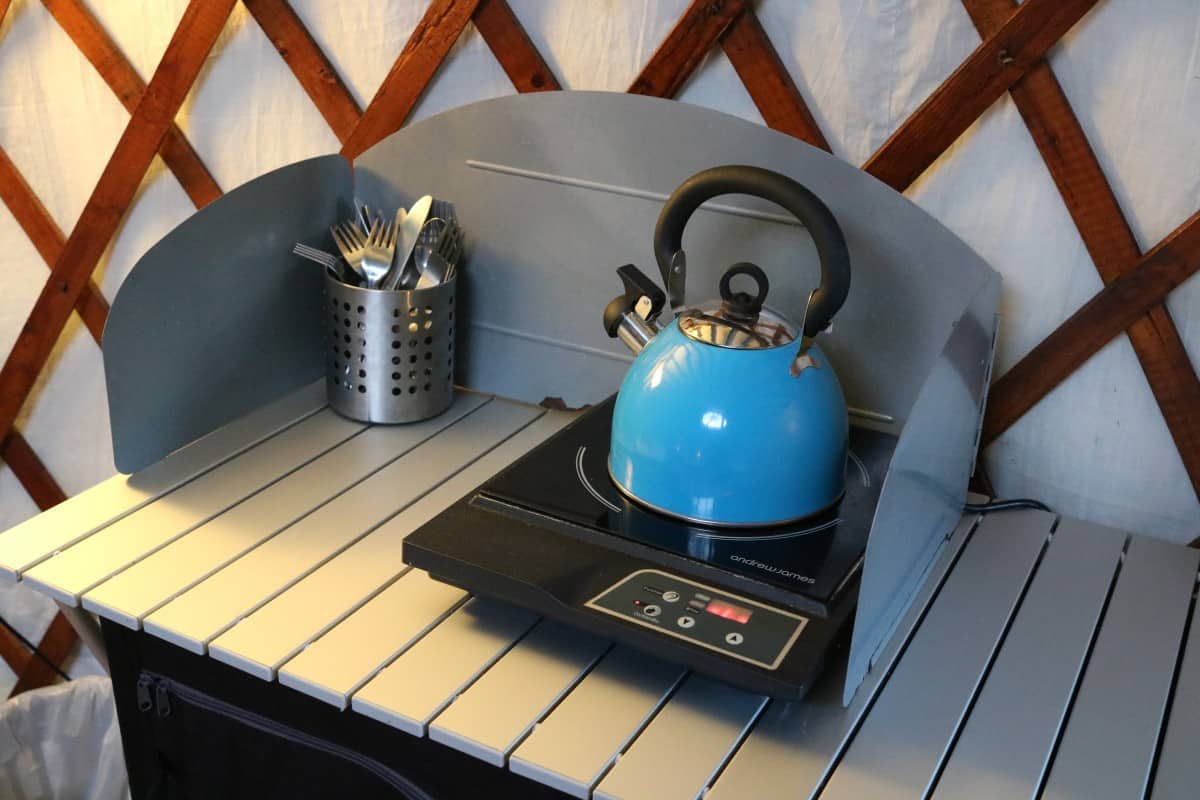 As well as the shared kitchen and hob in the yurt there was also a barbecue outside each yurt and a fire pit too – which we enjoyed toasting marshmallows on during our break. The Caalm Camp facilities gave us everything we wanted from a camping trip but with all the luxury of a high end glamping holiday. It was perfect.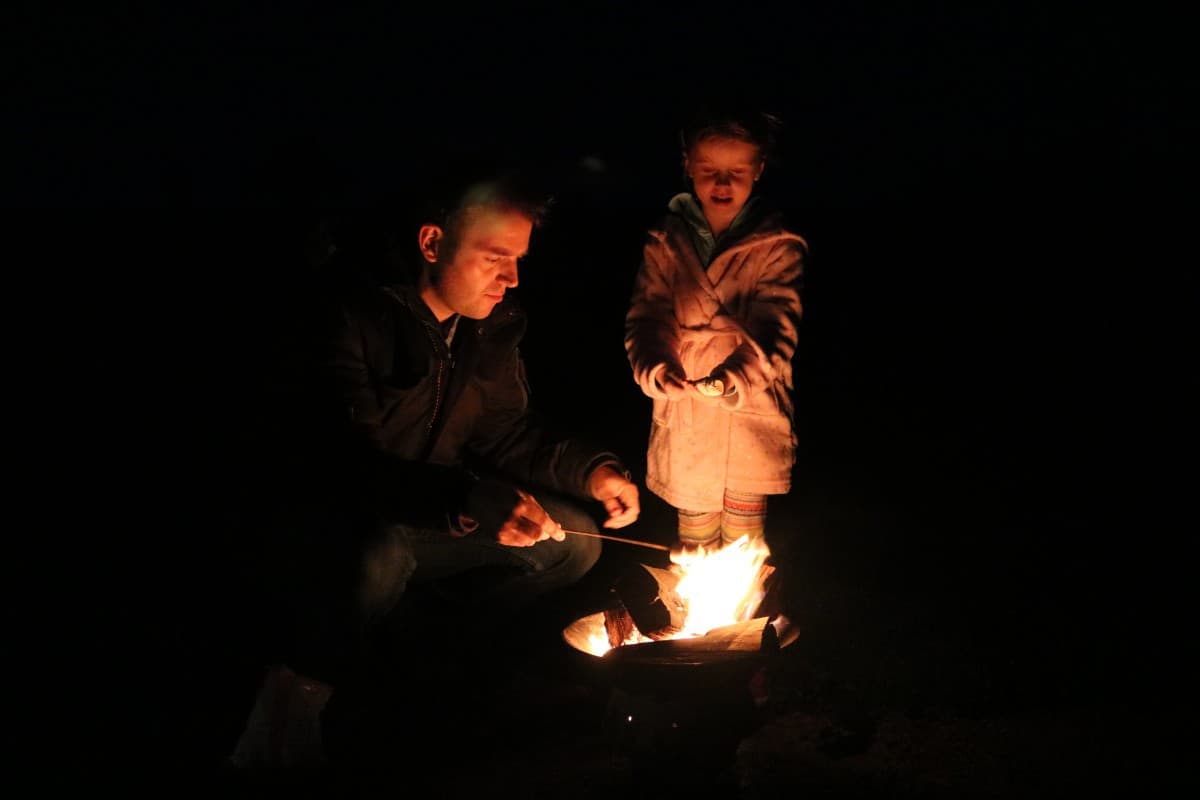 The yurt was heated by a wood burning stove in the centre which kept the yurt really warm. We had as much wood as we needed for the duration of our stay and Dave quickly mastered how to light the fire and keep it burning. We were given a fire lighter to start with and more fire lighters were 20p each with us only needing a couple for the whole weekend. The fire lasted really well overnight and we didn't feel the cold until we woke in the morning – when Dave swiftly put the fire back on again. In the colder months Caalm Camp offer buckets of coal for £3 each which would burn throughout the night, stopping the cold from being felt at all.
During our time at Caalm Camp we spent time inside the yurt relaxing and playing board games. It was the perfect base for a break away and even when the rain was at it's heaviest we didn't notice it at all – aside from the relaxing pitter patter noise on the yurt roof.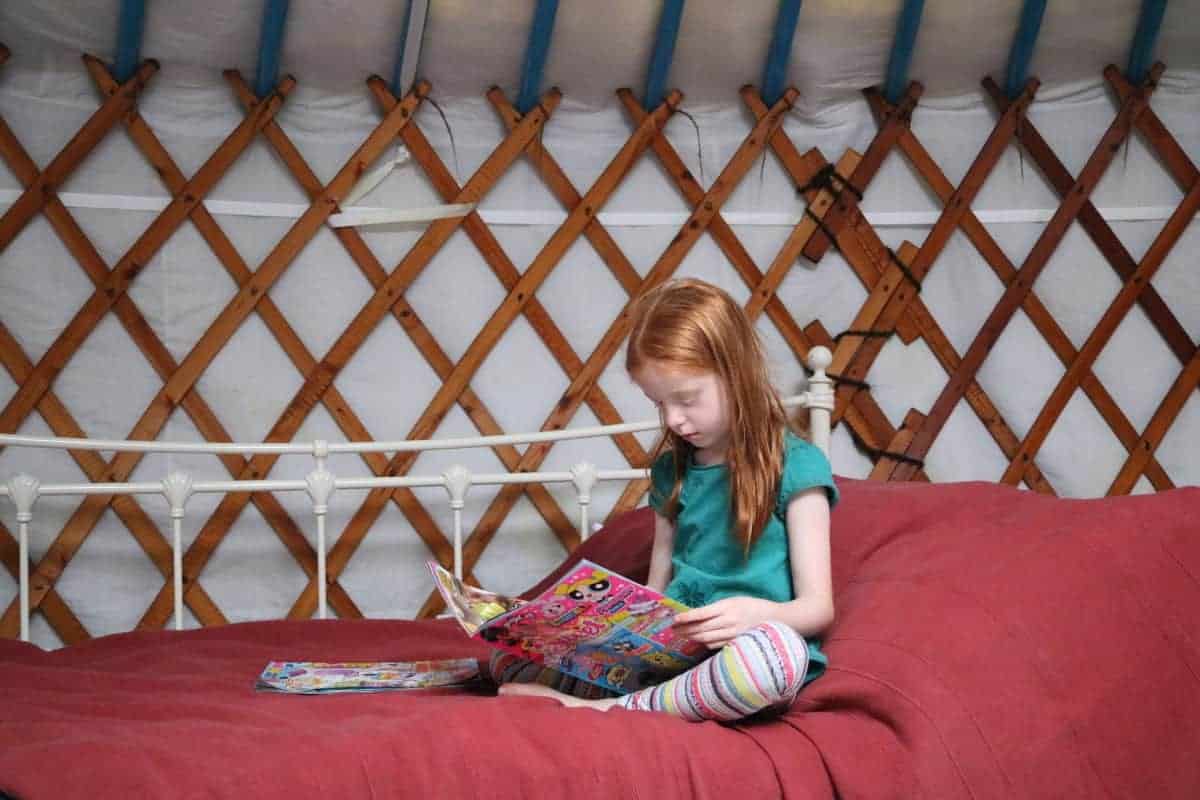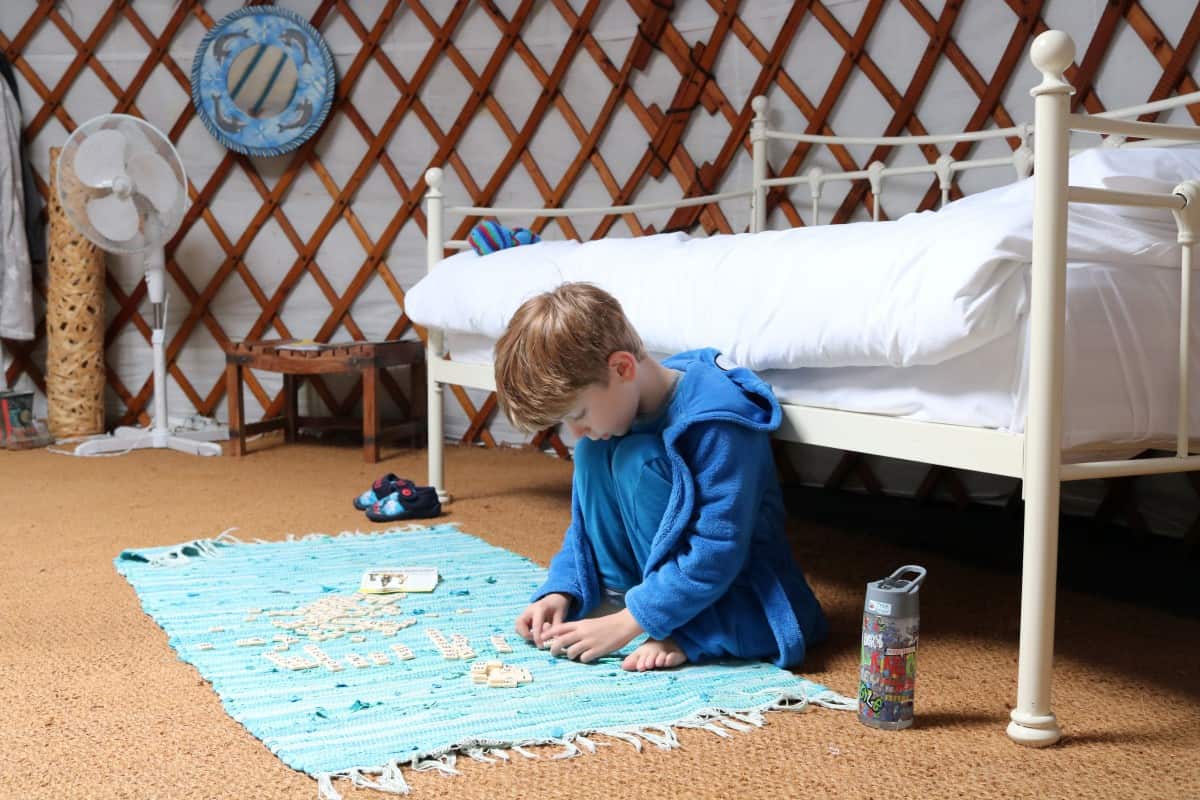 There was a fantastic children's play area and trampoline right opposite our yurt as well as an area with a playhouse, ride on vehicles and a sandpit next to the Haybarn. Caalm Camp also had a pizza oven for sociable evenings when the weather's nice and plenty of shared space – with a communal fire pit and lots of deckchairs to sit and relax whilst watching the stars in the evening.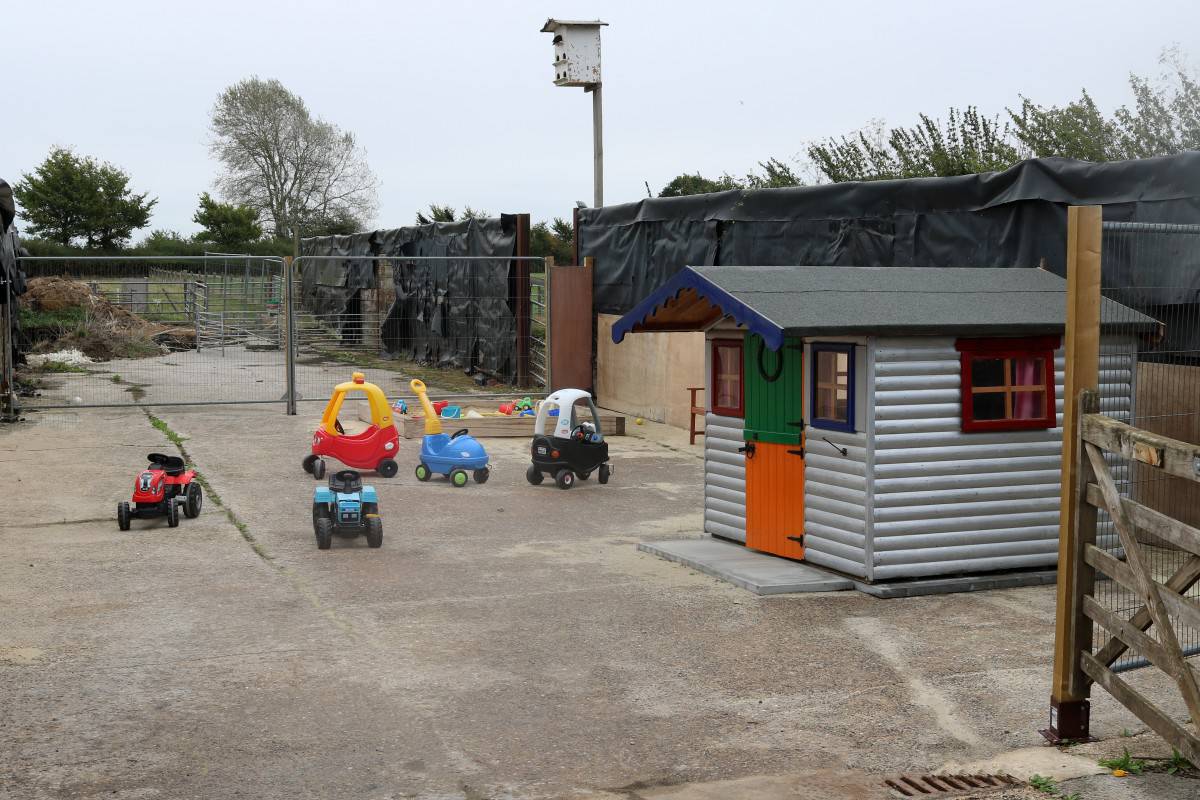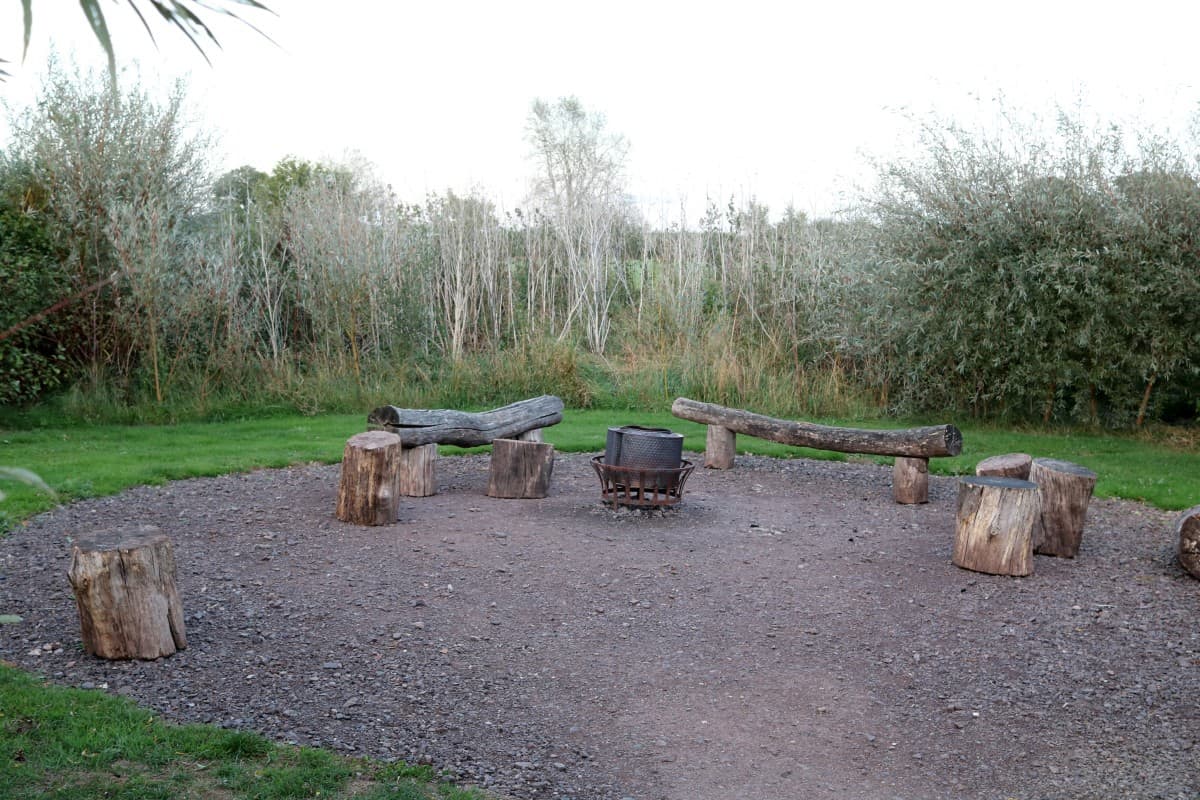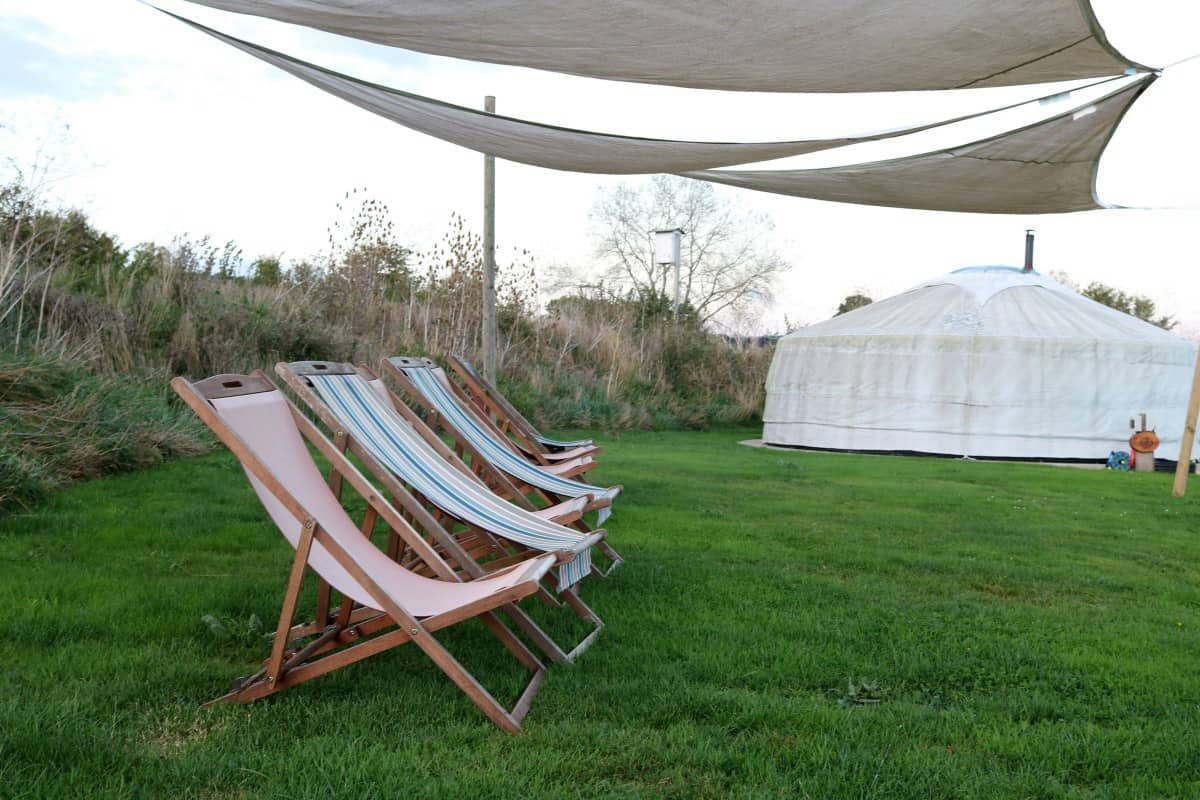 As well as the kitchen and living areas in the Haybarn building, Caalm Camp also has a barn attached with table tennis and pool tables as well as another seating area. The whole main building worked really well and is such a fantastic communal space and a great escape when the weather's not at it's best. One thing to bare in mind though is Caalm Camp does allow group booking for family gatherings or hen and stag parties which don't have to book exclusive use. There was a family gathering whilst we were there – four yurts celebrating their Nan's birthday – and it seemed like they had such a wonderful time celebrating and enjoying the communal space. However, using the communal facilities whilst not being part of their family gathering did at times feel like we were encroaching on someone else's holiday.
We slept so well in the yurt, with literally no noise overnight and just the sound of the cows in the morning. The bedding was so thick, the fire lasted well and it really is one of the most relaxing places I have ever stayed – and such a novelty for the children. Also, the yurts are really well insulated from a noise perspective as when we were walking past the other yurts we could only hear the gentle hum of voices – none of the noise you'd expect on a typical camp site.
Ever since we got in the car to head home the children have asked to go back. They loved the slower pace that Caalm Camp gave us, they loved having other children to play with and they loved that they could go and play on the adventure play equipment whenever they wanted. Caalm Camp is a really safe and secure environment for children with fences all the way around. We saw children happily going from the main building to the yurts and around the camp, enjoying the freedom and independence it gave them.
Caalm Camp is everything we wanted from a weekend in the countryside with all the home comforts we could possibly need. It's clean, well looked after and loved by everyone who visits. If you're looking for a weekend away, surrounded by the great outdoors but still close enough to amenities then Caalm Camp could be the place for you. You can find out more over on their website.