Today all over the country children went into school dressed up to celebrate World Book Day. I have watched this day unfold over social media for the last couple of years and have seen parents plan, with dedication, their children's outfits.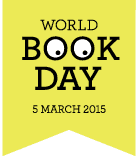 World Book Day celebrates the wonder of reading, books and authors with usually a week or so of events for the week around World Book Day and then a day of dressing up and fun for children everywhere. World Book Day was created by UNESCO and is a worldwide celebration of books and reading which is marked in over 100 countries all over the world. To put it bluntly, it's quite a big thing.
At a time when children across the UK often spend a chunk of their day watching TV and movies it is great to get them interested in books, to read a bedtime story and to turn the TV off for a while. For me this celebration is something that I can imagine embracing with LP and Little Man as years go by, planning their outfits and grabbing the opportunity to read new books and find out about new authors.
But, today, across social media I saw a huge divide in World Book Day costumes. There were a few parents who had spent time creating costumes that their children would love, of characters that their children had read about and enjoyed, characters that the children wanted to be and characters that the children proudly dressed up as this morning – holding the relevant book and having their picture taken out the front of their houses before heading off to school for World Book Day fun.
Then there were the other children. The majority who were in a superhero costume or yet another Elsa dress. The ones dressed as characters that they had only seen on the big screen, ones where they knew the cartoons they'd seen religiously, ones they had learnt the songs from with the help of the TV and ones that they'd only read about in books that had were published after the movies were a success – or ones that were once comic books that the children are not even aware of.
One day in a whole year is dedicated to the wonder of books and reading and I cannot be alone in feeling saddened that children are going to school dressed as characters from movies and not characters from the books they love. They could dress up as Winnie the Pooh, Harry Potter, a Dr Seuss character, the Gruffalo, Peter Pan, Alice in Wonderland, any of the Mr Men & Little Miss characters or any of the other wonderful characters that were created in the minds of great authors and immortalised in the pages of a book.
World Book Day is just that. A day. But a day celebrated by a big part of the world and one that I would love to see kids understanding, embracing and celebrating by reading a new book – not by going home and watching a movie.