When I was a child Easter wasn't really a big thing. I got a chocolate egg from my parents and my Grandparents bought me the latest Disney video – in the chunky purple case and with a free mug or cuddly toy. Roll forward 20+ years and Easter to me hasn't really changed although I have two little people who make it magical – the Easter bunny comes and leaves a few foil covered eggs and mini rabbits around the garden for them to find and eat throughout the following days.
I know, Easter is really a Christian celebration that stems from Jesus' death and resurrection – just like Christmas is about Jesus' birth. But, like many families, Easter to us is very much about hot cross buns, chocolate eggs and getting together as a family, enjoying the Bank Holidays and long weekend.
But this year I have noticed something completely different. This year Easter is apparently all about Alice in Wonderland.
We took the children to a local garden centre for afternoon tea with the Easter Bunny last week and the 'Easter Bunny' turned out to be the White Rabbit from Alice in Wonderland, accompanied by Alice and the Mad Hatter. Dave and I both asked each other why it was Alice in Wonderland? What did that have to do with Easter?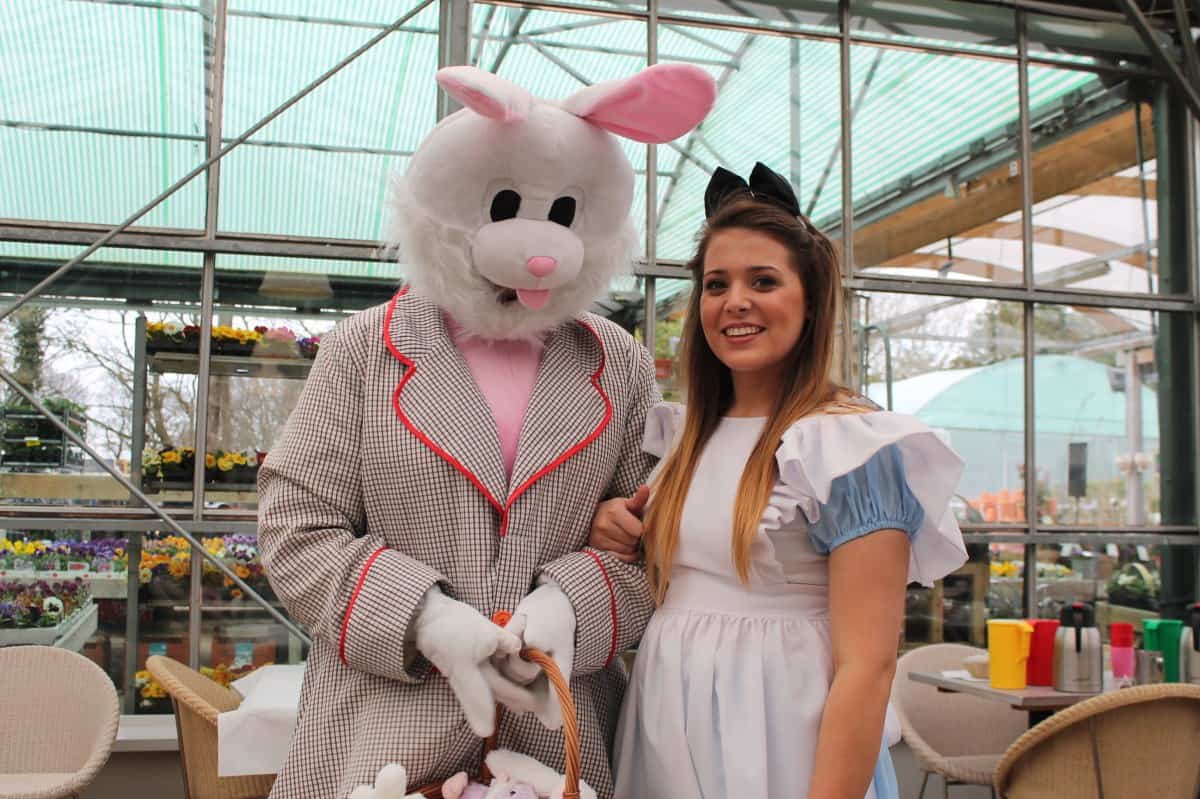 On Friday we went to Hever Castle for a family day out and took part in the Lindt Easter Trail. Part of the Easter celebrations were two Mad Hatter shows each day where the Mad Hatter stood and did magic tricks. The Mad Hatter was also walking around the grounds doing magic tricks for passing children throughout the day. Again, Dave and I asked each other what that had to do with Easter.
On Saturday I had to go to work for a few hours and our local town always has a great community spirit throughout the year. As I walked through the town to work I noticed that they had closed the High Street to have some Easter celebrations. So what celebrations were they having? An Easter Wonderland no less. Complete with a Alice in Wonderland themed area, Mad Hatter, Queen of Hearts and White Rabbit.
Then tonight I turned the TV on and TOWIE pops up. How are the TOWIE characters celebrating Easter? They are having an Alice in Wonderland themed Easter Egg Hunt.
Is it just me or is this Easter sponsored by Alice in Wonderland? I know that Alice in Wonderland has a White Rabbit in it but that isn't exactly the Easter Bunny. Why is everything Easter related this year turned into a rehash of the Lewis Carroll classic? Why not have a few Peter Rabbits around in little blue waistcoats? Or Thumper, Roger Rabbit, Bugs Bunny or Miffy? To be honest, if we're looking for iconic rabbits, that are in no way related to Easter, we may as well throw in the Energizer Bunny or even the Playboy Bunny for good measure!
The only thing that Alice in Wonderland has in common with Easter is a rabbit. Why can a rabbit and Easter eggs not be enough, and why do we have to bring Alice in Wonderland into it? Next year I hope we can go back to basics, give kids chocolate eggs and have an Easter egg hunt and leave Alice in Wonderland where it should be – on the bookshelf.