Disclosure: We were invited on this day out for the purpose of this post however all opinions are my own.
At the weekend we were invited to the Warner Bros Studios Tour London: The Making of Harry Potter to celebrate the launch of their new Mandrakes and Magical Creatures exhibition. We hadn't been since 2016 and the children were so excited to visit – especially as they are now massive Harry Potter fans.
How to get to Warner Bros Studios Tour London?
We drove to the Warner Bros Studios Tour and there's plenty of free parking on site. It's really well signposted from the M25 and M1 and it's only 20 miles from London. If you need to use public transport, you can get a free shuttle bus from Watford Junction station. This is included in the cost of your ticket and takes just 15 minutes with buses running every half an hour.
There are also bus transfers available from London Victoria and London Kings Cross stations. These are at an extra cost and organised by Golden Tours. You can find out more on the Warner Bros Studios Tour website.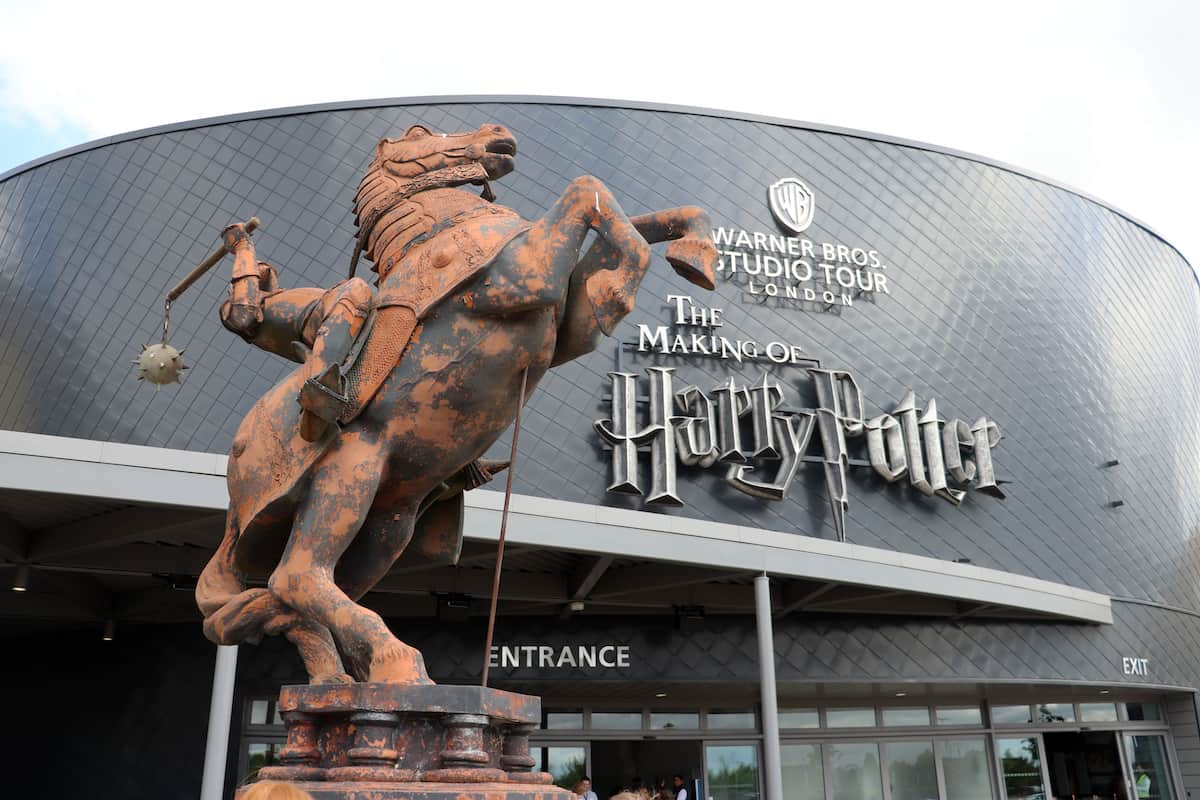 Arriving at Warner Bros Studios Tour
Tickets suggest that you should arrive about twenty minutes before your tour starts but you can arrive even earlier if you want to as there are plenty of places to grab some food or a drink with the Warner Bros Studios Tour complex before the tour starts and also so much to see and do.
When we arrived we joined a queue outside where a friendly member of staff scanned our tickets before we went inside and went through airport style security. This is always really reassuring and it was a quick and efficient experience.
After security there were toilets, a cloakroom that you can use free of charge and a couple of customer service desks to pick up audio tours or book afternoon tea. We didn't need anything so walked through into the big central hall dominated by the Gringotts Ukrainian Ironbelly dragon hanging above us.
In the hall we got to see costumes from the Fantastic Beasts movies, see a little glimpse of the Mandrakes and Magical Creatures exhibition and have a drink or snack if we wanted in the Chocolate Frog Cafe or the Hub Cafe at opposite ends of this vast entrance hall.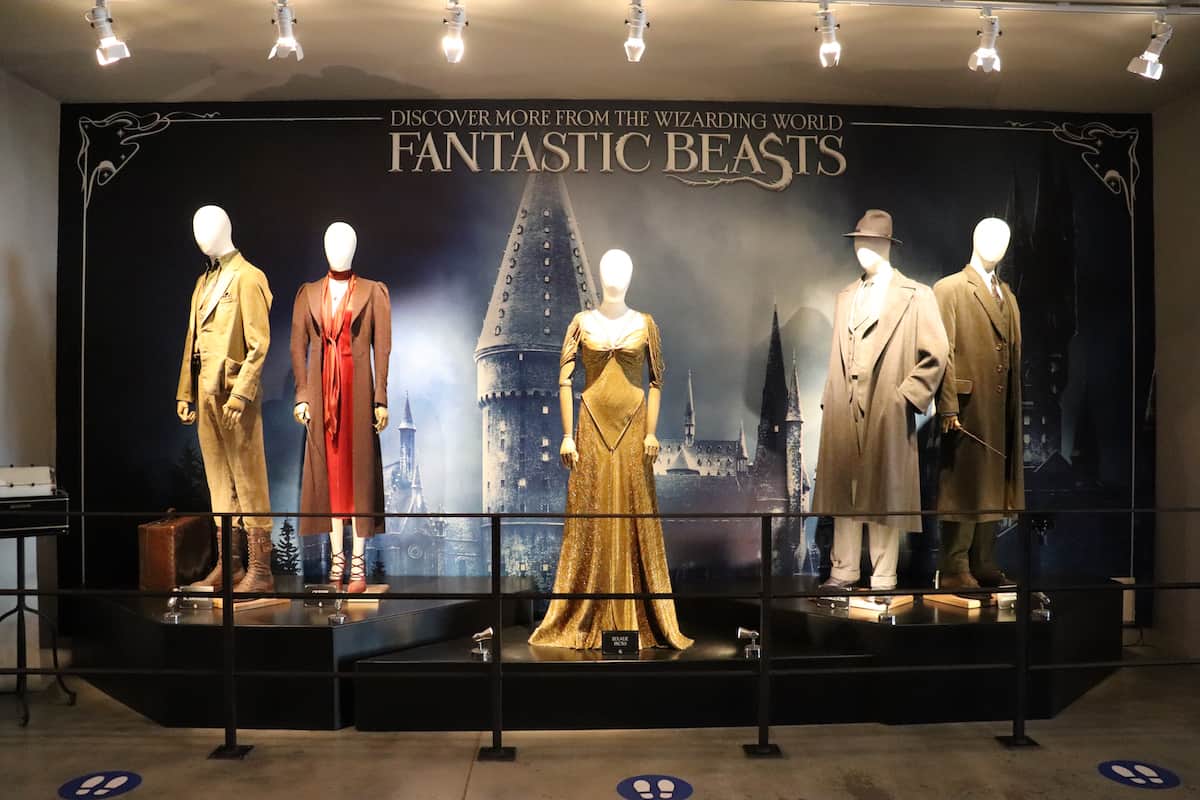 The Warner Bros Studios Tour experience
When it was just before our tour time we joined the entrance queue. This took us on a little journey through the movie franchise, past Harry Potter's room under the stairs and into a big holding room with walls covered in movie posters from each movie. When the room was full a film-like sequence started, telling us about the tour and what to expect.
We then went into a cinema room where we watched a film taking a look back at the Harry Potter movies, how they were made and all the work went into them. I found this quite emotional as Harry Potter has been such a big part of our lives – with it being 25 years since the first book was published – and it's quite surreal to think of life without Harry Potter in it.
Before we knew it the movie had finished and it was time to walk through the doors into the Great Hall. This is a part of the Warner Bros Studios experience that I will never tire of doing. The minute you walk through those doors and see the hall you are just blown away. It may not have that magical ceiling but it is still a room full of magic. It's an amazing space.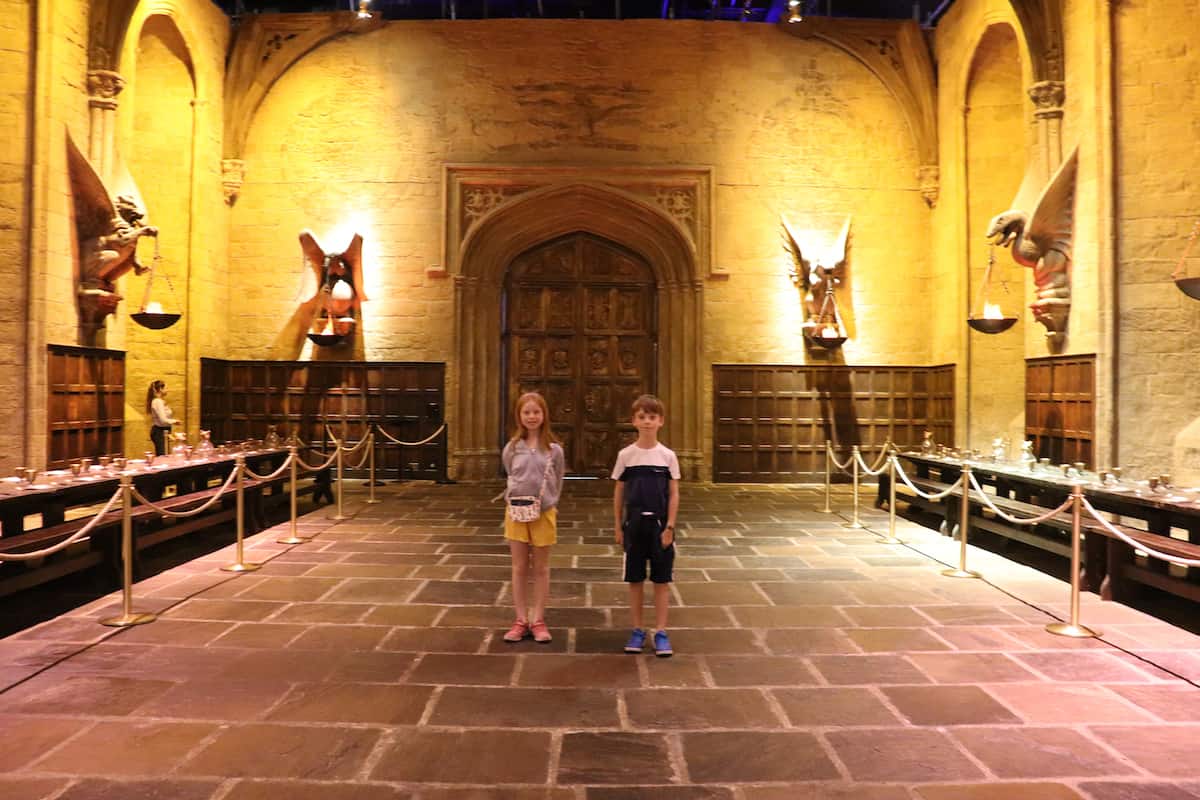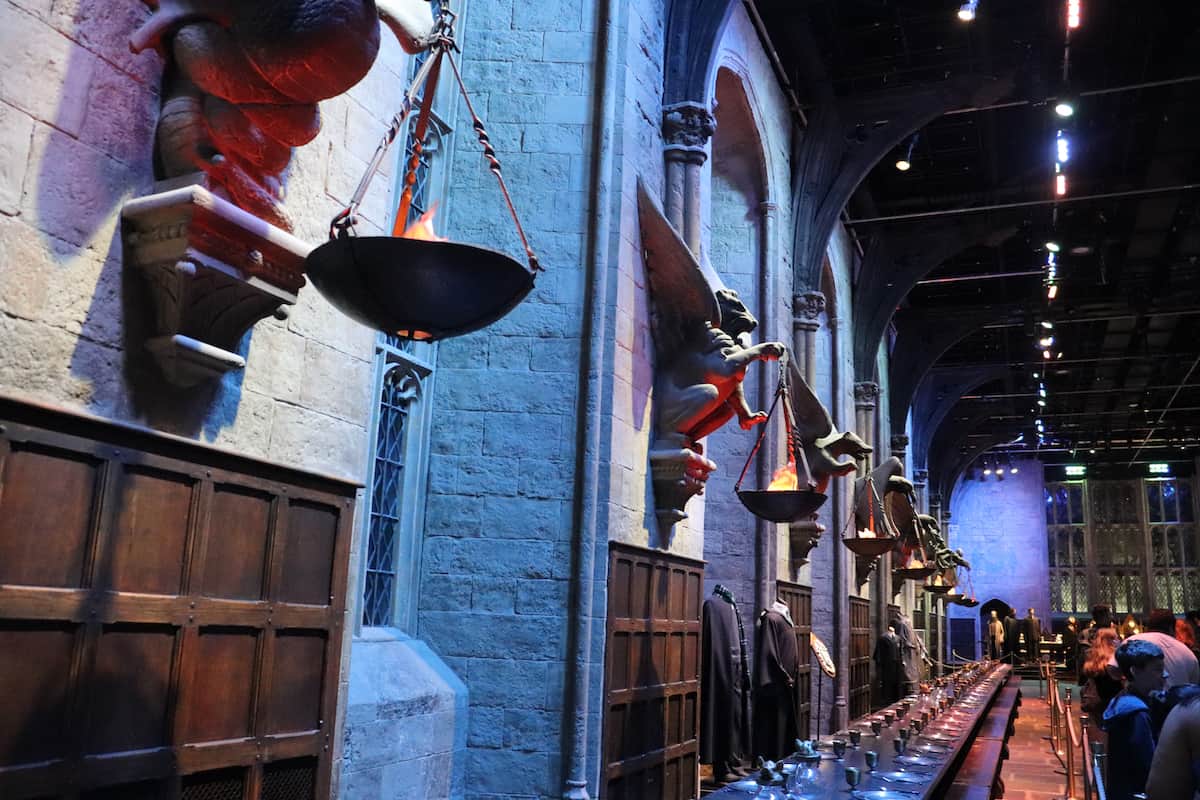 We took time looking at the costumes and props around the room, getting our first glimpse of Hogwarts along with the students and professors we knew so well. It was then time to head into the main exhibition.
The Great Hall is the only part of the Warner Bros Studios Tour where you have a set amount of time. Once you're through into the exhibition halls you can take as long as you like and move freely around. It's a place where you could easily spend all day.
The Warner Bros Studios Tour takes you through the Harry Potter movies, seeing the costumes, props, hair and makeup used in the movies. We saw costumes from so many different scenes in the movies and saw how each character's hair was stored – including eyebrows, beards and stick on moles!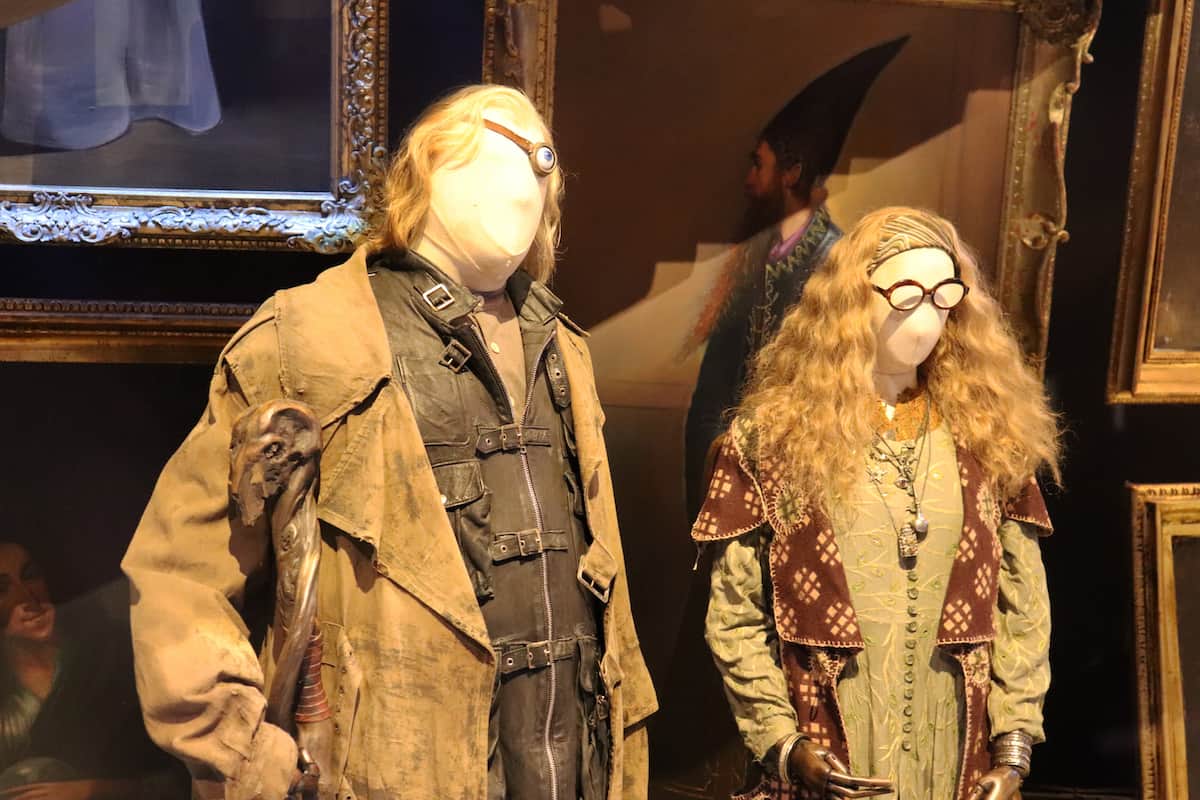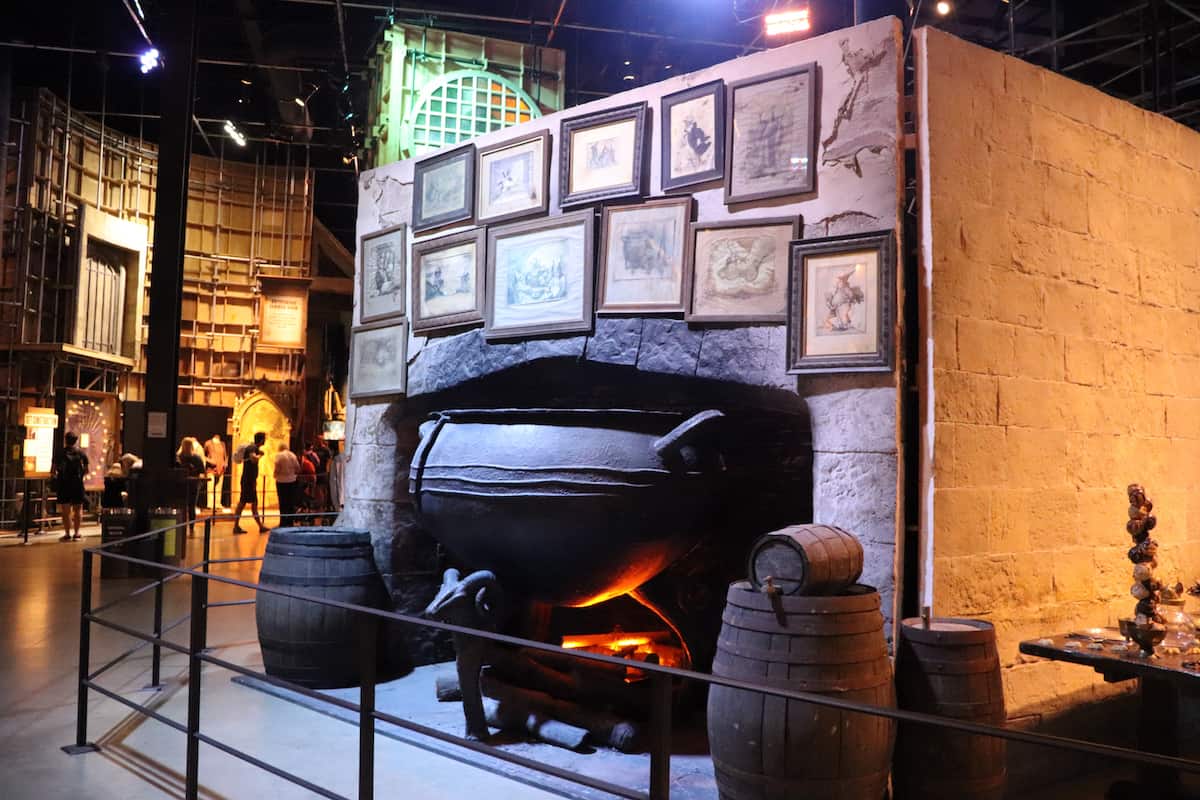 One of our favourite parts of the experience was seeing the Gryffindor dorm rooms and the Gryffindor and Slytherin common rooms. Being so close to sets we knew so well was amazing – and walking into Dumbledore's office was something else. It was just incredible.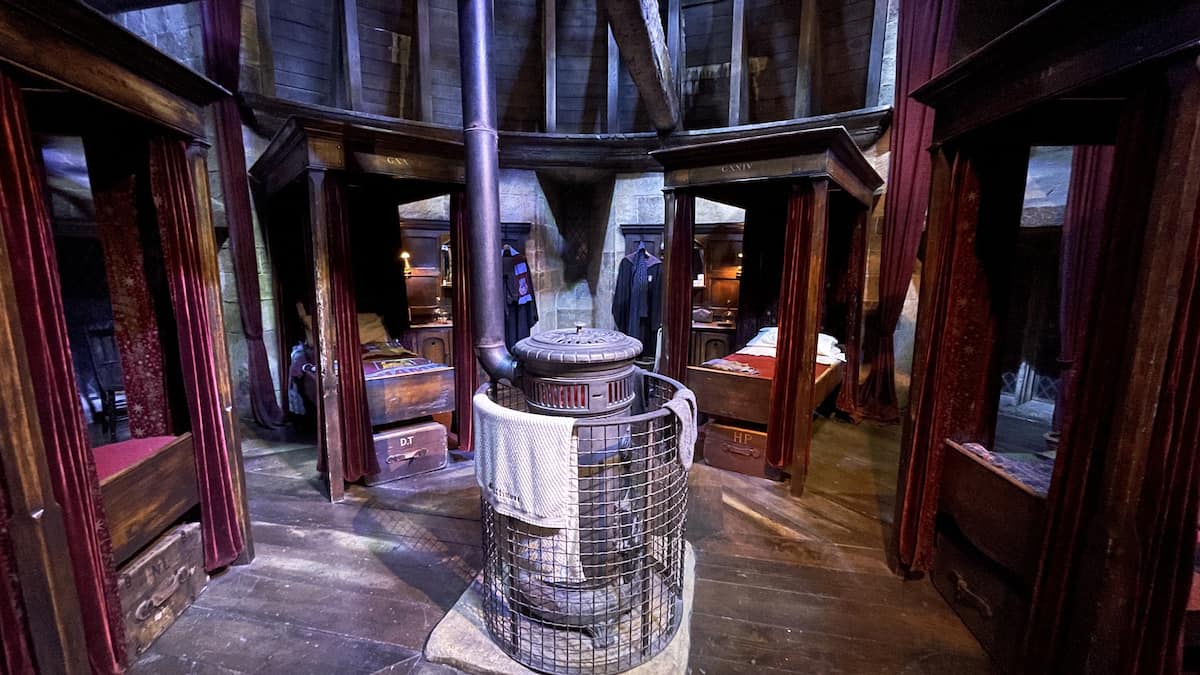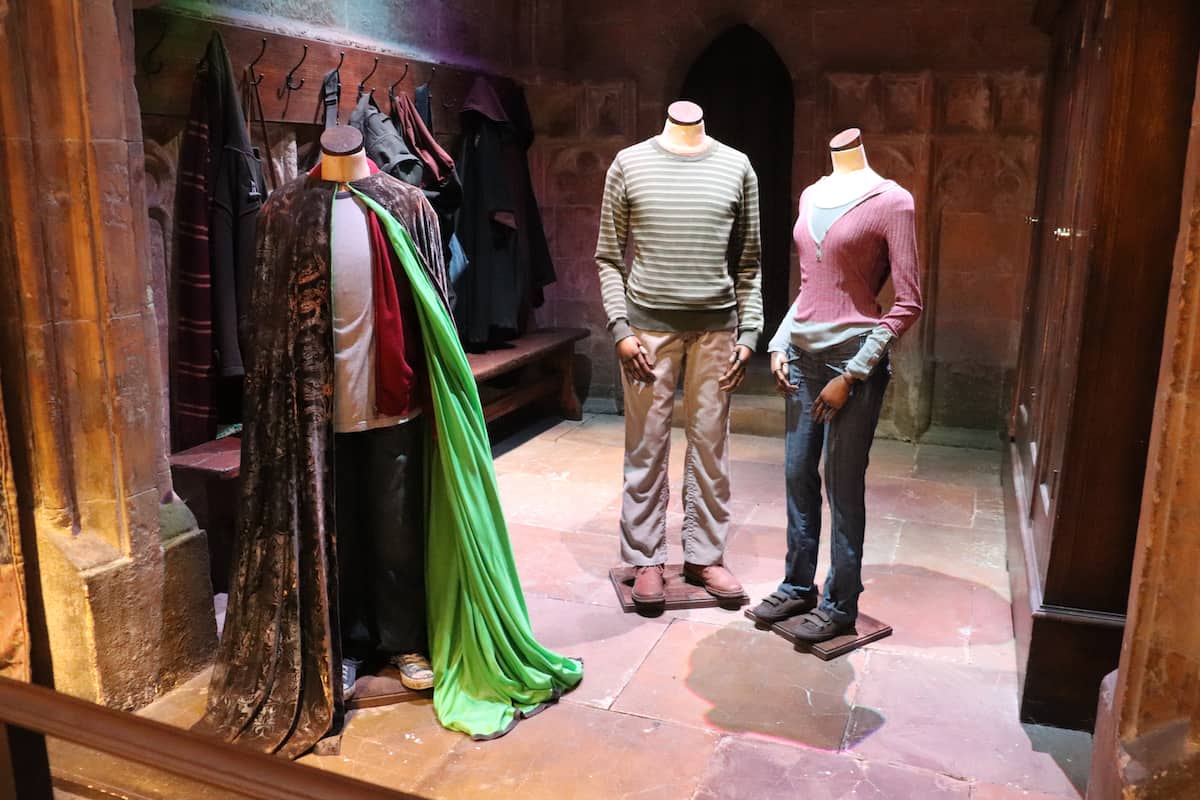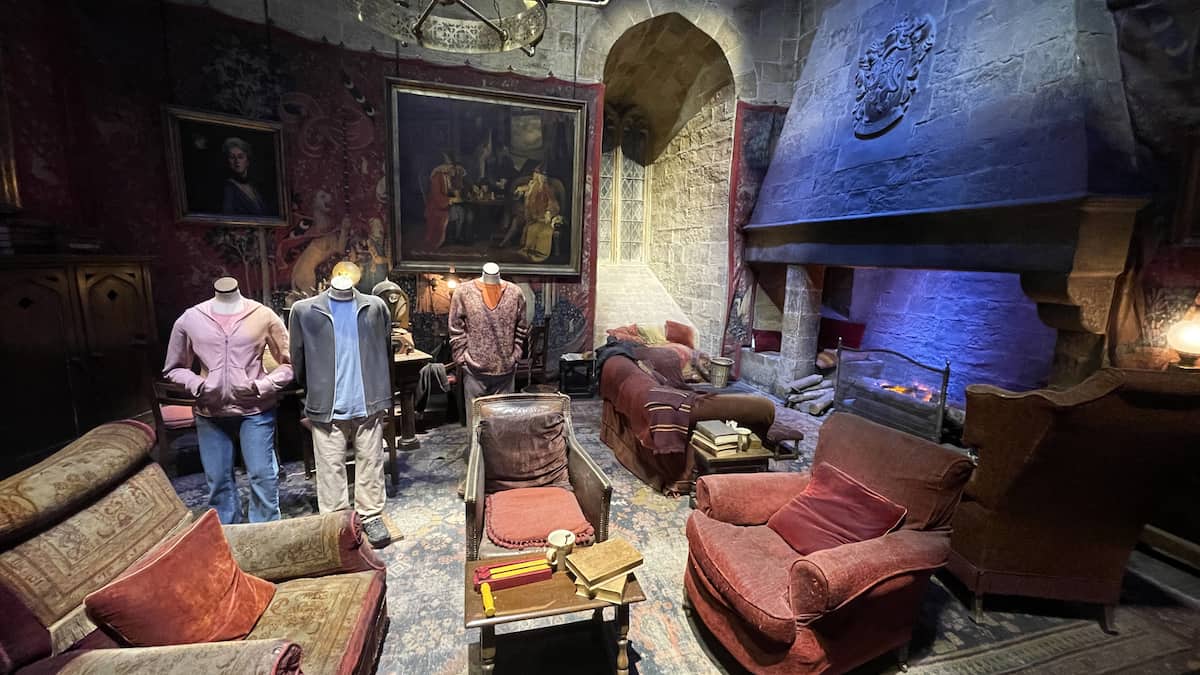 The children loved seeing Professor Snape's potions class alongside Hagrid's Hut, with Fang standing proudly at the entrance. We all learnt about the animals used in the movies – and the fact that Fang and Crookshanks were actually a few different animals all playing the same part. We've never noticed!
We got to make a broomstick rise up to our hand and the children really liked riding on a broomstick with a green screen in the background. Great fun where you can buy the photos as souvenirs afterwards if you want to.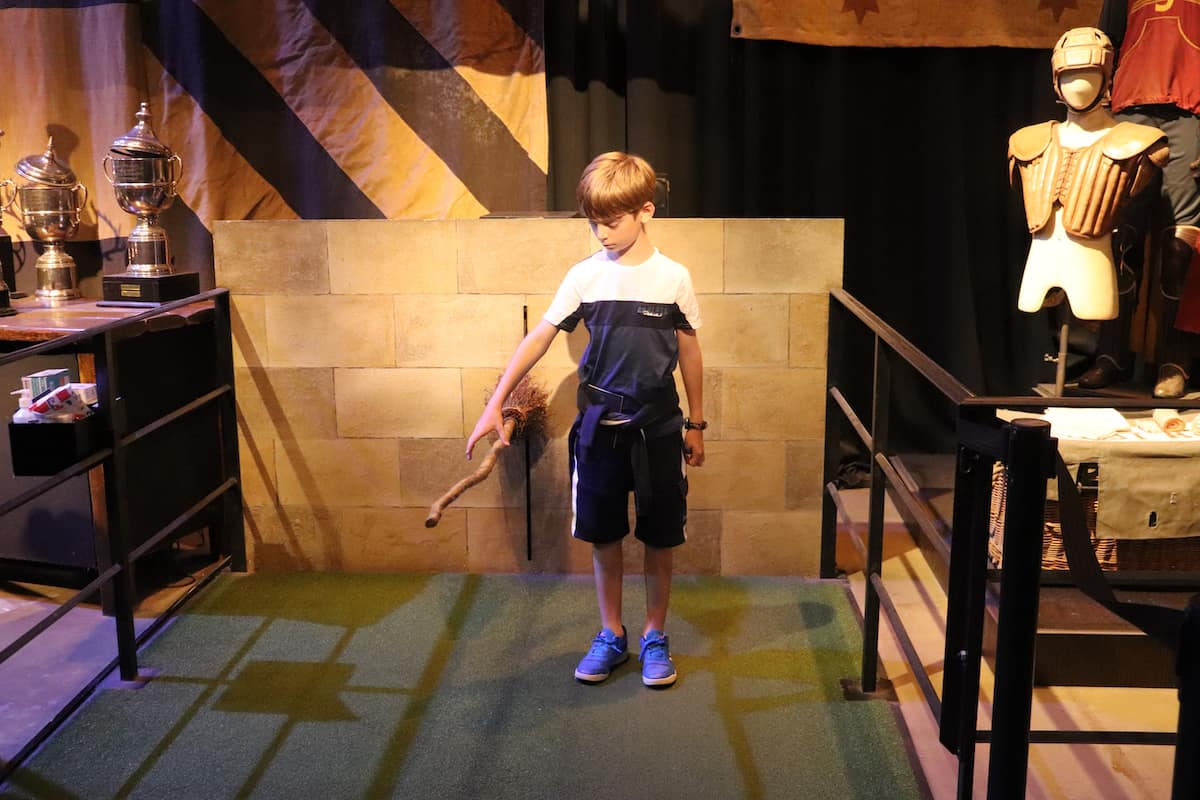 I loved seeing inside The Burrow – the Weasley's house – and there were so many interactive parts where we could pres buttons and see things come to life like the washing up cleaning itself or vegetables being chopped.
We learnt about the vehicles used in the movies, saw the Death Eater's table with Nagini the snake slithering along it. There were glimpses of the Ministry of Magic and a look into Dolores Umbridge's office with so many costumes and props in between.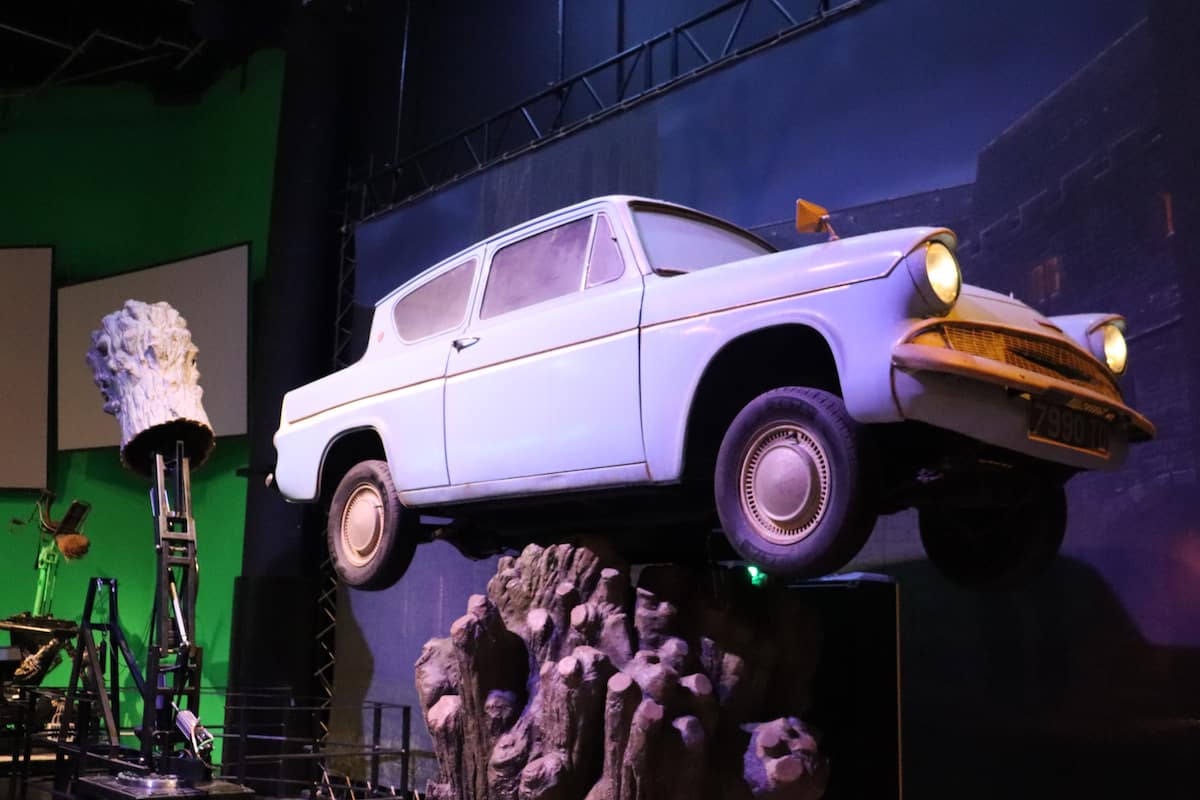 The Warner Bros Studio Forbidden Forest
We found ourselves in the Forbidden Forest next. As you can imagine, this is dark and eerie, full of artificial smoke and with so many spooky noises. It was so different to the rest of the tour experience. We got to meet Buckbeak, see all the spiders moving in the darkness and find out how the Forbidden Forest had been created, It was fantastic.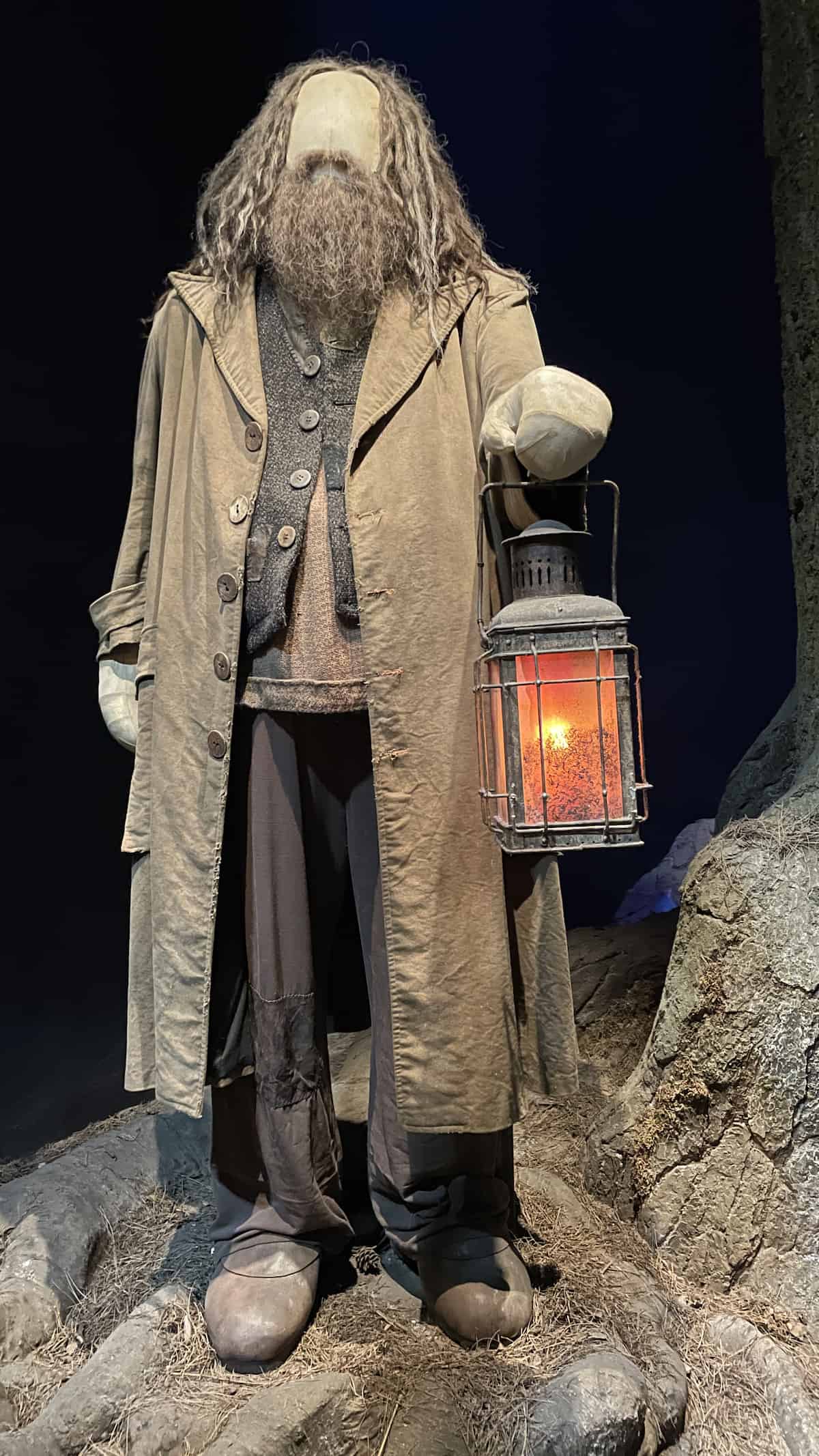 The Warner Bros Studio Hogwarts Express
We came out of the forest, turned a corner and came face to face with the Hogwarts Express, something that will always make everyone wow. We were able to push trolleys of suitcases through the wall on the station platform and even climb aboard the Hogwarts Express to see how the props changed with the movies. There was even a little green screen experience where you felt you were travelling along on the real Hogwarts Express.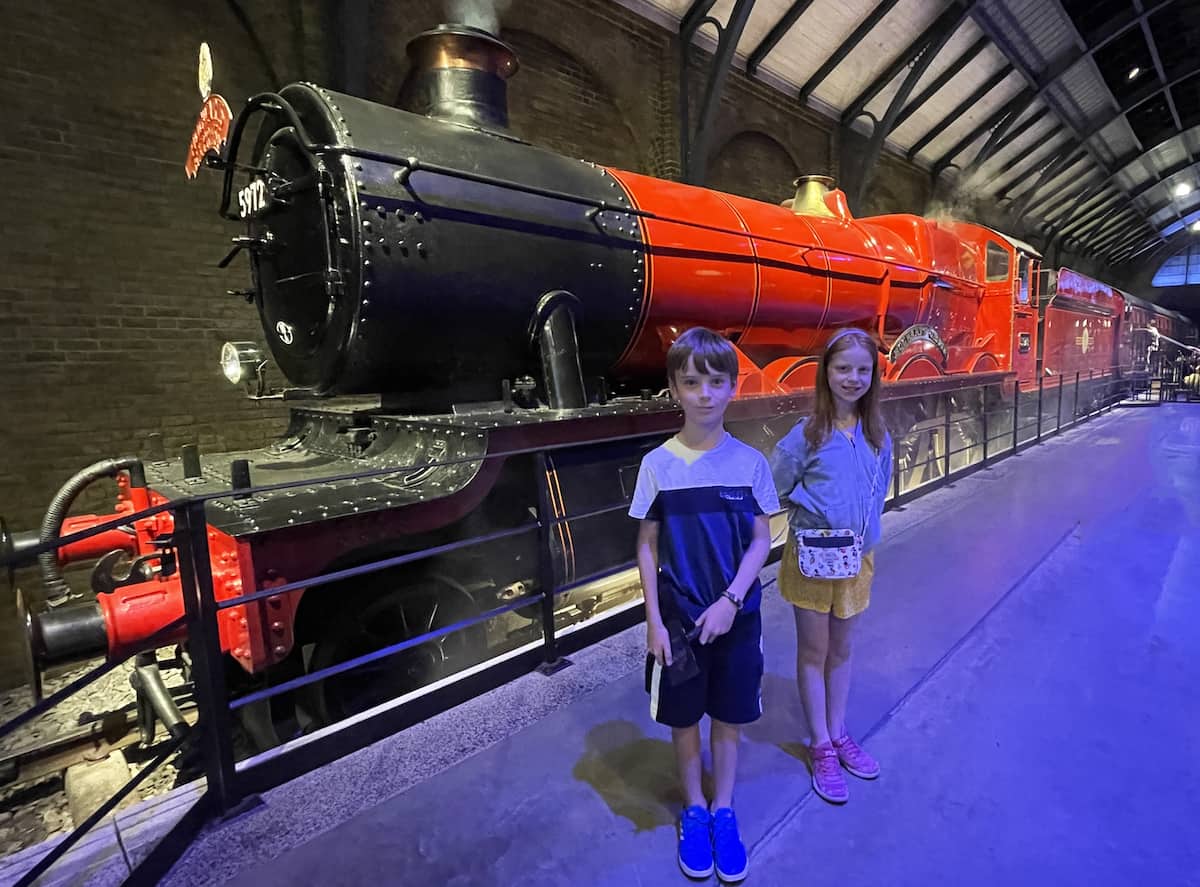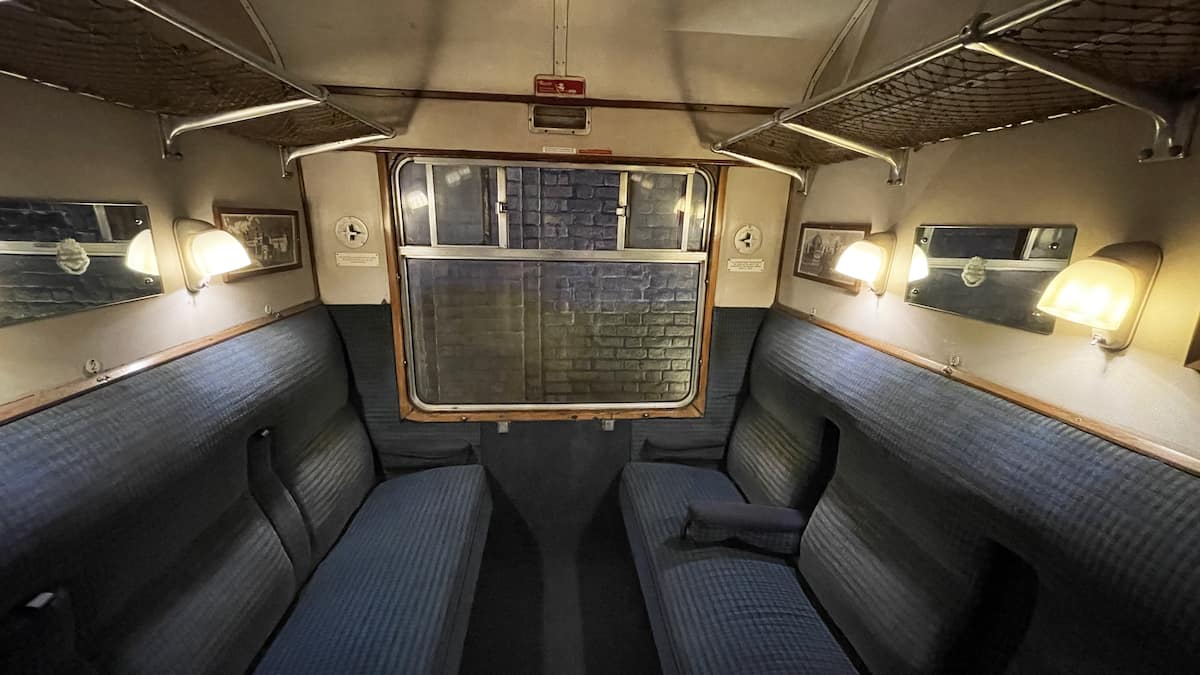 The Warner Bros Studio Backlot
After leaving the Hogwarts Express we found ourselves in the studio backlot, an outside space with more sets and vehicles to see. This was the first real break within the tour as well – with places to buy food and drinks or stop and enjoy a picnic. There are places to sit throughout the tour but this is the first real refreshment break.
The backlot is also home to the Backlot Cafe where you can buy food and drinks or Butterbeer – and even Butterbeer flavoured ice cream. Butterbeer was hit and miss with the children – with one saying it was the best thing she had ever tasted and Little Man said he just didn't really like it. Us grown ups thought it tasted quite like cream soda – and the froth on the top was delicious!
You're able to take food and drinks into the Warner Bros Tour with you and we found a seat and enjoyed our packed lunch out in the main backlot although there is seating inside too. As you can imagine, the Backlot Cafe does get very busy and there queues are long at lunch time but it's really well managed and the food looked and smelt pretty good.
After our lunch we explored the backlot, loving seeing The Burrow in all its glory. We really got to appreciate all its quirks and angles, making us all love the Weasley's home even more than we did before.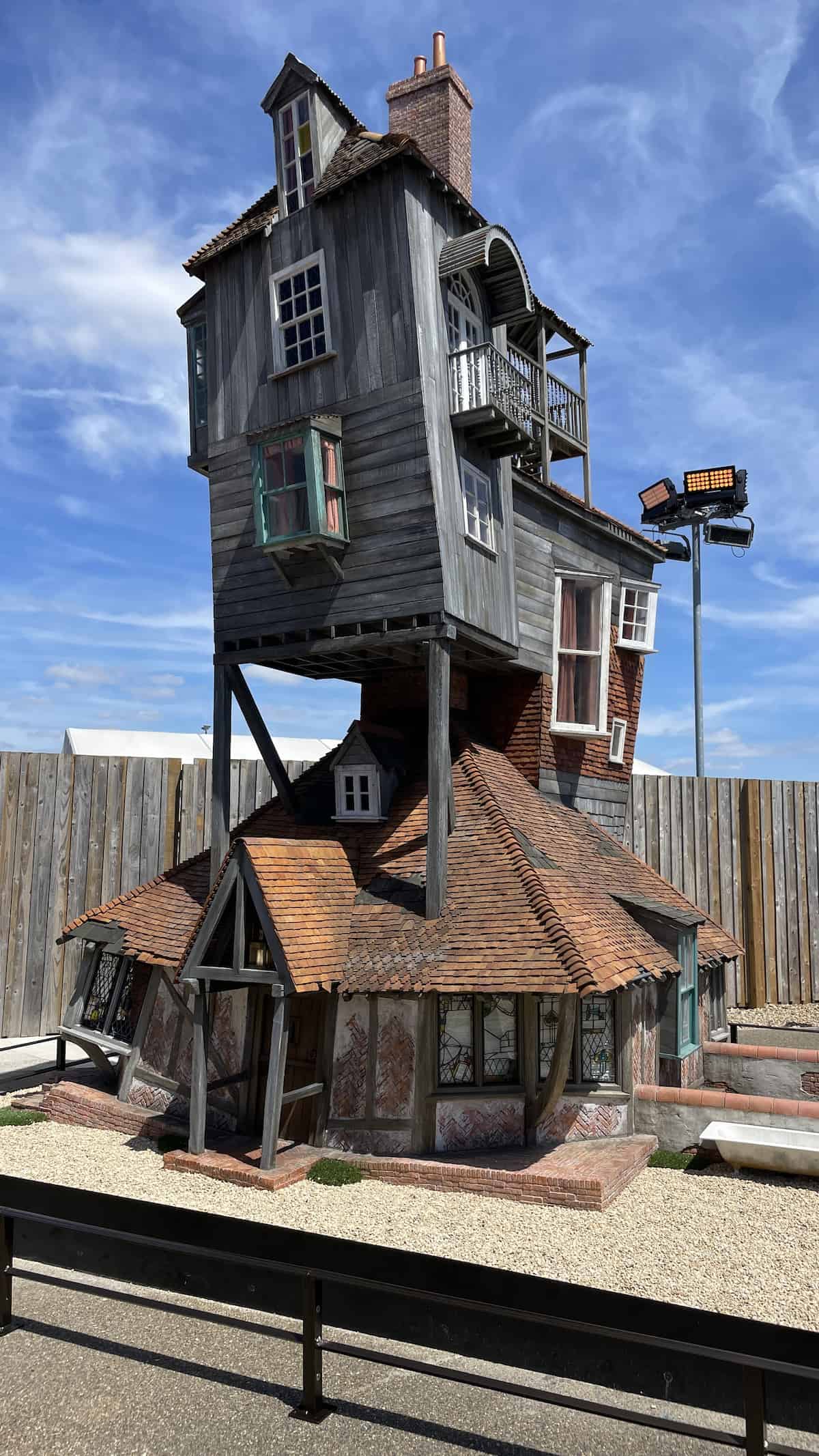 We also got to walk through 4 Privet Drive, seeing the lounge full of letters flying around and Aunt Petunia blown up like a balloon. It was amazing to walk through such an iconic part of movie history.
Outside we made our way into Professor Sprout's Greenhouse for a Herbology class. We were greeted by so many Mandrakes ready to be pulled from the ground, screaming as they moved! There were also the herbology class costumes and the whole set looked just like it did in the movies. It's an absolutely beautiful space.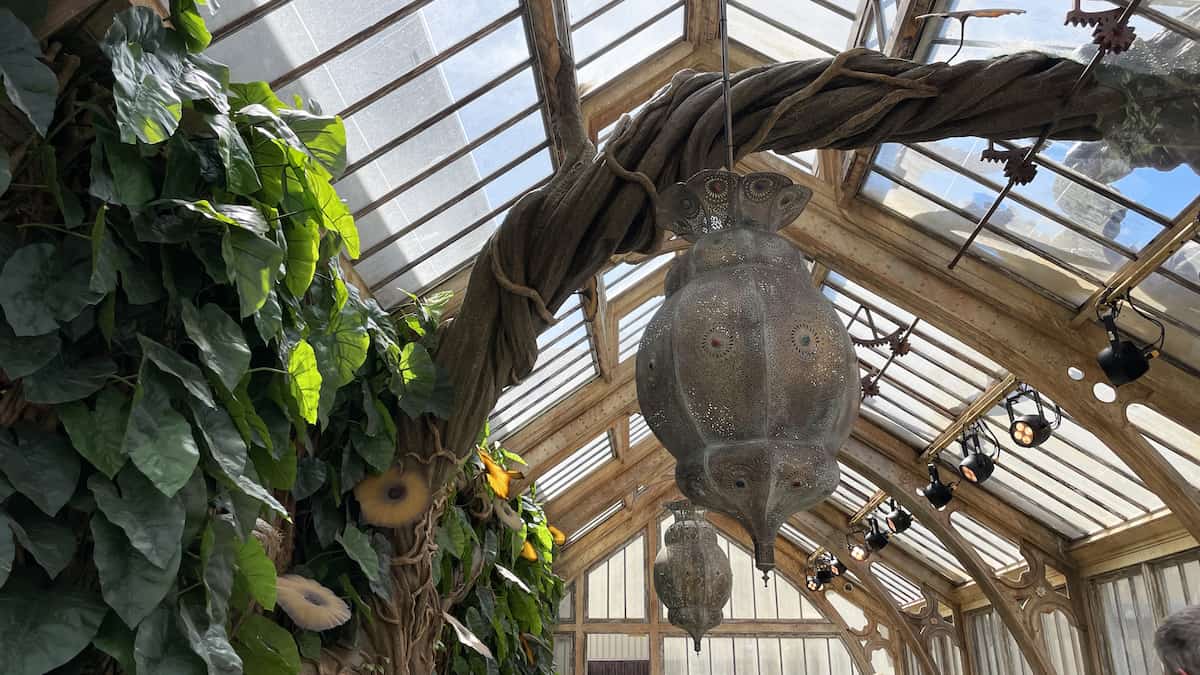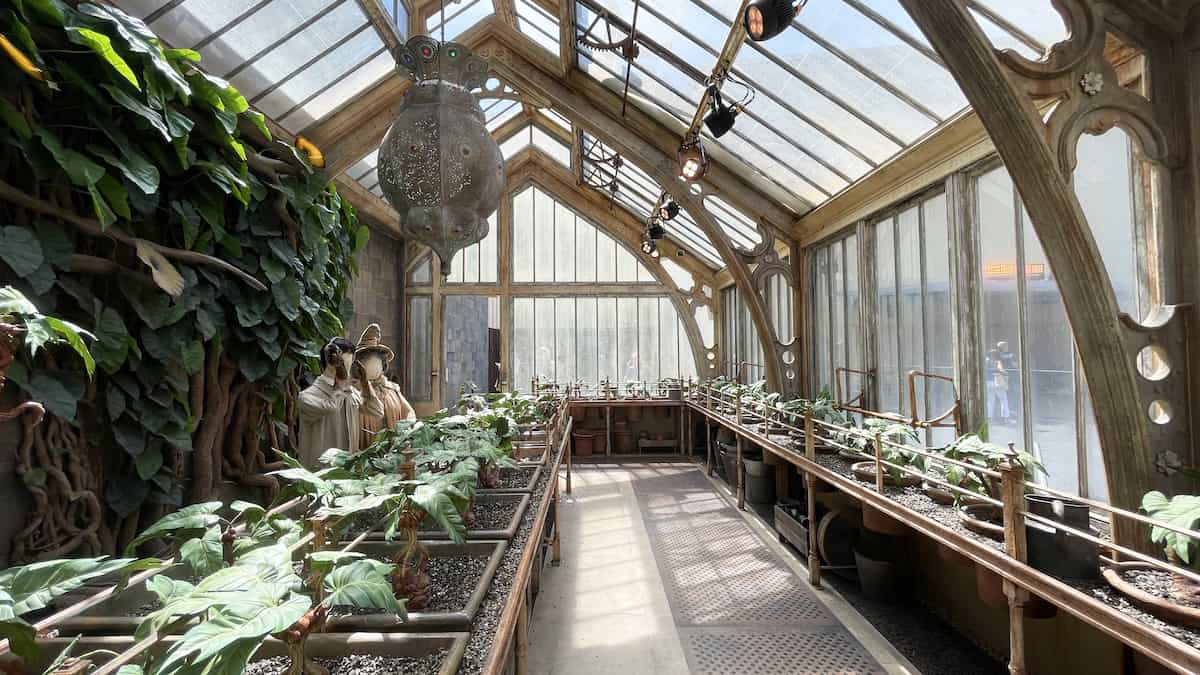 Back outside, we took some photos with the Weasley's car and Hagrid's motorbike, climbing aboard the Knight Bus and walked along the Hogwarts bridge. There's so much to see in the backlot and it's definitely one of the children's favourite parts of our tour.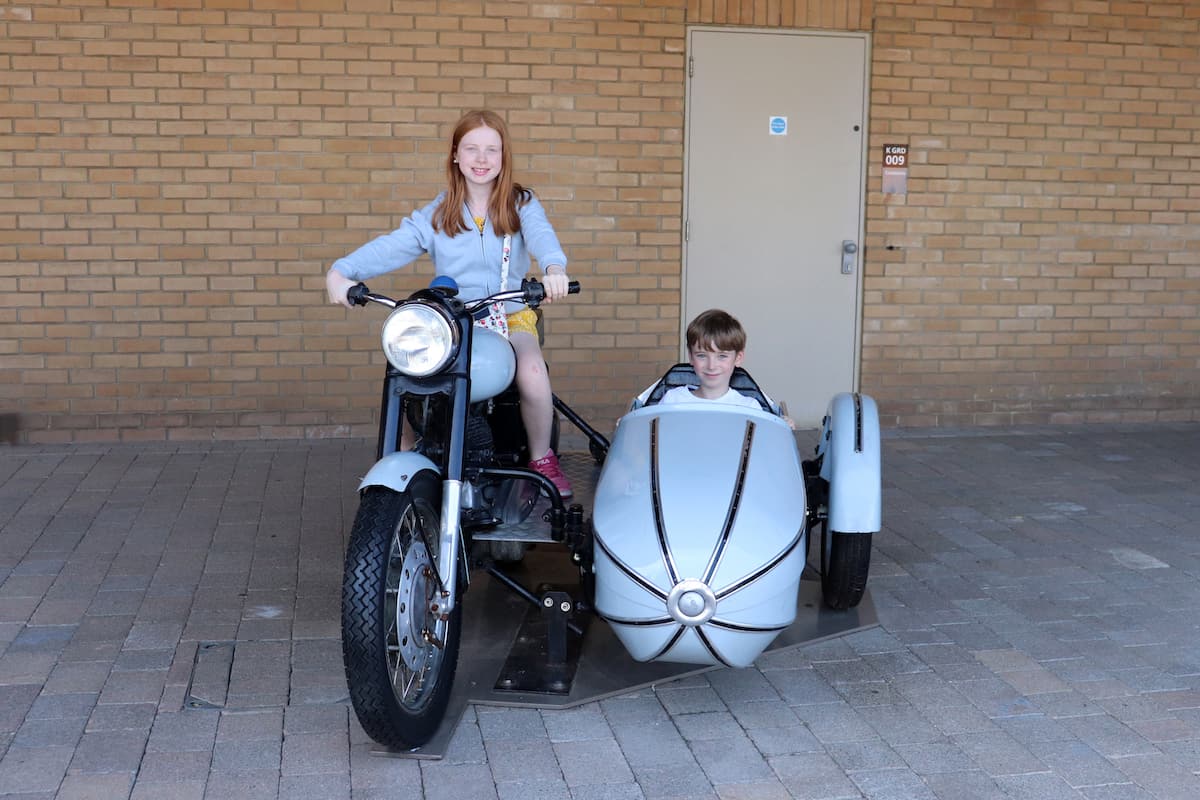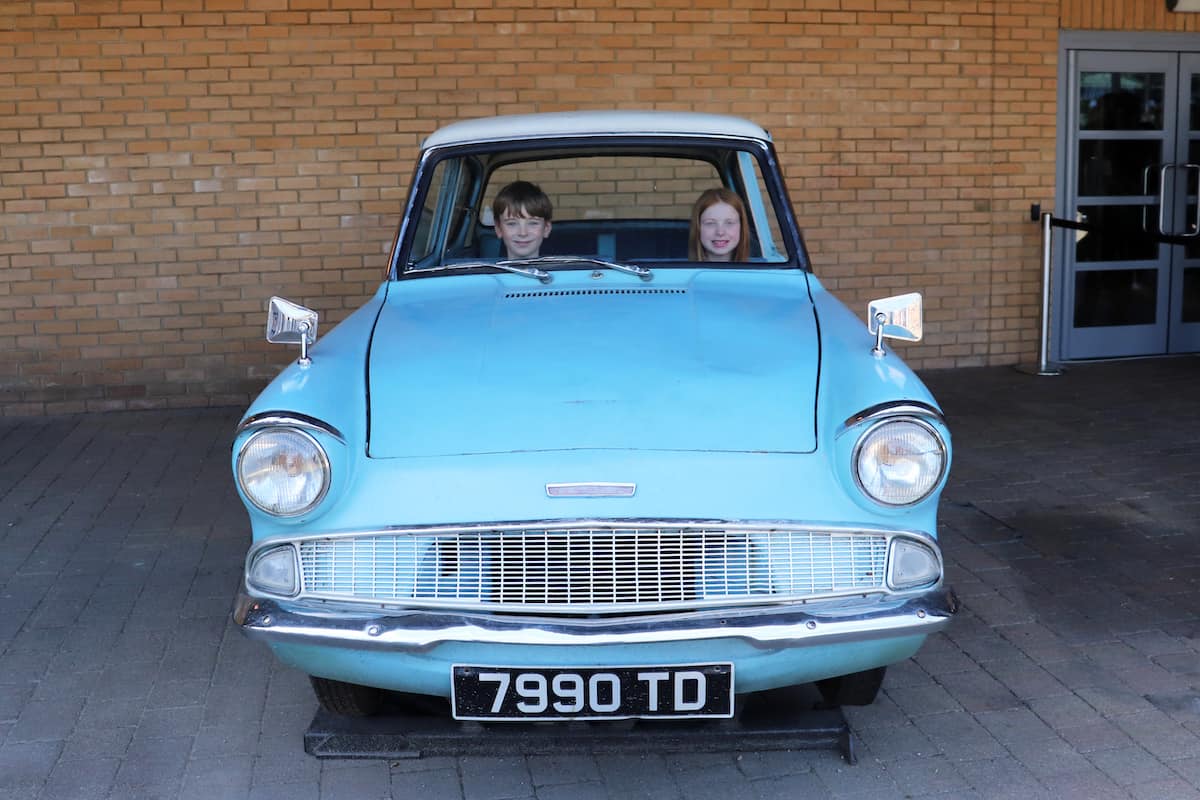 It was then time to head back inside for the last part of the tour. here we learnt about all the special effects used in the movies, all the creature effects and so much more about costumes and makeup. The amount of detail was incredible.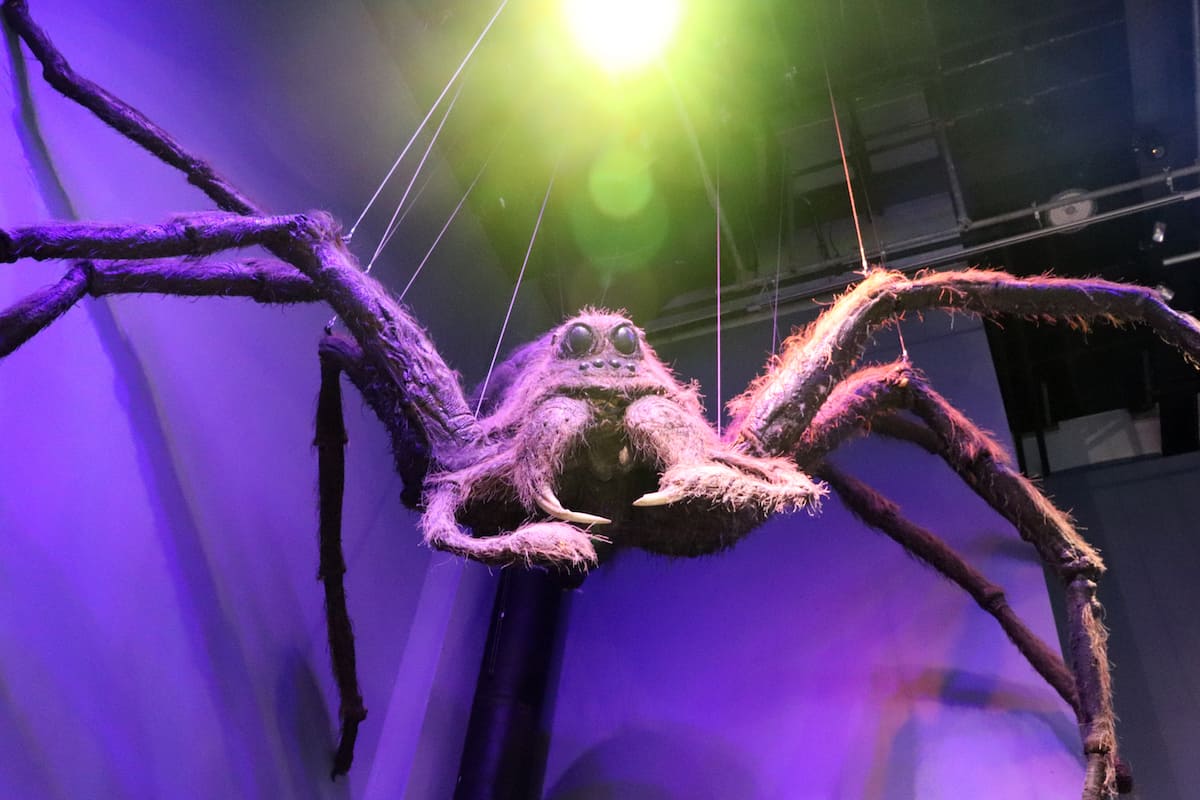 Warner Bros Studio Tour Gringotts Bank
Our biggest wow moment came when we turned a corner and found ourselves in Gringotts Bank. It was beautiful. We were blown away. With marble columns, the big wooden counters and goblin cashiers, it couldn't have felt more real.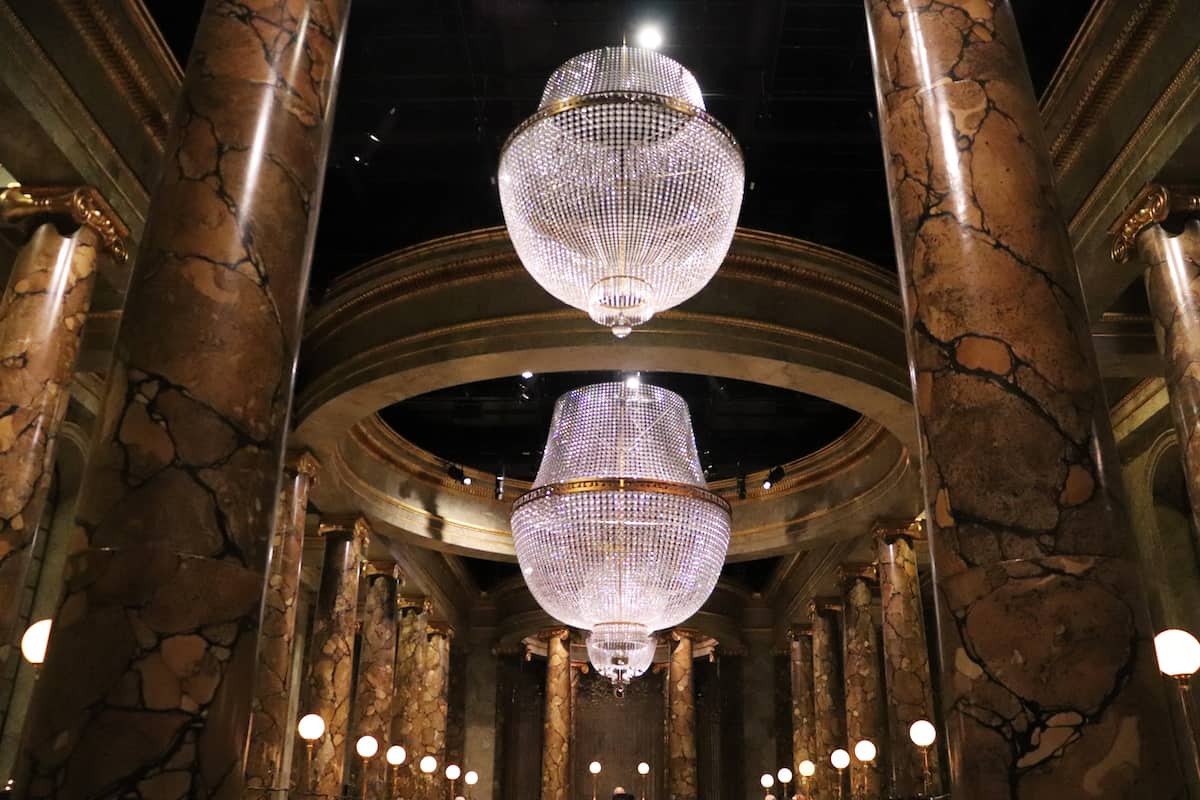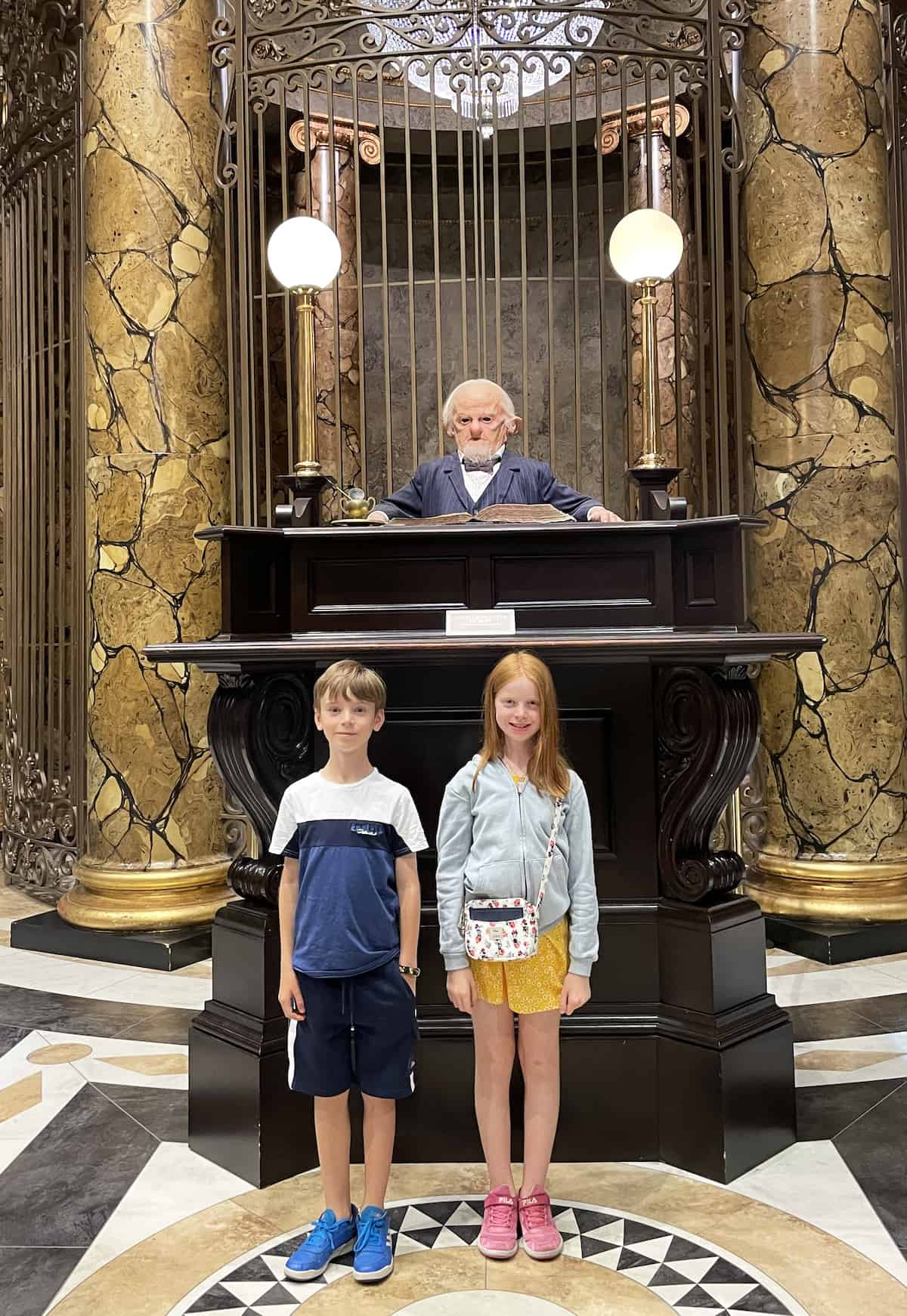 We got to see inside the Gringotts vaults, with so many photo opportunities, and learnt how the marble was made. Spoiler alert: It's not real marble! It looked so realistic.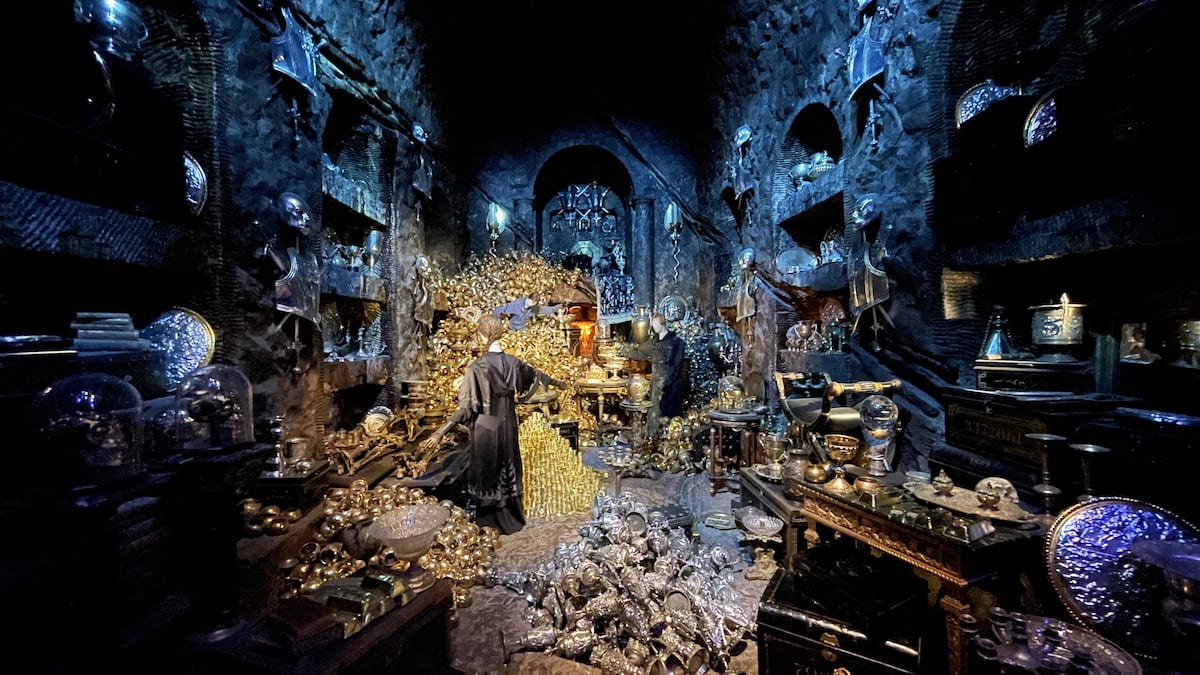 Just before we left the bank we got to experience the Ukrainian Ironbelly dragon escape for ourselves. Complete with smoke, fire and pretty much utter devastation, it was a real taste of movie magic. So much so that we watched it a few times, each time loving it as much as the last.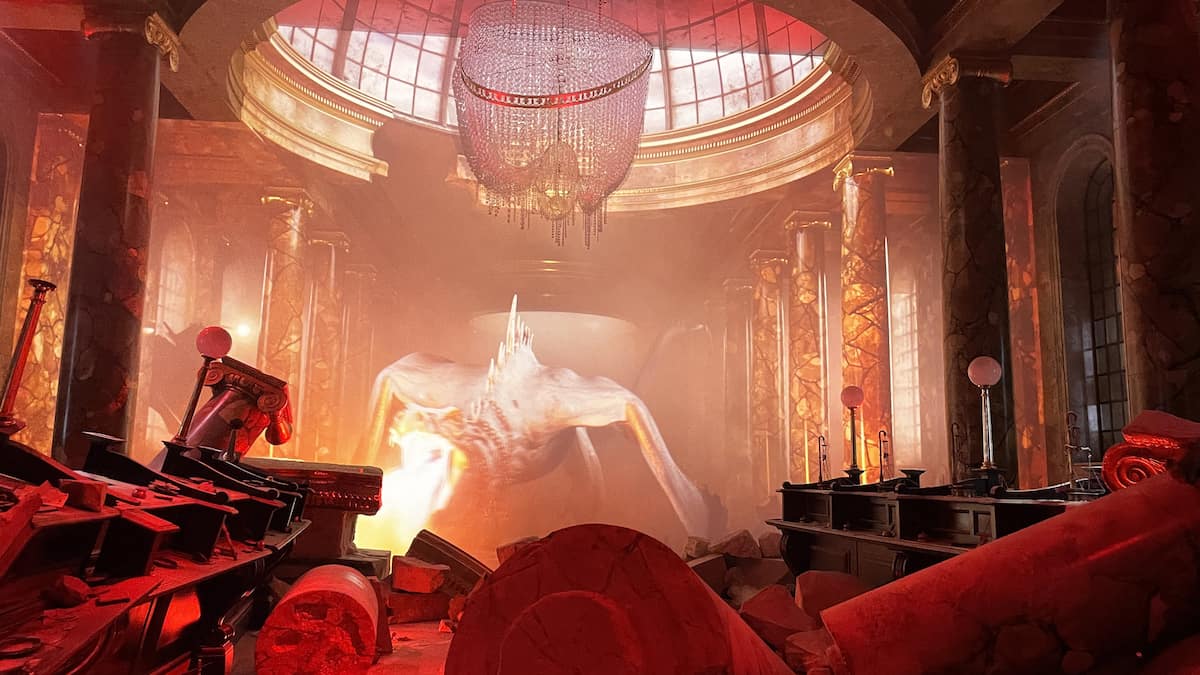 Warner Bros Studio Tour Diagon Alley
Stepping out of Gringotts, we found ourselves in Diagon Alley and spent time looking in the windows of all the shops and appreciating all the detail in every single thing. It's really like walking through the world of Harry Potter and we absolutely loved it.
It was then time to finish our tour, seeing artwork from the movies before coming face to face with a huge model of Hogwarts, all lit up and twinkling as we walked around it. It's a fantastic end to such a great day out.
We walked through Ollivander's wand shop, with each member of cast and crew having a wand box with their name on, and then found ourselves in the Warner Bros Studio Tour shop, ready to make any vital purchases and head on home.
How long does the Harry Potter Studio Tour take?
The Warner Bros Studios Tour is somewhere you can spend as long or as little time as you like. You really go at your own pace. We spent about six hours at Warner Bros Studios, with a packed lunch in the middle, and it was a good amount of time for us, leaving us satisfied that we'd done and seen everything we wanted to.
We had such a great day at the Warner Bros Studio Tour and the children already can't wait to go back. Each time you visit there's something new to see and the children loved that we went during the Madrakes & Magical Creatures exhibition. It's on until 12th September if you want to see it too.
You can find out more about the Warner Bros Studio Tour: The Making of Harry Potter and book tickets over on their website. For reference the address is: Studio Tour Drive, Leavesden, Watford WD25 7LR
You can see a little Reel of our trip on Instagram here: