One of the best mornings that we've had with LP in a while was spent at The Lookout – set in the middle of a forest. The main part of The Lookout is a discovery centre focused on science and learning through play but we didn't even get as far as going in there!
We took LP, in her wellies, and Little Man in the pushchair and went for a play in the adventure playground. LP loves swings and we let her 'run free' in the different play zones, climbing up ramps, hitting noisy things, looking through windows, jumping on bouncy things. LP loved all the interaction and had so much more fun than at our usual parks that have just swings and slides. She'd walk on the bark chips looking around at the different activities, every so often saying 'uh-uh, BIG!' and shaking her head, thinking that she was too small to play on the thing that she had seen. But there were plenty of things that she was just the right size for and with a little help from Dave and I, LP managed to enjoy most of the adventure playground.
After playing in the adventure playground for a while we went for a forest walk. LP held our hand and walked along, then we'd carry her for a while and then she'd sit happily on our shoulders. Every so often we'd see a bigger-than-average puddle and put her down so she could have a stomp and splash in it! LP was in toddler puddle heaven! LP loves puddles, loves to splash and loves the freedom of being outside and playing in muddy water! This is definitely something that we haven't done enough of as a family but definitely something we will do more of in the future – splashing in puddles is weather dependent but completely free!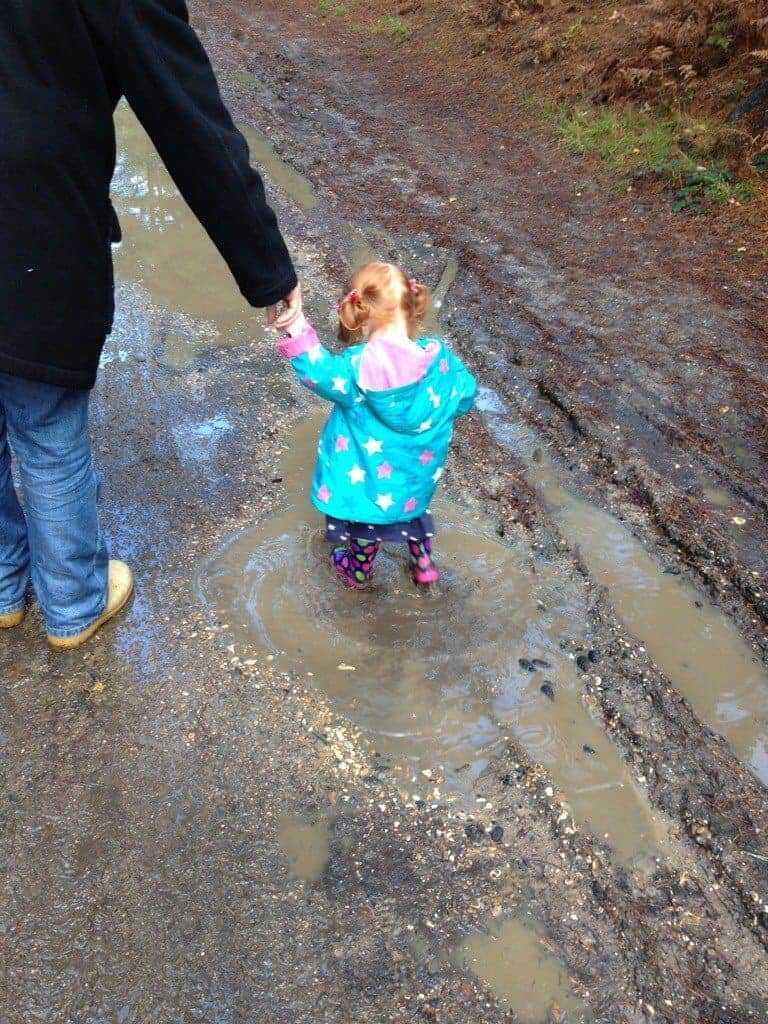 LP ended up with muddy knees, rosy cheeks and messy hair. She looked more exhausted than I've ever seen her and yet she still refused to nap!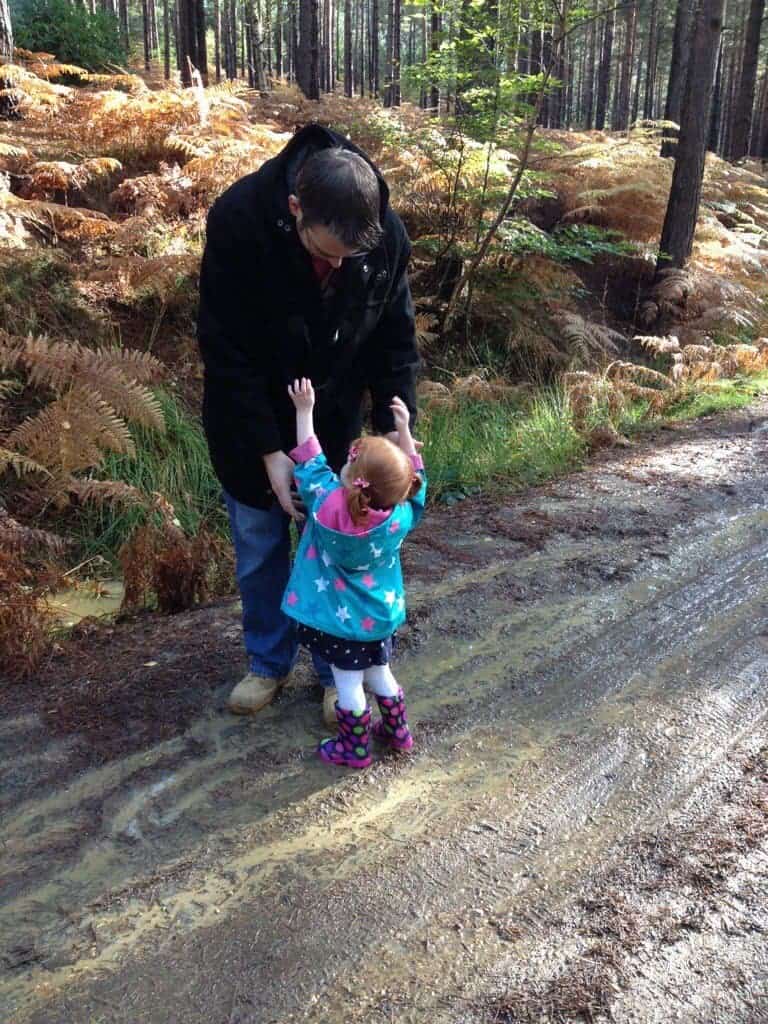 A lovely morning was had by all of us but Dave and I have learnt a lesson in outdoor parenting – we are all desperately in need of better outdoor clothing as you can tell from the photos. Dave and I don't own wellies, should really have waterproof coats too and LP definitely needs a 'puddlesuit' or something similar.
As soon as I got home I started researching waterproofs, welly boots and children's outdoor clothing and found that everything I searched for led me to Cotswold Outdoor. They seem to sell everything I could need – and have some great offers on too! Dave and I want to make puddle splashing an activity that we do at least once a week and so I will be ordering a Puddle Splash Suit for LP and whilst I'm there, a snowsuit too. I don't think Little Man will need anything in the way of waterproofs this year but next winter I'll definitely be getting him kitted out so that he can experience the joy of puddling splashing too! Dave and I will also get the obligatory wellies to make puddle splashing a full on family activity.
I really cannot wait! Here's to many more lovely mornings spent splashing in puddles!