Welcome back to another week of the Ordinary Moments. If you haven't joined in before this is a weekly linky that launches every Sunday morning and is open until midnight on the following Saturday. It's a linky that celebrates any ordinary moments in your life – or the not so ordinary some weeks too. Basically – anything goes. I'll be sharing and commenting on the posts that are linked up during the week and there's a badge at the bottom of the post if you'd like to add it to yours too.
It felt like we were willing the summer holidays to get here for such a long time and now they are nearly over. The last week has all been about getting ready for September so that we can focus on LP's birthday next week without the back to school prep.
So we've been buying uniform, organising school shoes, getting PE kits together and digging out their school bags – that they may not even be able to use in September.
I've labelled everything and it's all put away ready for the start of school and we are all so excited for the new term to begin. But, I know it's going to look so different to any other September. Staggered drop off times, lunches in classrooms, bubbles and hand sanitiser everywhere.
Aside from that, we also have our building work starting. The week after school starts we have scaffold going up, the next weekend we move out and the Monday after our house gets ripped apart and a crane arrives with materials.
We have so much going on and so much to prepare for. Furniture is being sold, boxes are being packed up and our self storage unit is nearly full. We have tiles arriving, a shed full of new furniture and suitcases ready to pack.
As you can probably tell, I am all over the place at the moment. LP and Little Man are rolling with it, understanding as furniture and belongings gradually disappear, knowing it will all come together again in a few months.
For now, they're excited about school, seeing their friends again and getting back into a good routine. And we're all excited for LP's birthday next week – so it's been lovely to have a week of organising so that next week can be all about her.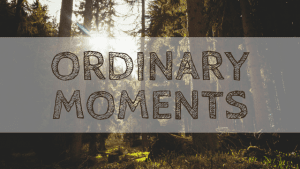 If you have an ordinary moment this week, come and link up – I'm looking forward to reading the moments that you share and will comment and share them on Twitter through the course of the week. Thanks so much for taking part.
You are invited to the Inlinkz link party!