The next post in this series is from Lauren of Belle du Brighton – She has become a really good friend of mine since finding each other online and our Daughters also share the same not common at all name!
How I Met My Husband
Our story is a bit of a cliché, but flip-reversed. I was Sam's boss (well, his boss's boss if you want to be pedantic) but normally if popular culture would have us believe, the lowly female falls for the big powerful boss man. Ha!
Sam was working as a barman at the hotel that I managed, just part time whilst he was at Uni (we have a 4 year age gap (apart from a month when it is 5 years!) and I really paid him no attention at all. Back in those days we used to have 'work drinks' at the drop of a hat and at one of those we got chatting and clearly realised there was a bit of a spark. I completely denied in because he was young and also pretty childish at the time (he won't mind me saying that!) and then a few months later I was single and at another work party (a Christmas one, cliché #2) for some reason we ended up sat on a wall in a back alley having a kiss or two. Oddly I went home with someone else that night, but he was a gay friend so don't think too little of me…
Anyway, because I was his bosses boss and we worked together there was a LOT of sneaking around, if you ever want to have a sneaky drink/kiss in a Brighton pub just let me know, I can tell you all the good places! Because I had just finished a relationship of around 2 years I wasn't quite ready to jump straight into another one, and was quite happy sneaking around, and also went on a couple of other dates. I was honest though and told Sam what I was up to, much as he didn't like it! He saw a couple of people during that time too though, so don't feel too bad for him! At this point he lived in a shared student house (although he had quiet uni by then to work full time) which was possibly the most horrific shared house ever, I used to bring toilet roll with me, it was around then that I said I though he was 'too immature' for me!
Eventually after around 6 months of messing about, with a few periods of not talking (him to me, although he still came round for Prison Break marathons!) we decided to make it official, as he had made a proper effort to act more mature and less like a student, and I had got being 'free and single' out of my system. The day before I headed off to South Africa for 3 weeks I told MY boss what was going on (I had to, it is company policy that relationships are divulged) and he was supportive! He had met his wife at work and said as long as I was never Sam's direct line manager that it wasn't a problem!
A few months after I got back from South Africa and things were still going well, Sam moved into the house I shared with my friend Nick, and then Nick moved out and Steve (my first love/boyfriend) moved in. Sam and Steve had always got on really well, so despite this seeming weird to loads of people it really wasn't.
So a year later, July 2011 Sam proposed (not on one knee, as it was a bit soggy on the ground) I later found out that everyone at work knew he was planning to do it, so thank god I said yes! By this point Steve had moved in with his girlfriend and Lynne (then a stranger but now a great friend) moved into the other room, which meant we saved money for the wedding and when Sam was working late nights I had someone to chill out with. We started planning the wedding the January after that and got married in November 2012, when I was 3 months pregnant. Lynne stayed living with us right up until a month before I gave birth!
Athena arrived in June 2013, and just after that we moved into a flat as a family! Hopefully in the not so distant future we'll add another baby to our family too!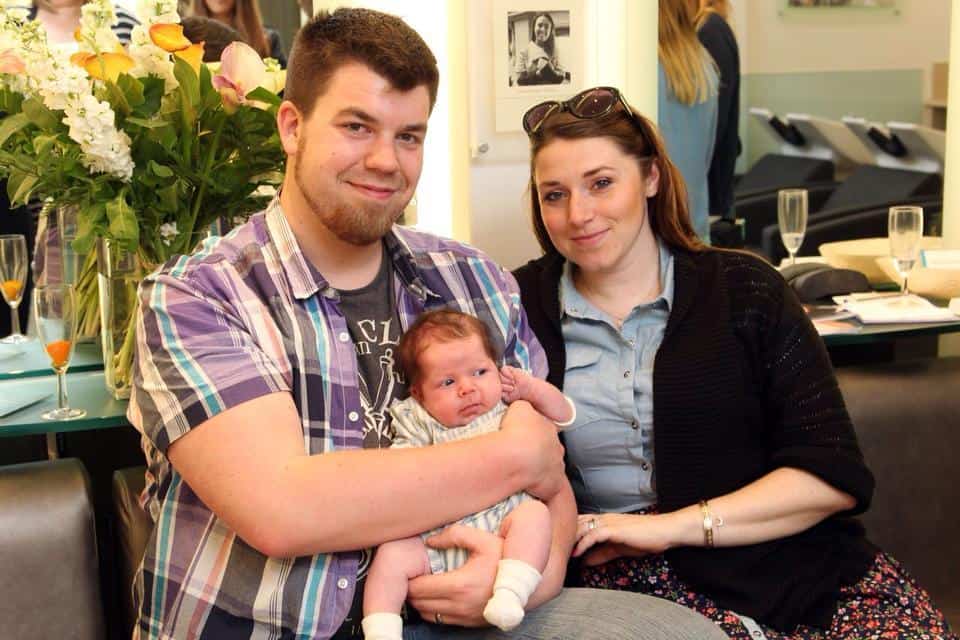 Thanks Lauren for this lovely post – Great to read about a stereotypical role reversal and the wedding and baby that followed! 🙂
Come back again next week for another installment and to read how Hubby and I got together you can read last week's post here.