*This is a collaborative guest post
Gardens are essential parts of both our homes and our lives, but how do you ensure that you can enjoy them throughout the year? Have a read of these handy tips to find out how to make the most of your outdoor space and reap the benefits of spending time in the fresh air in every season.
Encourage Wildlife
Bringing more wildlife to your garden is an excellent way to make it more enjoyable all year round. Different mammals, birds and insects may visit in different seasons, so you can see them throughout the year and also give them a helping hand in harsher months. Wildflowers and pollinator plants encourage insects in the spring and summer, and installing bird feeders or tables and keeping them well-stocked can invite a range of birds to your garden. They also provide them with a lifeline – particularly in the winter.
Plant trees and hedges to offer small mammals shelter from the elements and predators. You can create havens for feeding, breeding and hibernating using woodpiles, compost and unkempt grass. Setting up a clean water source is also an important element of supporting and encouraging wildlife, and you could do this with a pond, birdbath, or even a small dish for mammals. Get the kids involved with making things like bug hotels too!
Create a Relaxing Area
Make you and the family a space in your garden where you can relax, no matter the weather. You could set up some inviting, comfortable furniture on your decking or in a peaceful corner, along with a fire pit or outdoor heater to keep you warm in the colder seasons. A summer house or wooden gazebo can be a great addition to a larger garden, while shade sails come in many different sizes, can suit spaces of any design and offer protection from the rain.
Add fairy lights or lanterns to your patio or trees to brighten up your garden in the winter and extend the amount of time you can spend outside after dark. They are especially good for creating an inviting atmosphere if you have guests visiting.
Plan Your Plants
Plants have a huge impact on gardens. Therefore, it's important to choose and plan them carefully so your outdoor space is vibrant and full throughout the year. Evergreen shrubs are a good way to maintain colour – you can plant them in pots or borders and many have flowers or berries to feed the birds in the autumn and winter.
Shelter tender plants that won't survive winter frosts in a greenhouse so you can still enjoy the blooms. Greenhouses are also incredibly useful for growing plants and vegetables from seed, including salad leaves in the winter and things like tomatoes and cucumbers later in the year.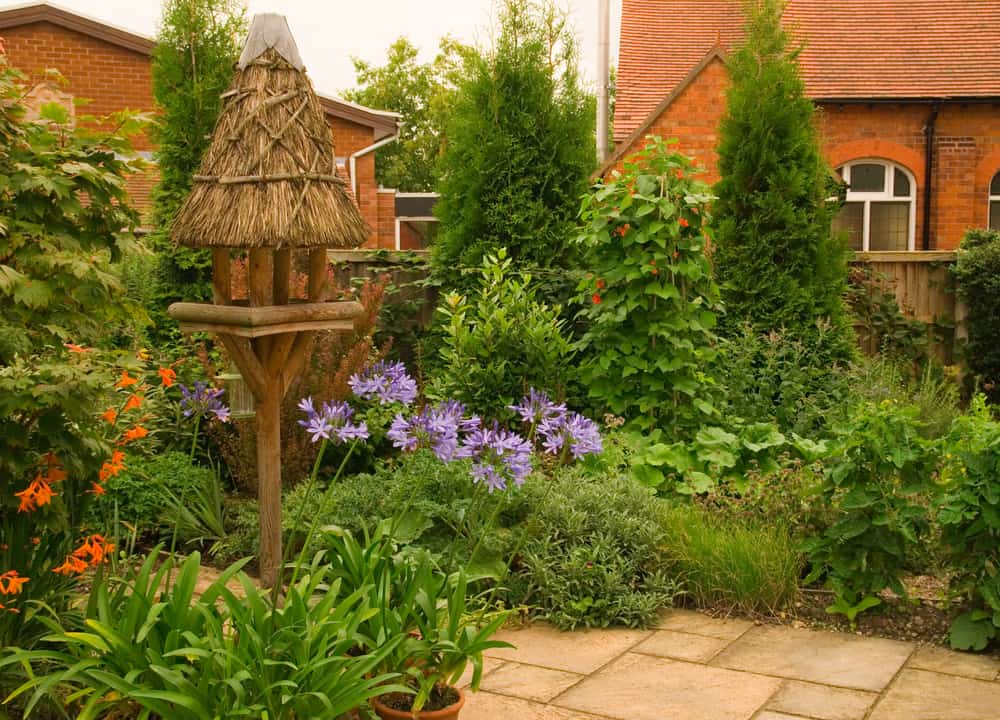 You can plant bulbs of just a few types on masse to flower in the colder months, such as snowdrops and crocuses; this means you'll never have to worry about a bare winter garden again! Plant perennials like dahlias and cosmos in your border during the spring to save money, as they will come back every year and provide lots of colour.
In the summer, you can mix salad leaves with flowers in beds and borders. This allows you to make the most of your space and still grow your own food, even if you don't have an allotment. Vegetables including runner beans and carrots can be grown in containers too, so you get a great variety of produce. Most flowers are at their best in the summer, so always keep them fed, watered and deadheaded. Also, you can take cuttings to make sure that you have a stock of plants when needed.
Many summer plants will carry through until mid-autumn, but you can plant up pots and hardier choices like pansies and cyclamen for winter colour. Autumn is a good season for planting trees too. They lend your garden a new dimension throughout the year and provide shade – and even blossoms or fruit!
Work on Your Hobbies
Taking your hobbies outside is a fantastic way to make the most of your outdoor space in all seasons. If you're into working out, you could install some outdoor gym equipment and enjoy the fresh air while fitting in your cardio or strength exercise. Alternatively, gardens are ideal areas to enjoy sports like badminton and padel, and you can even find covered courts so you can play them in the rain!
Bring your love of creativity to your garden by setting up a painting or sculpturing area outside, or a nook where you can read and write while taking in inspiring sights and sounds. Installing a shade sail ensures that you can always enjoy your hobbies outside, especially if you're trying to keep your children safe while playing. The A&S Landscape shade sail uk range is a fantastic option full of versatility and colour that will bring life to any garden.
Remember to give some of these tips a try if you want to maximise the use of your garden all year round. Whether you're a budding gardener or someone who prefers to use the space to relax or exercise, it only takes some simple steps to enjoy it more in every season.