This post contains affiliate links and I may receive commission if you visit a link and buy something. Purchasing via an affiliate link doesn't cost you any extra, and I only recommend products and services I trust.
When we started planning our new kitchen I knew there were a few things I wanted. I wanted a bookshelf for my cookbooks. I wanted as much storage as possible and I wanted larder cupboards full of nicely labelled jars.
So when our kitchen was finally finished and I could finally start putting everything away in our cupboards I decided to make the larder cupboard that I dreamed of. So I scoured Pinterest for ideas and realised that most options involved really pretty handwriting and chalk pens – and my handwriting is nowhere near that standard. The other option was to buy a set of stickers that had all the larder items you would ever need on them – and many that I know would never appear in our home. So I needed an option that could be tailored to me, as simple as those pre-made stickers but as pretty as the chalk writing I could only dream of.
So I invested in some self adhesive transparent sticker sheets and then searched for the perfect font – easier said than done. I downloaded free ones from Creative Market each week but in the end went with one that was pre-installed on my Macbook.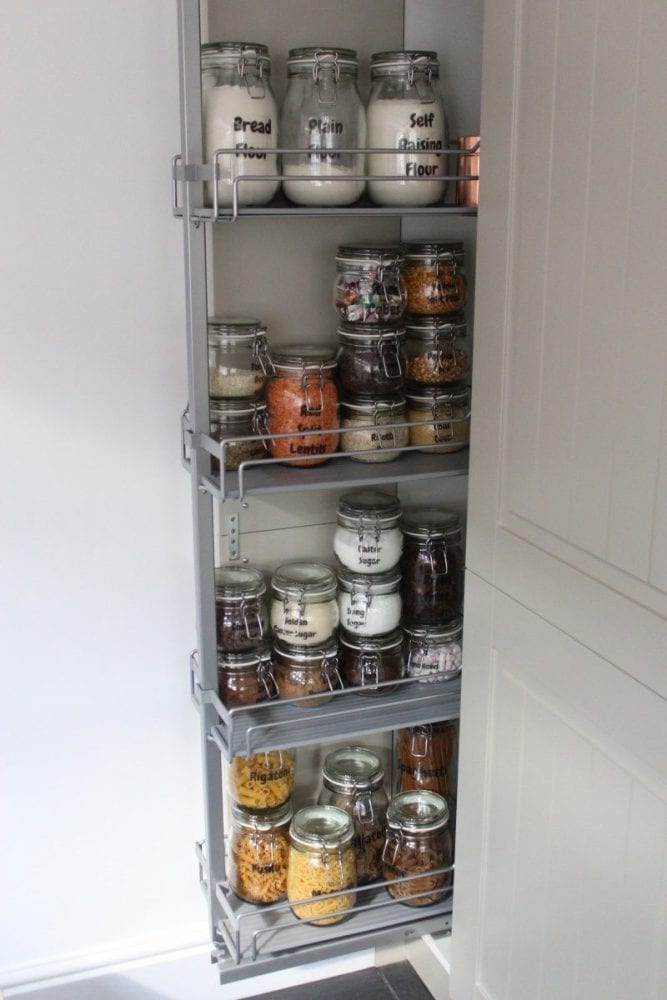 I bought so many jars from Ikea – an absolute bargain and easy to buy more when I need them as our larder grows. I used a simple document – Word, Pages or Google Docs – to type a list of larder items, changing the font to three different sizes to match the sizes of the jars. I made the text centralised and then pressed print and crossed my fingers.
The labels turned out perfectly – I just needed to cut around each label and stick them on the jars before filling with whatever I wanted to keep in them. We now have a beautiful larder cupboard that will be easy to keep well stocked, can be added to and with jars that I can rename if we no longer need something.
It may make me sound a bit sad but this cupboard makes me happy. I love having an organised life and having a cupboard where I can easily see everything and find what I need just makes life easier and I'm so glad I spent an afternoon creating this cupboard. I'm now looking for more uses for my home made sticky labels!