*This is a collaborative guest post
Parenting is tough in many ways but rewarding in so many others. Those little compromises and sacrifices we make for family are worth it.
However, you should not compromise on your physical health (although most of us do). If you let little issues turn into chronic ones, you won't have the endurance and positivity needed to do the things you want with your family.
It's not easy to escape to the gym or grab a massage. But there are little ways to keep your body healthy and to manage aches and pains.
One of those ways is by getting a quality portable massager. We're not talking about those discount massagers you see at the supermarket, but a real sports massager that supports muscle function and deep tissue health.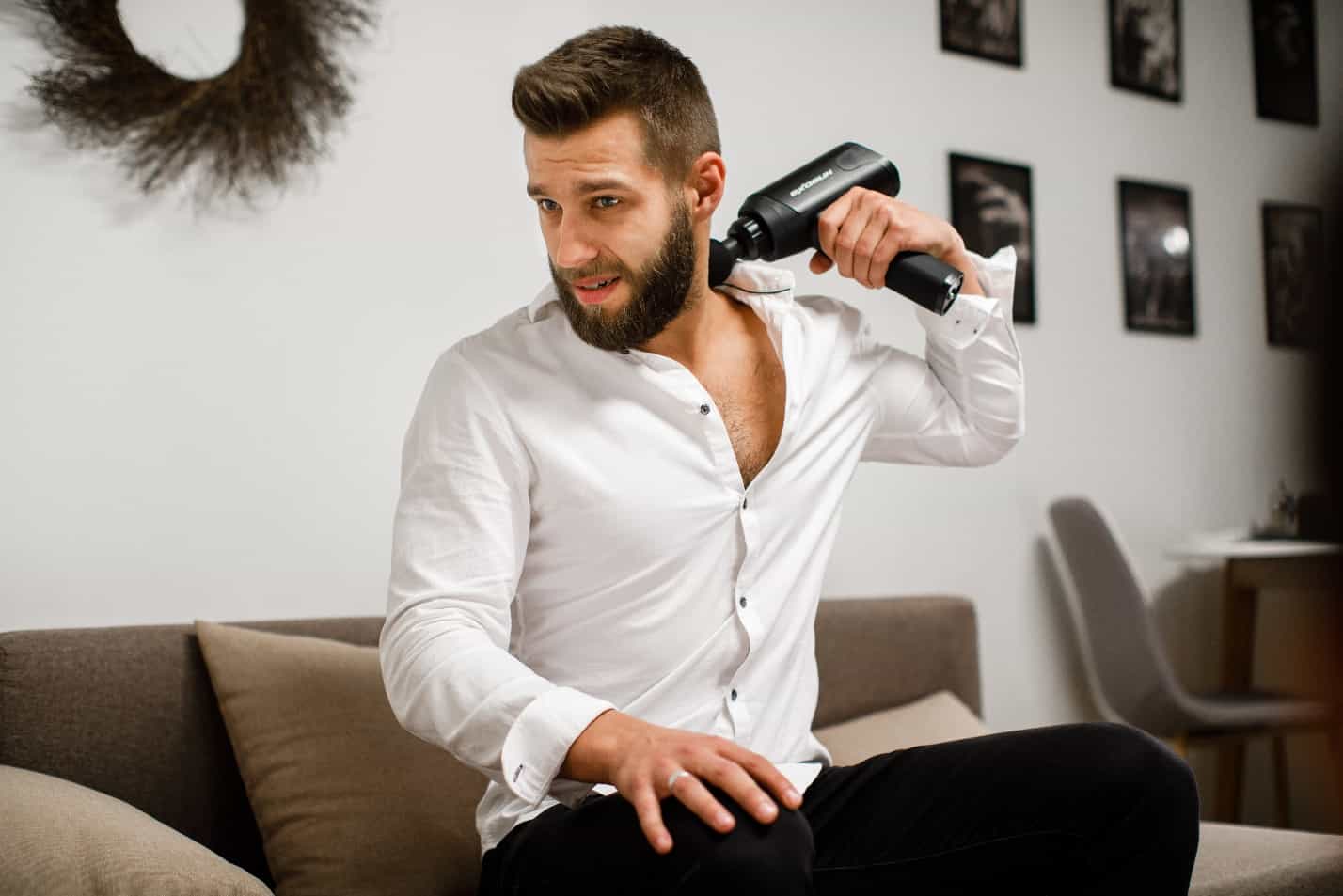 Percussive massagers like ExoGun DreamPro allow you to give yourself a rejuvenating massage anytime, anywhere. And, you can do it in minutes. Or, get a partner involved and enjoy a little alone time with a deep tissue relaxation massage.
Percussion massage is safe and effective, and it can do wonders for your physical and mental health by reducing soreness, improving blood flow, releasing tension and reducing stress. Even better, ExoGun DreamPro is affordable for parents. At under £150, it's a fraction of the cost of other professional sports massage guns.
You can get your ExoGun DreamPro here for a discounted rate if you order during the Easter Sale. Plus, you'll get a free carrying case!
What is Percussion Massage?
Percussion massage is a type of high-intensity sports massage. It releases tension by quickly pulsing the muscles with a soft massager head.
By stroking the muscles with rapid pulses, more blood is able to enter the muscle tissue. This helps sore muscles regenerate faster. It can also release knots from tendons quickly, and it can give you a boost of natural energy.
Percussion massage isn't a new concept, but home massagers like ExoGun DreamPro are.
Previously, percussion massage was only available to pro athletes. It became a must for sportspeople because it's so effective at speeding up muscle recovery.
You've likely experienced some kind of percussion massage already. If you've ever had a Thai massage, you may have noticed that the therapist will clap their hands on your back in quick pulses. This is the same concept as percussion massage!
Or, you may have had an acupressure massage. Percussion massage does the same thing to release knots and improve blood flow, only much faster.
What are the Benefits of Percussion Massage for Parents?
A percussion massager like ExoGun DreamPro is the perfect massager for parents. Unlike those vibrating massagers of the past, ExoGun doesn't just give your muscles an uncomfortable shake-down—it actually works. And, it comes with multiple massager heads and speeds so you can enjoy a variety of recovery and relaxation massages.
Here are a few of its benefits for parents:
It's fast: No time for a massage? Percussion massage takes less than one minute to reduce tension and get you back to feeling great. At 30 pulses a second, ExoGun DreamPro gives your muscles the benefit of a full massage without the wait.
It soothes pain: Do you deal with soreness from exercise (or carrying kids, falling asleep in your chair, etc)? Percussion massage has been found to relieve muscle soreness fast, allowing you to react faster, move with greater flexibility and feel better.
It improves muscle health: Tight and tense muscles are common among parents. But they can cause chronic pain over time. A percussion massager can break up adhesions and scar tissue from previous muscle strain. It can also release tension and knots to keep your muscles healthy and your body limber.
It increases range of motion: Loose, healthy muscles move more easily. With ExoGun DreamPro, you'll remember what it's like to be able to turn your head all the way to the left, touch your toes and swing those hips.
It's great for couples: Turn down the speed of your ExoGun and put on the deep tissue massager head. Now, you're ready for a longer, more relaxing massage experience. Give the gun to a partner and let them massage your back, shoulders and legs. No experience is needed. ExoGun DreamPro does all the work!
It boosts energy: Increasing your circulation and releasing tension in your muscles will boost your energy levels and your mood. Being more energetic and positive will benefit your family more than you even know.
It relieves stress: mental stress doesn't just come from difficult situations. It can also come from tension stored in the shoulders and neck. A lack of mobility and balance can also influence anxiety levels. A tension release from a percussion massager benefits the body and mind.
Is ExoGun DreamPro Worth the Money?
Yes. ExoGun DreamPro is one of the most affordable percussion massagers. That's because the DreamPro model is made for both athletes and normal users.
It doesn't have the high-intensity settings that pros might want, but that extra power only benefits serious athletes, and it leads to big price increases.
The DreamPro is more accessible to everyone, it's safer to use, it's more compact and portable and it costs less than half the price of other models.
Unless you're a pro footballer, you're going to get the maximum benefit from the ExoGun DreamPro.
The DreamPro has all of the top features of professional sports massagers, including a brushless 24V torque motor, a digital display, easy controls and an ergonomic design.
It's also optimized for solo use. It comes with a stylish carrying case, so you can use it on your lunch break or at the gym. And, it's totally wireless. The battery lasts for a month!
ExoGun DreamPro is the percussion massager that parents can afford and use without experience, and the benefits to your wellbeing are instantly noticeable.
It's Time for a Massage—You Deserve It!
When's the last time you had a massage?
You may not think you have the time or money for such an indulgence. You may even think good parents shouldn't run off for massages.
But it's not true! Parenting is the hardest job in the world. But in order to do your best, you need to treat yourself well.
With ExoGun DreamPro, you can get that deep tissue massage and tension relief without sacrificing time or money. It's the massage you deserve for all that you do. Your body will thank you for years to come!
Don't forget to grab your ExoGun DreamPro during the Easter Sale. You can get a percussion massager for 70% off the list price. Plus, you get a FREE carrying case for a limited time.
Learn more about percussion massage and order your ExoGun DreamPro now at www.exogun.com