Welcome back to another week of the Ordinary Moments. If you haven't joined in before this is a weekly linky that launches every Sunday morning and is open until midnight on the following Saturday. It's a linky that celebrates any ordinary moments in your life – or the not so ordinary some weeks too. Basically – anything goes. I'll be sharing and commenting on the posts that are linked up during the week and there's a badge at the bottom of the post if you'd like to add it to yours too.
On Friday the children had a very different kind of mufti day at school – they got to wear pyjamas! The school council, made up of children from each year, decided they wanted to organise an event where they could raise money to buy pyjamas for children spending Christmas in hospital. So that is what they did.
Little Man was counting down the days until he could wear his pyjamas to school and he spent such a long time deciding what to wear. He wanted to wear his space pyjamas because they're learning about space at school but he knew he'd be cold at break in his normal pyjamas. In the end we agreed that he'd wear his pyjamas with his onesie over the top – keeping him toasty warm but ready for pyjama day!
LP had pretty much the same set up – with pyjamas and a onesie over the top but hers weren't themed in any way. She also chose to wear her wellies to school and Little Man wore trainers.
They were so excited for the day and as we walked into school they loved seeing their friends in their pyjamas, with plenty of onesies to keep them warm. Some had worn their dressing gowns over their pyjamas and a couple even had sleep masks too! Everyone was happy and it was such a lovely way to spend a Friday. The children absolutely loved the novelty of it all.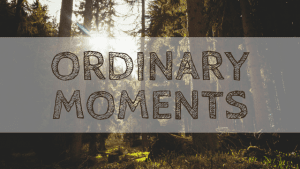 If you have an ordinary moment this week, come and link up – I'm looking forward to reading the moments that you share and will comment and share them on Twitter through the course of the week. Thanks so much for taking part.
You are invited to the Inlinkz link party!