Welcome back to another week of the Ordinary Moments. If you haven't joined in before this is a weekly linky that launches every Sunday morning and is open until midnight on the following Saturday. It's a linky that celebrates any ordinary moments in your life – or the not so ordinary some weeks too. Basically – anything goes. I'll be sharing and commenting on the posts that are linked up during the week and there's a badge at the bottom of the post if you'd like to add it to yours too.
It's now got to the point where our whole family have had birthdays during the pandemic, and Dave's birthday, this coming Wednesday, is the second one our family has celebrated during lockdown.
Dave and I have never been big on birthdays – we don't do big gatherings or parties for each other but we always make a fuss for the children. They have always had big family barbecues in the gardens, parties or days out.
This year, we've had to start new traditions, celebrate in new ways. And one thing we have been doing is a little afternoon tea spread for everyone's birthdays.
Dave's birthday is no different. We had afternoon tea yesterday whilst we talked about everything going on at the moment – the house, school, work. The children drank hot chocolate, we had tea and coffee and we grazed on sandwiches and cake for the afternoon.
It's not a huge thing, but it marks the occasion for us and we'll have a takeaway and a movie on Dave's actual birthday too.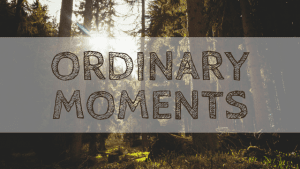 If you have an ordinary moment this week, come and link up – I'm looking forward to reading the moments that you share and will comment and share them on Twitter through the course of the week. Thanks so much for taking part.
You are invited to the Inlinkz link party!