*This is a collaborative guest post
The most wonderful time of the year is rapidly approaching! It's almost time to wrap presents, deck the halls, and blast your favourite Christmas tunes.
One brilliant thing about Christmas – besides the food and presents – is that it offers some of the best events of the year. There are festive theatre performances, winter wonderlands, thrilling activities, you name it! And these December events fit in perfectly with the festive season – you might discover the perfect early Christmas gift or start a new Christmas family tradition.
So to help you fill this holiday season with as much joy and laughter as possible, we gathered some of the best family-friendly events to attend in London this December. Check them out!
The Snowman
When: Multiple shows at multiple times throughout December 2022
Where: Peacock Theatre in London
Why not check out some festive London theatre shows to get you all in the mood for Christmas? We all know The Snowman. It's one of the most iconic Christmas movies, recognised by many, including Channel 4 and The British Film Institute, as one of the greatest Christmas moments.
Join James and the snowman on their magical adventure, seeing this wonderful story brought to life by extravagant costumes, dancing, and heart-warming moments.
Christmas at Kew Gardens
When: Selected dates in December through to early January 2023
Where: Kew Gardens in London
Kew Botanical Gardens is 500 acres of woodland and is the largest seed conservation project in the world. And every Christmas, the gardens are brought to life by tunnels of light, trees adorned with twinkling lights, and immersive installations and displays. It's one of the biggest London events in the festive calendar and evens offers the chance to meet the man himself: Santa.
FUN DMC – Xmas Jumper Special
When: Sunday 18th December 2022
Where: Colours Hoxton in London
Cheeky Christmas jumper party with the family, anyone? Since its inception in 2014, FUN DMC has thrown huge parties, including ones at the family-friendly Camp Bestival and Southbank Centre's Imagine Festival. They throw parties with funk, disco, garage, house, DnB, hip hop, and party anthems for those "too old or too young to go clubbing".
This December, their party at Colours Hoxton will see DJ Cable and MC Prankster providing the tunes. There'll also be face painting, games, dance competitions, colouring in, food, a soft play room and more to enjoy. It's going to be brilliant.
Monopoly Lifesized – City Board
When: Multiple dates and times in December through to September 2023
Where: Monopoly Lifesized in London
Got a family full of board game lovers? Take game night to the next level with lifesized Monopoly!
Over on Tottenham Court Road, a huge Monopoly board awaits you and your famil. Battle it out, charging rent, escaping jail, and earning as much money as you can in escape room challenges. Test your stealth with the laser challenge, blow your rivals away in dance-off challenges, and enjoy this legendary game brought to life.
There's also a bar and restaurant to stop and refuel before heading home after an exhilarating spin of the world's favourite board game.
The Smartest Giant In Town
When: Multiple dates and times throughout December 2022
Where: St. Martin's Theatre in London
George always felt like the scruffiest giant until he stumbled across a clothes shop, where he buys himself a smart new outfit. When walking home, George meets a few animals who need his help. He offers his scarf to the giraffe to help keep his neck warm, his shirt to the goat who needs to use it as a sail on his boat, and more.
A lovely and important moral tale, The Smartest Giant In Town teaches littluns generosity and that material possessions aren't everything – what really matters is how you treat others. A best-selling book transformed into a heart-warming story on stage, it's a lovely message that ties in perfectly with the Christmas season.
The lastminute.com London Eye River Cruise
When: Multiple times every day in December 2022
Where: The London Eye in London
When you live in the big city for so long, you might find that the city that once wooed you seems to have lost its charm. But it's never too late to be a tourist in your own city, exploring and falling in love all over again. And this award-winning sightseeing cruise is the perfect way to do that!
Hop on board and see the city from a different perspective as you cruise the River Thames, soaking in the views of London's most popular landmarks. And with fun facts and a bit of history from an expert guide, chances are you'll leave having learned something new about the city you call home!
Ice skating
When: December 2022 – January 2023 and beyond
Where: Multiple locations
If you think this one sounds vague, good! That was our intention, simply because there are so many ice skating destinations in London. There are loads to choose from, including Hampton Court Palace Ice Rink, Canary Wharf Ice Rink, JW3 Ice Rink, and Hyde Park Winter Wonderland are some the city has to offer. But if you're looking for something a little different, try Skylight at Tobacco Dock to feel Christmassy at the only rooftop ice skating rink in London.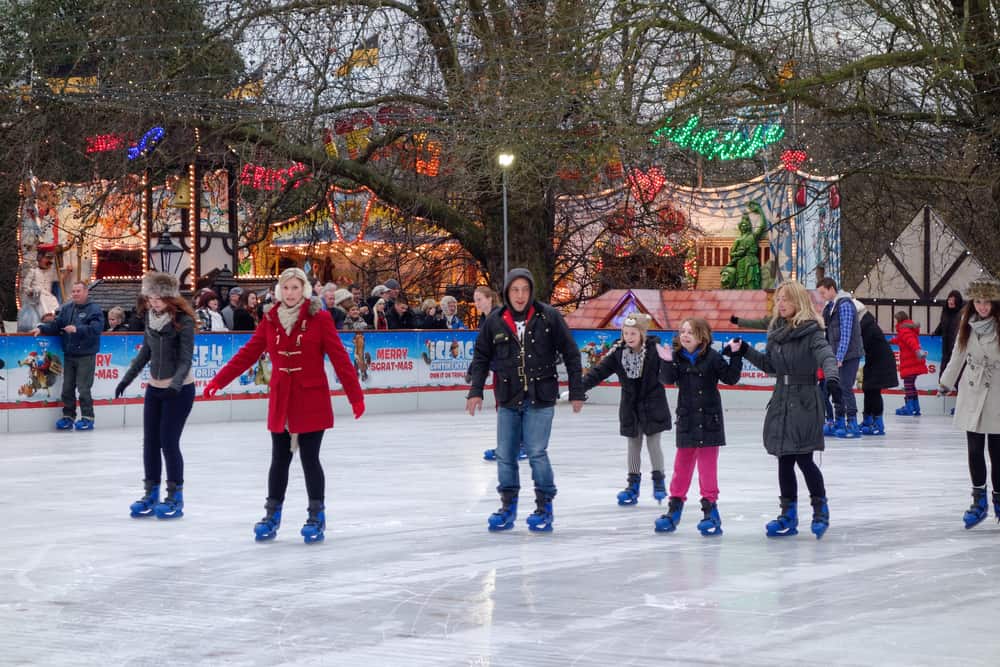 Lunch with Santa
When: Friday 23rd December 2022
Where: Woolston Manor Abridge Road, Chigwell, just outside London
Okay, this one's a bit further out of London, but it's too good to not include it here! Over in Chigwell, you and your little munchkins can sit down for a lunch buffet with the man of the moment – Santa! What better way to get the family in the mood for his visit? And there's the added bonus of not having to cook! Additionally, there'll be a DJ, games, storytelling and the chance to snap some pics with Santa.
There's also a Breakfast with Santa event at the same venue on the same day if you want to keep lunch just for the family – you can find both on Skiddle.
Comedy Club 4 Kids – Christmas Cracker
When: Sunday 11th December 2022
Where: artsdepot in London
We all love a good belly laugh every now and then. One that makes us make strange noises as we gasp for air and flap our arms around like giddy seals. Comedy truly is a gift, and everyone, including youngsters, should get to experience the joys of such a simple but powerful event. This December, Artsdepot is hosting a kid's comedy club that'll see Tiernan Douieb, Howard Read from CBBC, a special guest, and even Santa take to the mic to crack some jokes! Head over and laugh until your face turns strawberry red.
There are so many wonderful London events in December this year that it's almost impossible to choose! Whether you want to live it up in the city or book some festive treats, Skiddle is always here to help your family create cherished memories that'll last a lifetime.
Head over to Skiddle now to discover more events like these and book some new adventures for you and your loved ones.