*This is a collaborative post
A great way to keep your kid's busy is to allow them to learn something new. A few things are more exciting than having a creative crafting session with your kids during the holidays. It creates an opportunity for bonding with your kids, likewise creating good memories. Moreover, the needed items are not costly, so you don't have to worry about exceeding your budget. Here are some creative craft ideas to help you spend more time with your kids.  
1 Paper plate toys 
Admittedly, great kids toys are also available in the stores but have you considered building one with your kids? You can use a combination of materials when crafting with your kids. For instance, you can use a paper plate to create many fun things with a bit of paint and cutting. For example, you are designing a paper plate turkey for Thanksgiving festivities or a Christmas tree paper plate for Christmas celebrations. To create a paper plate turkey, get your materials ready-you will need scissors, glue, a pencil, a black marker, a paper plate, and coloured paper; brown, red, orange, and yellow.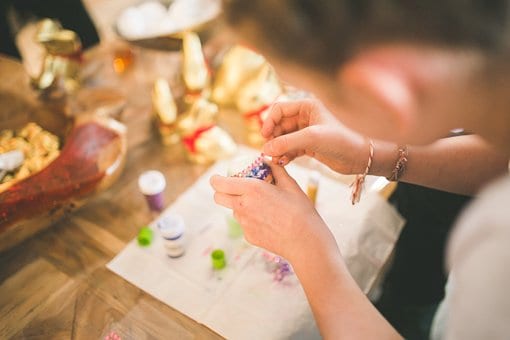 You would also need acrylic paint, a paintbrush, orange pipe cleaner, eyeshadow, etc. Clasp a paper plate and paint it brown, draw a circle to create the head on the brown paper, and then cut it out. Draw two large wings on the white paper, illustrate a small and large circle for the eyes, and cut them out. You would then draw a beak on orange paper and cut it out. Haul a hanging skin under the beak on the paper for the best results.
Now, glue the eyes on the brown paper's head, and place the beak on the brown paper. Afterwards, place the wattle on the beak. You can pull black dots into the white eyes to make a perfect eye, so keep this in mind. Take a Q-tip and put red blush on the brown paper with the eyeshadow. Draw three feathers onto the red paper, and cut them out. Draw another three feathers onto the orange paper-cut those out, and do the same on the yellow piece. Start glueing the yellow feather behind the paper plate. Glue the head of the turkey on the body and add the wings to it. Cut the pipe cleaners to create the feed for the turkey. To do it, take a long and short pipe to make a cross, fold the sides over the longer pipe cleaner to create one foot-use the same procedure to make the other foot. The feet on it – there you go, you have made your paper plate turkey. 
2. Christmas tree paper plate craft
The merry-making season is here, and your kids will love seeing a Christmas tree in the house. To craft your Christmas tree, prepare these materials: paper plate, acrylic paint(blue, green, and brown), paintbrush, scissors, pencil, glue stick, green yarn, needle, pompoms, and star decor. Begin by painting your paper plate with blue paint. Cut your three stencils out, place each on the blue paper plate and trace it in the centre using a pencil. Paint the tree's interior with dark green paint. You can then wipe your brush and dip it into the brown paint to create the tree's trunk and the soil at the bottom of the plate.
You also want to jab holes around the edges of the Christmas tree, where you'll place your ornaments. Pop small holes in the plate on the edges of the tree and the centre, spacing the small dots out. Pick your green yarn and place it through the holes until you reach the bottom of the tree. Remove your thin needle from the yarn and cut off any excess. Grab your colourful pom poms and paste them in different spots on the tree using glue sticks. Finally, attach the star to the top of the Christmas tree using a glue stick. Your paper plate Christmas tree is ready!
3. Paper-Mache vase 
These vases are used for candy or keeping a beautiful bouquet-it is just like a flowering pot. To make paper-mache vases, blow up a large and medium balloon and cover each with white papier-mache, leaving the bottom quarter uncovered and the edges rough. You would then dry it, pop balloons, and remove it. Set a glass inside each, and fill it with water and flowers. You have your beautiful paper-mache vase. Your kids will love it, as it can be used to decorate their room, balcony or corridors.
4. DIY flower crown 
You would always see flower crowns on people's heads, which could be at a wedding ceremony, party, or photo shoot. Flower crowns are lovely; even adults wear them. To make DIY flower crowns measure the rim of your kid's head. Cut a piece of wire about 2 inches longer than the size, twist the ends together to form a circle, and then gather a few blooms and wrap them together with floral twine. Continue till you have sufficient flower bundles to cover the full wire circle. Utilise floral tape to connect the bundles to the wire round. Wear your crown beautifully and take some pictures with your kids.
5. Handprint Penguin 
If you're looking for more art for your kids, you can try this simple handmade penguin today! Materials needed for your penguin are white felt, black construction paper, orange cardstock, 12×12 light blue cardstock, googly eyes, snowflake stickers, and white pom poms. Cut some white felt to the size of your paper. Use 12×12 cardstock paper for two handprints. If you also have regular 8.5×11 paper, you can put one handprint instead. Now, cut the white felt in a wave pattern to make it look like snow.
Flicker both hands twice and round the bottom of the handprint, making the top of the penguin's head. To make your round felt bellies, draft them around an object you have. In making the beak, cut out a diamond shape from orange paper and then fold it in half. Glue your two handprints to the blue cardstock. You then add sticker snowflakes and white pom poms to make the final touch with this penguin handprint art. Paint some snowflakes with white paint, and you finally make a penguin.
6. Flower petal bowl 
Make a lovely flower bowl to keep sweets or candies for kids. To begin with, use a caved or oven-baked clay to form a large flower petal. From a smaller petal, press it into the centre of the bigger petal, then put the plastic beads in the lowest part of the bowl. You can bake according to the package instructions to melt the plastic and harden the clay. You now have your flower petal bowl.
7. Diy air fresheners 
Make a DIY air freshener by outlining the silhouette of a wooden Christmas tree ornament on fabric scrap twice. Cut it out and attach the front and back of the trim. Allow it to dry, and soak the fabric with your favourite oil—thread twine through the ornament loop for hanging. These look exactly like Christmas trees, so keep this in mind.
In making a happy home and releasing stress, try these amazing handmade crafts with your kids; you don't have to worry about checking up on them always because once you start drafting the items, it will catch their attention. Also, know that this could be a way to find out what your kids love to do. However, ensure that the materials don't harm their safety.