Disclosure: We were gifted tickets for this event but not asked to write about it however all opinions are my own.
Welcome back to another week of the Ordinary Moments. If you haven't joined in before this is a weekly linky that launches every Sunday morning and is open until midnight on the following Saturday. It's a linky that celebrates any ordinary moments in your life – or the not so ordinary some weeks too. Basically – anything goes. I'll be sharing and commenting on the posts that are linked up during the week and there's a badge at the bottom of the post if you'd like to add it to yours too.
At the start of the year I made a bit of a resolution to say yes more and I have tried my best to do that. The biggest thing to come from saying yes, though, was having Tough Mudder pencilled onto the calendar, a date that was so far away – until it arrived with a bang yesterday.
I ended up in Clapham Common at 8am in the morning with Lauren, Natalie and Tim, ready to get through our very first Tough Mudder experience. Black Tower had given us tickets to run for them, wearing their t-shirts during the run. The Tough Mudder we did was an Urban one, in a city location, so it wasn't muddy like the traditional ones – something that we were actually really glad of.
The event was over a 5k course with 13 obstacles. I'm not the fittest person and I'm a bit overweight at the moment but the 5k Tough Mudders are designed to be run by anyone without any training. Even so, I found it such a challenging experience – physically and mentally. But, as a team we got through it and I know some of the obstacles would have been impossible without Tim, Lauren and Natalie right there with me.
I felt so accomplished afterwards – so proud of doing something that I had never even considered attempting a year ago. My whole body aches and I am covered in bruises but I am sure I will do it again in the future. What a great experience.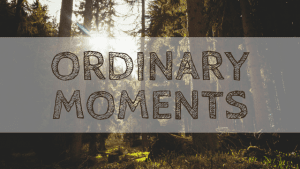 If you have an ordinary moment this week, come and link up – I'm looking forward to reading the moments that you share and will comment and share them on Twitter through the course of the week. Thanks so much for taking part.
You are invited to the Inlinkz link party!