*This is a paid post in collaboration with ATS Euromaster, but all thoughts and experiences are my own
I learnt to drive nearly 20 years ago and thanks to the ATS Euromaster I Wish I Knew Campaign, I've been inspired to think back to buying my first car and the things I wish I knew beforehand. Even now, I look back and smile, knowing I cared more about the colour of the car than the car service history or how many miles it had on the clock!
Buying your first car is much like any first experience or major milestone in life. You go into it thinking you know enough but end up learning so much from it. Twenty years on, and at least three cars later, I feel like there's quite a lot I had no idea about back then!
Things I wish I knew when buying my first car
There's more to choosing a car than how cute it looks and what colour it is. I chose a Ford Ka because it was small and purple. I thought a small car would be easier to drive as a brand new driver and I loved the colour! But, it was tiny which wasn't the most practical when I had friends in the car. The back seats weren't great to sit in and the boot was tiny. But, it did the job back then!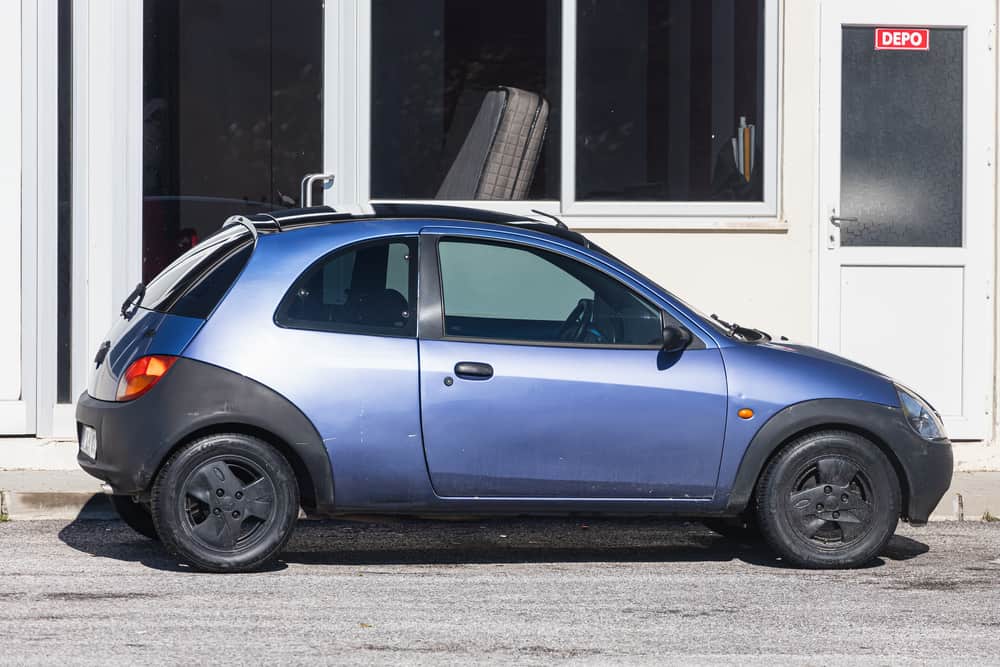 I also didn't realise how expensive having a car would be. Back in 2004, petrol was under 80p a litre – unthinkable now. But, my insurance as a new driver was around £1000 for the first year. Plus, there was car tax and all the other things you have to think about with a car. Maintenance, car servicing, MOTs, new tyres. I really didn't know it would be such a huge financial drain and one that, in hindsight, I should have planned for.
Back then, due to the costs involved when I was just 19 and on a low income, I did the bare minimum with my first car. I put petrol in it when it was running low, organised for bulbs to be changed when they died and took the car for an MOT every year. But aside from that I couldn't justify the expense of doing anything more.
It's only now, after years of car ownership, that I realise the importance of getting the car serviced regularly. It helps to spot any red flags before they turn into major issues, helps to maintain the safety of the car and also extends the lifetime of a car. Every car we have now is serviced annually and we always find that they run much better for it. Before buying my first car I didn't even really know about a service history or the impact it can have on the car that you ultimately buy. This is why an option such as Ford Privilege cars is always best;  you can be sure of their service history before you buy.
I knew absolutely nothing about wear and tear on cars, what goes on under the bonnet and what to look for when viewing and test driving a car. We ended up taking my future Father In Law to view my first car as he knew more about cars than I did. It was at night in the rain which really wasn't that well thought out and even now I'm thankful that there was nothing seriously wrong with the car. It all worked out fine.
I wish I knew practical things about cars. How to fill up the washer water, how to put air in the tyres and even how to fill up with petrol! My husband – boyfriend at the time – was very patient with me. He took me for that first trip to the petrol station and talked me through it and has basically shown me how to do everything with any car since!
It feels like yesterday I bought that little purple Ka, my bubble on wheels, and I have learnt so much since then. I know that I'd rather buy a car with fewer owners, that I'd always opt for one with a full service history and that I'd always choose a car with fewer miles on the clock so that it will last me as long as possible.
We're actually looking to upgrade our car in the next year or so and I'll keep you posted on what we go for. You can be sure that it will be previously owned, well looked after and with a full service history too! And on that note, is there anything you wish you'd known before buying your first car?