I was on the train recently and just before I got off I saw this sign and had to take a photo of it.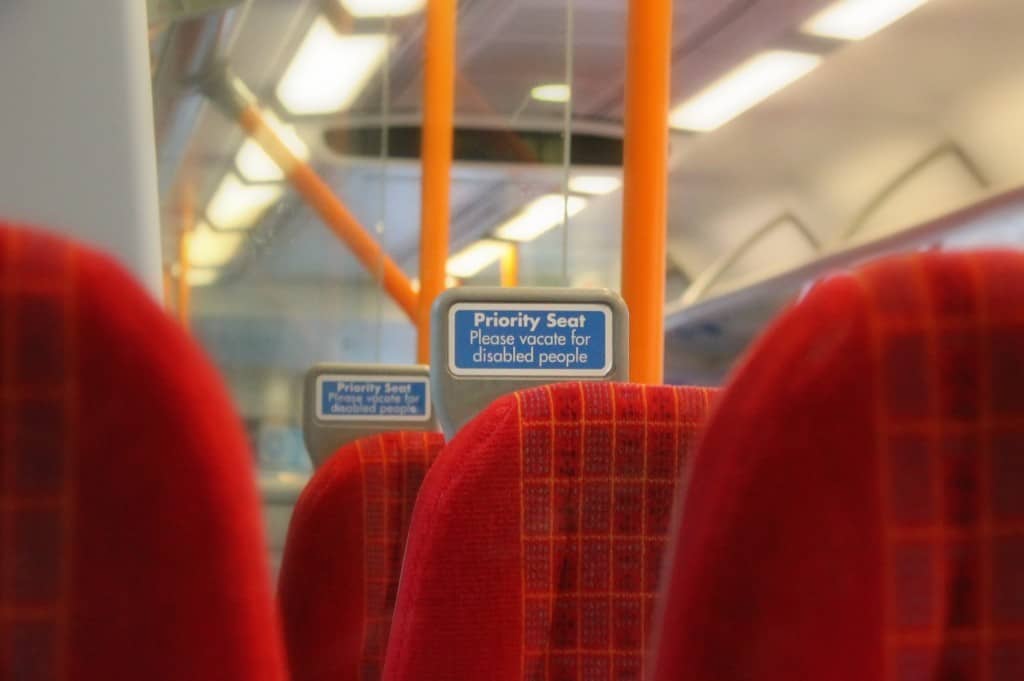 Priority Seat – Please vacate for disabled people.
When did we start to need signs to tell us to give our seat up for someone less able? When did we stop doing the right thing unless we had a sign to tell us?
I grew up being told to say please and thank you, to hold open doors for people and to give up my seat on the bus if an elderly, disabled or pregnant person got on. Even now, as an adult, I say please and thank you – Probably far too often, I hold open doors and let people come through before I go through the door or I hold the door open a moment longer so the person behind me can take it without it swinging back at them. Giving up a seat on a train or bus is second nature – I wouldn't dream of staying sitting if a pregnant woman got on at rush hour, for example.
Why does everyone not do these things? Why do I have to struggle through doors with a double buggy and no offer of help? Why do I often have doors swinging shut in my face where the person in front hasn't held it that moment longer and why, often, do I slow my car so that people can cross the road and they don't even incline their head to acknowledge that I slowed for them – They take it for granted.
When did manners start dieing out? When did people stop the common courtesies that I grew up to appreciate and also to practice? When did people start needing signs to tell them to give up their seat on public transport?
I will teach my children to say please and thank you, to give up their seat on the train, to ask if they can get down from the dinner table and to offer to help with the washing up after a meal. My children will know to wash their hands before dinner and after they go to the toilet and they will have the same respect for their elders that I had growing up.
My children will be taught these things, they won't need a sign in the bathroom to remind them to wash their hands, a sign on a seat to tell them to stand or a sign on a train door tell them to let others off before they board.
"Life is short, but there is always time enough for courtesy." ― Ralph Waldo Emerson