Welcome back to another week of the Ordinary Moments. If you haven't joined in before this is a weekly linky that launches every Sunday morning and is open until midnight on the following Saturday. It's a linky that celebrates any ordinary moments in your life – or the not so ordinary some weeks too. Basically – anything goes. I'll be sharing and commenting on the posts that are linked up during the week and there's a badge at the bottom of the post if you'd like to add it to yours too.
Why is it that everyone always gets sick in the run up to Christmas? It's felt like LP and Little Man have had coughs, colds and general sniffles almost constantly since going back to school in September but this time it's my turn to be poorly.
I've been in bed for a few days with tonsillitis. It always knocks everything out of me and this is the third time I've had it since April. It's no fun at all. Usually it flares up after having a cold or flu but this time it's just standalone tonsillitis – and it's awful.
I'm on antibiotics now and hoping that they kick in and I start feeling better as soon as possible. The children break up for Christmas on Friday and this week is full of Christmas activities which we don't want to miss.
It seems like a bit of a tradition that at least one of us will be sick in the run up to Christmas. We're all so busy and the weather is so cold and miserable. I'll never forget the Christmas where both LP and Little Man had conjunctivitis either. Or, the one before where LP had tonsilitis and a chest infection. I'm hoping that me having tonsillitis is the worst that our family gets this year!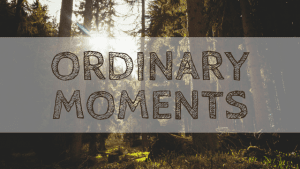 If you have an ordinary moment this week, come and link up – I'm looking forward to reading the moments that you share and will comment and share them on Twitter through the course of the week. Thanks so much for taking part.
You are invited to the Inlinkz link party!