Welcome back to another week of the Ordinary Moments. If you haven't joined in before this is a weekly linky that launches every Sunday morning and is open until midnight on the following Saturday. It's a linky that celebrates any ordinary moments in your life – or the not so ordinary some weeks too. Basically – anything goes. I'll be sharing and commenting on the posts that are linked up during the week and there's a badge at the bottom of the post if you'd like to add it to yours too.
Little Man had an exciting week at school this week with Pirate Day on Tuesday. He's been learning about pirates this term and to finish off the topic and really cement the learning the children were asked to come into school dressed as pirates and spent the day doing all sorts of pirate themed activities.
Little Man loves any excuse to get dressed up and he'd been talking about pirate day for moths. When it finally came round he couldn't wait to get dressed into his outfit and go and see all his pirate chums at school.
It's so nice that the school organise things like this as I know it really helps the children to get enthusiastic about the topics they're learning and it helps them absorb the information so much better when they can get hands on with it.
Little Man had such a nice day on pirate day and has been talking about it pretty non-stop since. He's now wondering what the next topic will be and whether it will have a special day out involved or a day where they can get dressed up again.
I feel so thankful that both Little Man and LP love school and embrace everything that it brings their way. Long may it continue.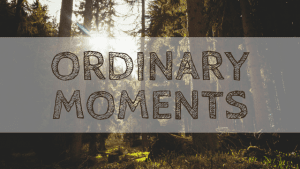 If you have an ordinary moment this week, come and link up – I'm looking forward to reading the moments that you share and will comment and share them on Twitter through the course of the week. Thanks so much for taking part.
You are invited to the Inlinkz link party!