*This is a collaborative guest post
Investors in the modern world never cease looking for new places to locate and expand their business, receive solid dividends, and find comfortable living areas. Asian countries are being actively studied, and Indonesian real estate has become particularly interesting. This is no coincidence. Indonesia is one of the twenty largest countries in the world and the largest island state. Add here the unique climate and beautiful beaches, and it becomes clear why it is interesting to search for apartments for sale in Indonesia for expats.
Overview of real estate in Indonesia
The government of the island country creates good conditions for starting private entrepreneurship, namely:
there is no prohibition on the purchase of real estate by foreigners (except for land plots);
transparent legislation regulating business;
the state does not "put pressure" on market relations using administrative methods;
All this allows you to buy the selected property in Indonesia and dispose of it profitably. Moreover, the low cost of building materials and the possibility of inexpensive services of qualified workers significantly reduce the cost of buildings. For the same reasons, it will be cheaper to build your own, both on the famous island of Bali and on other, less "promoted" islands. It must be remembered that the mentality of local residents is very different from that of other countries. It is better to pay wages daily and control the work process to avoid misunderstandings. And entrust all work with documents to a reputable notary.
It is no secret that real estate prices in Indonesia are gradually increasing. A small house near the Indian Ocean will cost more than a villa near a rice field. And in a civilized city, housing costs depend on proximity to the historical center. But the house will easily recoup the investment costs through rent and, in the future, a more profitable sale.
Today, according to statistics, Indonesian real estate is being bought inexpensively by Australian and Japanese citizens. Otherwise, why is Bali called heaven on Earth?
What to see when traveling in Indonesia
The country is located in southeast Asia and is the world's largest archipelago of 18 thousand islands. Indonesia has beautiful, picturesque places and unique attractions that are worth seeing with your own eyes.
While traveling in Indonesia, you will see a huge number of historical attractions. A beach holiday at the local resorts can be perfectly combined with studying ancient monuments. Among the antiquities, the ancient Borobudur temple complex, built on Java's island around the 7th – 9th centuries, stands out.
The monument is located in a very beautiful and amazing place. From the top platform of Borobudur, there is an amazing view of the Merapi volcano and the picturesque surroundings. The entire complex is an object of worship for pilgrims who walk around each tier of the monument 7 times clockwise.
A trip to Indonesia would be incomplete without visiting Komodo National Park, which includes the island of the same name and the neighboring islands of Rinca and Padar. Komodo is famous for being home to the giant monitor lizard, also called the "Komodo dragon."
This name for local monitor lizards is not accidental. Any ignorant person who sees this reptile can mistake it for a dragon – after all, the length of the Komodo dragon reaches 3 meters, and its weight is up to 70 kg. Giant monitor lizards are carnivorous predators but are dangerous only to small animals or birds. Cases of monitor lizard attacks on humans are extremely rare.
The country's main attraction is the island of Bali, which is called the "Indonesian pearl" in many tourist brochures. Bali is the main attraction for foreign tourists and the main reason to travel to Indonesia. The island is ideal for a holiday because it has picturesque nature, mild climate, excellent beaches, excellent hotels, and many interesting attractions.
The island of Bali has many interesting attractions that will appeal to lovers of travel cultural and environmental tourism. That is why to buy property here is one of the most promosing decisions.
Tourists with children should visit the Waterbom water park in the Kuta area. It is a giant water city spread over four hectares of tropical gardens and numerous attractions. Steep water slides, a transparent pipe where you can go down from the height of a 6-story building, picturesque swimming pools, a beautiful river, children's attractions, and live dolls in the form of cartoon characters – all this will bring vivid sensations and a lot of joy to your whole family.
Fans of exotic fauna can visit the Reptile Park or Bird Park, where you can see unusual representatives of the animal world of Indonesia. And Ubud has a special forest where you can see monkeys of various species. The funny monkeys are completely unafraid and calmly go about their business, which allows tourists to see many interesting and funny scenes.
You should definitely climb the extinct volcano Agung. Its height is 3142 meters, and the top of the mountain is the highest point in Bali. From the slopes of Agung and its top there is a very beautiful view of the sea and the surrounding environs of the island. The Besakih Temple is located on the western slope of the mountain, so on religious holidays tourists are not allowed to climb to the top.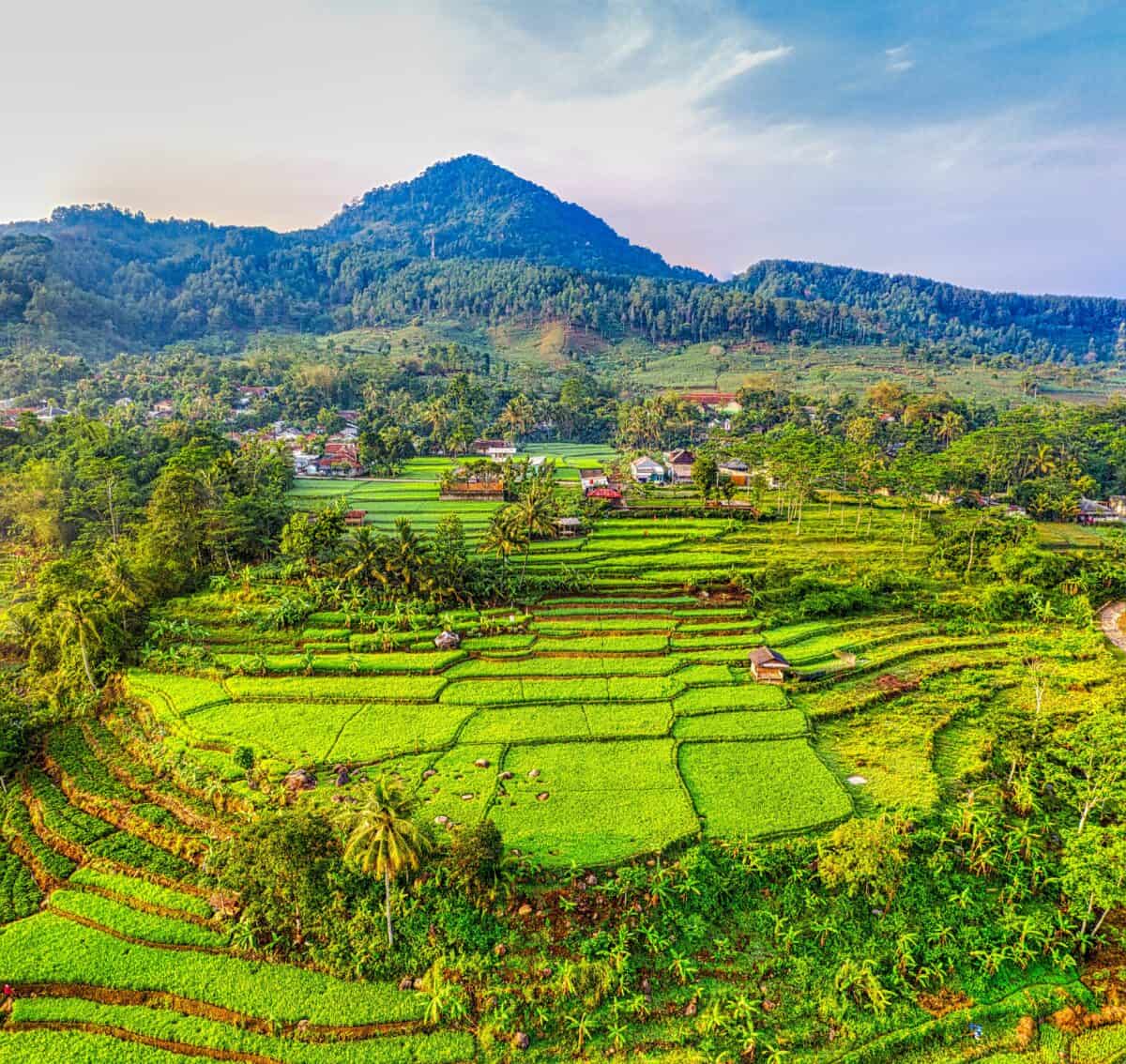 Property for sale in Indonesia
Do you need to buy, rent, sell, or rent an apartment? Indonesia-real.Estate has a complete database of real estate properties for sale in different cities of Indonesia. The database is constantly replenished and updated thanks to customer requests, exclusive agreements with real estate sellers, and monitoring specialised real estate publications and all available real estate databases.