After going for our first alpaca walk recently we have been researching places for alpaca walking experiences closer to home. I thought it might be helpful to put together all the alpaca walks in the South East of England in case it's useful when you're planning a day out or special occasion.
Why would you go for an alpaca walk?
Walking alpacas is not just great exercise but great fun for the whole family too. It's a lovely way of spending quality time together It's something you could do on a random weekend, or something to do for a special occasion.
Also, many alpaca farms have a tea room or cafe and a little shop selling alpaca products too. There are often special events through the year and some participate in Open Farm Sunday too. Whatever the reason, alpaca farms are worth travelling to and the walking tours are always such a lovely experience.
Hampshire Alpaca Walks
Pennybridge Alpacas
The Alpaca Experience is a two hour Meet and Greet with a short halter walk lasting at least 20 minutes.
Where: Pennybridge Farm, Greywell Road, Up Nately, Hook, Hampshire RG27 9GT
Cost: £50 for 2 people, £100 for 4 people, £150 for 6 people.
---
Hensting Alpacas
The Alpaca Walks kick off at 10am and last for two hours. The experience includes health and safety as well as educational information about the alpacas. before the walk begins. Through fields and meadows, alongside the river and with a chance to see other animals too.
Where: Hensting Alpacas, Kiln Lane, Otterbourne, Eastleigh Hampshire SO50 6HT
Cost: Prices start from £26 for one person with one alpaca. They also have a llama keeper experience too.
---
Broad Oak Alpaca Farm
Meet and greet picnic with the alpacas! Packages available that include picnic food – or you can choose to bring your own.
Where: Broad Oak Alpaca Farm, Broad Oak Lane, Hook, Hampshire RG29 1AG
Cost: From £15 per adult, £5 per child without picnic food.
---
Petlake Alpacas of the New Forest
Take an alpaca on a slow walk around the farm. Get to know the gentle creatures and learn all about them from your guide as you walk.
Where: Petlake Farm, Bartley, Southampton, Hampshire SO40 7LA
Cost: From £32 for one person with one alpaca. Private walks for up to to five people available with two Alpacas £125
---
Slowhayes Alpacas
Slowhayes Alpacas don't offer a typical alpaca walk experience but they do a mindful walk with the alpacas, an alpaca meet and greet or an alpaca walk followed by afternoon tea with the alpacas!
Where: Showhayes Suri Alpacas, Slowhayes House, Arters Lawn, Southampton, Hampshire SO40 4UL
Cost: Costs vary depending on experience.
---
Meon Farm Alpacas in Droxford don't have alpaca walks as such but they do have a lot of other experiences available like the Alpaca Feed Rounds.
---
Berkshire Alpaca Walks
Bozedown Alpacas
Enjoy a fascinating walk in the beautiful countryside. Lead an alpaca around the alpaca farm and learn more about the attractive, enigmatic creatures. The experience lasts up to an hour and a half.
Where: Bozedown Farm, Hardwick Road, Reading, Berkshire RG8 7QY
Cost: From £36 per person with discounts for additional walkers not leading an alpaca.Group walks for four people available for £132.
---
Mortimer Alpacas
Why not enjoy a walk and picnic with the alpacas? Enjoy walking the alpacas, getting to know them and petting them before enjoying a picnic with them either of picnic tables or your own rug. The walks are 15-20 minutes with the rest of the time spent on interacting and engaging with the alpacas – it's a really up close and personal alpaca experience!
Where: Little Park Farm, Beech Hill Road, Mortimer, Berkshire RG7 2AR
Cost: From £28.50 per person.
---
East Sussex Alpaca Walks
Spring Farm Alpacas
Walk alpacas and llama around the beautiful farm in East Sussex. Alpaca walking is huge fun for everyone and the walk itself to last about 50 minutes across undulating fields all within the farm boundaries. After the walk, you will pay your walking alpaca in carrots – provided ready chopped! The entire experience lasts about two hours.
Where: Spring Farm, North Hall Lane Fletching East Sussex TN22 3SA
Cost: £36 per person walking an alpaca and £18 per additional person walking the same alpaca.
---
Northiam Alpacas
An alpaca experience at Northiam Alpacas allows you to enjoy a walk with loved ones or friends as an exciting and different activity that takes you out into nature. The experience lasts around an hour.
Where: Rock Hill, Horns Cross, Rye, East Sussex TN31 6JF
Cost: £35 per person walking alpacas and £10 for anyone not walking an alpaca.
---
Stud Farm Alpacas is another option but they aren't taking new bookings at the time of writing.
---
West Sussex Alpaca Walks
Dunreyth Alpacas Adsdean Park
Each walker has their own alpaca and numbers are limited to ensure a personalised service. The walk lasts around 60 minutes with great views across the South Downs National Park.
Where: Adsdean, Funtington, Chichester, West Sussex PO18 9DN
Cost: £20 per alpaca
---
Our Back Garden
A private two hour alpaca session. Alpaca walk around the farm with alpaca feeding session including a complimentary glass of prosecco or alternative drink and use of the picnic area.
Where: Mill Meadows Farm, Mill Lane, Westbourne (near Emsworth), West Sussex PO10 8RT
Cost: £30 per adult, £25 per child
---
Isle of Wight Alpaca Walks
West Wight Alpacas and Llamas
Get up close and personal with alpacas and llamas during a walking experience with awesome views from the top of the farm. Learn more about the amazing creatures with knowledgeable guides and walk past the birthing field where you might even see an alpaca birth! The experience includes entrance to the farm
Where: West Wight Alpacas, Main Road, Wellow, Isle of Wight PO41 0SZ
Cost: £23.45 per person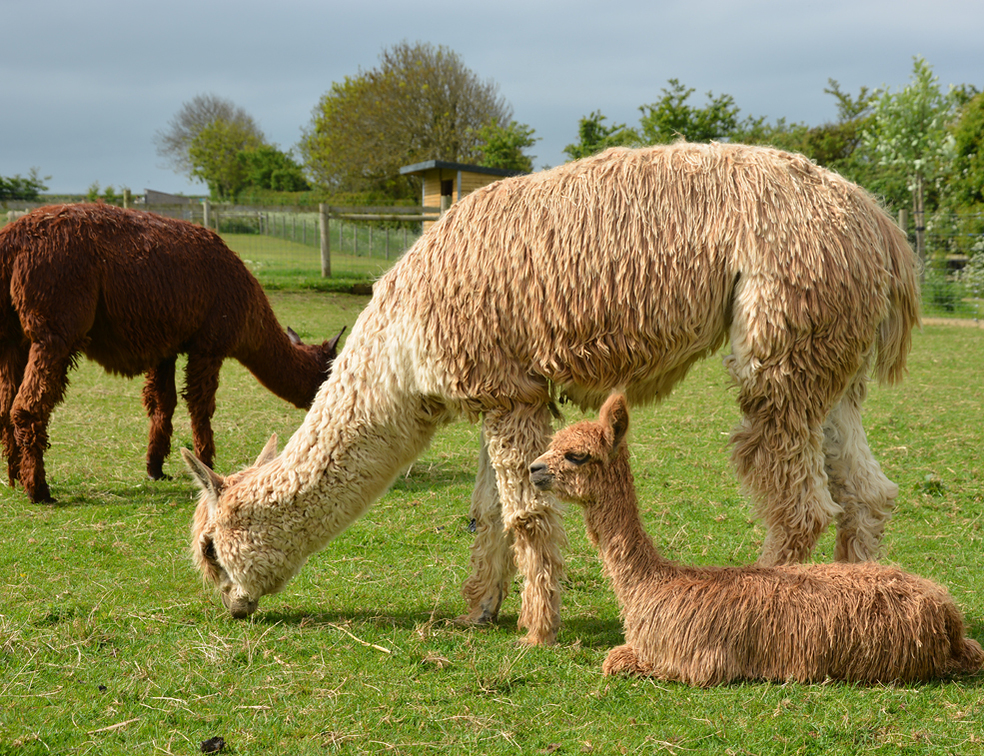 ---
Kent Alpaca Walks
Lower Bush Alpacas
Where: Walk with the friendly alpacas against the backdrop of the beautiful West Kent Downs. Learn how to handle the alpacas whilst learning more about them. The experience includes a 45 minute walk before giving the alpacas some treats and making the most of photo opportunities. The whole experience lasts around two hours.
Cost: £30 for one person walking one alpaca. £35 for two people sharing
---
Alpaca Trekking Centre – Woodland View Alpacas
Go on an alpaca trekking experience around the Quex Park Estate in Kent. The alpacas are delightful, friendly animals who will be sure to put a smile on your face. Roughly a two hour experience including a 90 minute walk depending on the pace of the alpacas!
Where: Woodland View Alpacas, Quex Park, Birchington, Kent CT7 0BH
Cost: £29 per adult, £14.50 per child
---
London Alpaca Walks
London Alpacas don't offer alpaca walking but they do have agricultural visits where you can learn about the alpacas and spend time with them.
---
I hope that's given you some inspiration if you're planning to walk alpacas in the future. I'll add more alpaca farms as I find them and if I've missed your favourite place from the list please do get in touch and let me know.