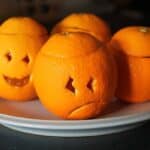 Print Recipe
Halloween Jelly Oranges Recipe
A really simple and healthy Halloween treat the whole family can enjoy.
Cut the top off the oranges and hollow out the middles. Carve faces onto the oranges like you would a pumpkin.

Dissolve the jelly in 285ml boiling water.

Squeeze the juice from the orange flesh and add it to the jelly mixture. Top up to 570ml with cold water.

Put in the fridge to set.

Fill each orange skin with jelly and replace the tops.