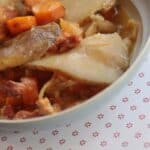 Print Recipe
Slow Cooker Chicken & Sage Hot Pot
This Slow Cooker Chicken & Sage Hot Pot is such a lovely wholesome meal. Everything you need in one pot and ready when you are. Great for winter or just a laid back summer day.
Spray a large pan with oil and cook the chicken, bacon and onion until browned.

Stir in the flour and then add the stock, stirring. Add a good sprinkle of dried sage.

Put the carrots and swede in the slow cooker pot and pour over the chicken mixture.

Place the potatoes on top, overlapping slightly and cook on low for 8 hours.

Take the slow cooker pot from the slow cooker. Add butter on top of the potatoes and heat under the grill until browned.