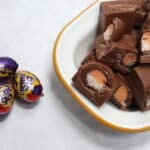 Print Recipe
Slow Cooker Cadbury Creme Egg Fudge
I wanted to make a really rich, milk chocolate Easter fudge too and the first thing that came to mind was obviously Cadbury Creme Eggs.
To decorate
150

g

Mini Cadbury Creme Eggs
Break the chocolate up and add to the slow cooker bowl with the condensed milk.

Turn the slow cooker on to high and leave to cook for 40 minutes with the lid off, stirring every ten minutes with a wooden spoon.

When thick and well combined, remove from the heat and leave to cool slightly for five minutes.

Stir in the Mini Creme Eggs and pour into a tin lined with parchment paper / baking paper or a silicone baking tray.

Top with the extra Mini Creme Eggs and put in the fridge to set – preferably overnight.