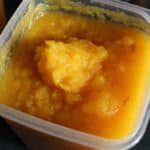 Print Recipe
Pumpkin Puree
So here's my simple way to make pumpkin puree to use in all those autumnal recipes
Preheat the oven to 200C

Cut the pumpkin in half and scoop out the seeds and stuff in the middle.

Cut the pumpkin into smaller, but still large, pieces and lay on baking trays.

Bake in the middle of the oven for an hour.

Wait for the pumpkin to cool and then remove the skin – you can do this by hand or with a knife and it should now come away easily from the flesh.

Put the pumpkin into a bowl and use a hand blender to blend it to the consistency of apple sauce.

Keep refrigerated or freeze to use later.