Disclosure: We were sent the featured products for the purpose of this post however all opinions are my own.
A couple of weeks ago we spent the weekend in the Hampshire countryside and took the opportunity to try out our iCandy Raspberry with an action packed couple of days.
What is the iCandy Raspberry?
The iCandy Raspberry comes in seven different colours with the option of either a black or chrome chassis. We chose the chrome chassis with black colour pack and loved it immediately.
Packing for our weekend away couldn't have been easier as the iCandy Raspberry folds quite compact and can be folded with the seat on or off. It isn't the most natural of folds though and did take some getting used to however it's freestanding when folded which makes getting it in and out of the car so much easier.
The first day of our weekend away we went to Manor Farm and Country Park. Unfortunately it rained all day and we couldn't get the iCandy raincover to fit well in a position where Little Man could still see out so, ever British, we carried on regardless and found out that the iCandy hood gave a lot of cover from not just sun but rain too.
What is the shopping basket like on the iCandy Raspberry?
The iCandy Raspberry has a huge basket and we were able to fit in the change bag as well as all our other stuff we carry with us on a day out and buckets of bird feed too. I was impressed that such a lightweight, compact stroller could feature such a good size basket and for me it's a huge selling point of the Raspberry.
Our second day out at Marwell Zoo reinforced our first feelings about the iCandy Raspberry. It's definitely an urban pushchair and does struggle on rough terrain but on flat ground it pushes like a dream and has a really small turning circle making it nippy and perfect for high traffic areas and city living. The extendable handle makes it nice to push for both Hubby and I, extending quickly and smoothly. The pushchair is also really slim and fits through the smallest of gaps.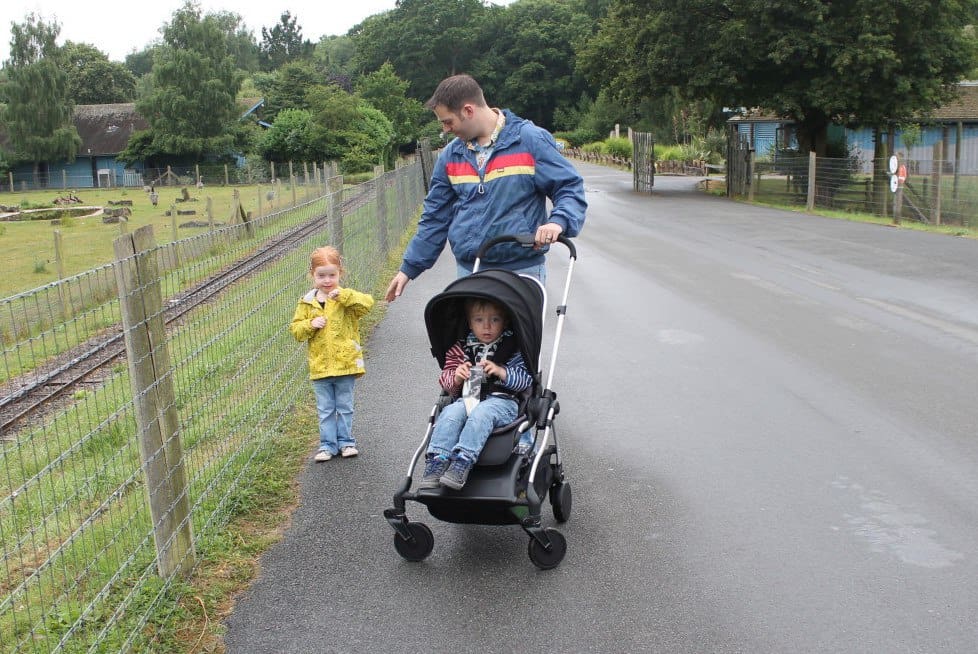 Although LP doesn't often use a pushchair on days out she will share the pushchair with Little Man, borrowing it from him when her legs are tired. Even though she is nearly four she is quite petite and fit well into the iCandy Raspberry. She loved having us recline the pushchair until it was in lay flat mode and pretended to go to sleep – although the lack of footmuff included with the iCandy is disappointing – she used my coat to snuggle in. I can see that it would be a great pushchair to use even with a small baby as the recline options are a lot better than other pushchairs.
We loved using the iCandy Raspberry for our weekend away and know that it would be a great pushchair for the school run, a trip to the shops or a day out. It looks great, has a huge basket and would fit in the majority of car boots. A great all round pushchair.
Disclosure: We were sent the featured products for the purpose of this post however all opinions are my own.