*This is a paid post
I don't wear a huge amount of jewellery and instead to wear simple pieces that really mean something to me. Recently True Love Keepsakes got in touch and asked if I'd like to review an item from their collection and, scrolling through the website, I loved everything.
True Love Keepsakes create fingerprint, handprint and footprint jewellery in solid sterling silver for every occasion, reason and person. There is literally an item of keepsake jewelry for everyone that you can think of and for any moment in life or occasion throughout the year. Necklaces, bracelets, keyrings and even cufflinks.
I chose to review a personalised handprint bracelet with two charms, one for each of the children. Once an order has been placed you are sent a print kit with instructions, sheets of card and wipes. It's simple to wipe the child's hand and make a print with it on the card and the same process would be used for footprints or fingerprints. The pack came with a stamped addressed envelope to easily return the prints once complete.
Once I had returned the prints the bracelet arrived, well packaged, within about two weeks. For handmade, personalised jewellery I was really impressed with the timeframe. The bracelet was gift boxed and in a storage pouch making sure it arrived in absolutely perfect condition and True Love Keepsakes even return the handprints too as an extra momento and keepsake. The keepsake jewelry box finishes off any piece of keepsake jewellery, making it a really perfect gift.
The finished bracelet is stunning and I was so pleased with how well LP and Little Man's prints turned out. It's funny as I know the children so well that I automatically knew which prints were whose – LP with her long skinny fingers and Little Man with his slightly smaller, chubbier ones. But, with true Love Keepsakes you can even haves engraving on the jewellery and I chose to have the children's names on the reverse of each charm. You could also have dates engraved or anything else relevant to the recipient of the jewellery.
My keepsake bracelet is beautiful. It's lovely and weighty without being too heavy and it's something I will treasure forever. The charms are round but they can also be heart or star shape and they are compatible with popular charm bracelets like Pandora or Chamilia.
A charm is always a really thoughtful gift and a personalised one is even more of a treasured gift. With Mothers Day coming up I know that jewellery like this will be a really popular option especially as you can buy a personalised charm for an existing charm bracelet or buy a whole new bracelet as a wonderful gift.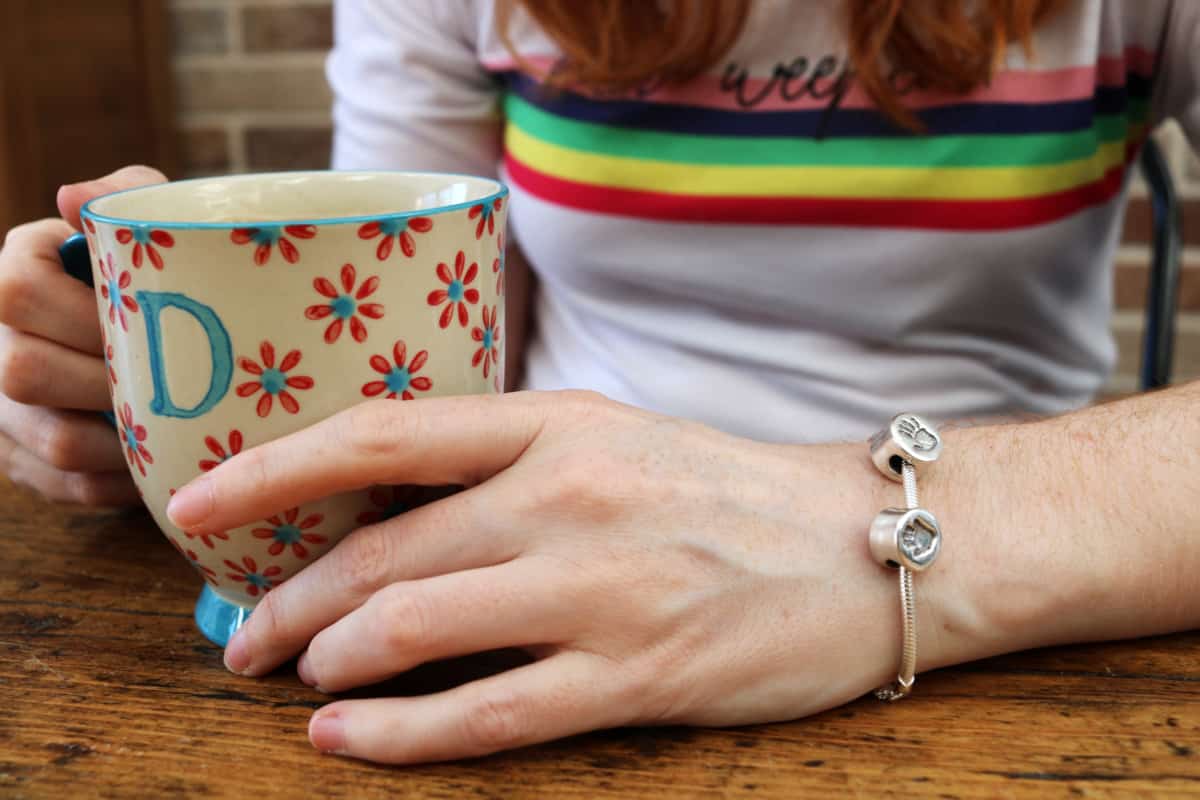 True Love Keepsakes strive to capture memories for everyone in the form of beautiful jewellery. They offer free delivery regardless of order value and as well as the print jewellery they also offer many engraved items of jewellery and gifts.
To make personalised jewellery even more affordable and accesible to everyone, True Love Keepsakes even offer payment plans and they can create bespoke jewellery too. I can tell that True Love Keepsakes really care about the work that they do, creating jewellery that will be treasured for a lifetime and adored by whoever is wearing it.