Disclosure: We were sent the featured products for the purpose of this post however all opinions are my own.
This post contains affiliate links and I may receive commission if you visit a link and buy something. Purchasing via an affiliate link doesn't cost you any extra, and I only recommend products and services I trust.
I am yet to meet a child that doesn't love a bouncy castle so when Toyz World offered to send us a bouncy castle to use for LP's Birthday Party I knew that she would love it.
We have a fairly big garden but open space is limited so I was imagining a huge bouncy castle filling our garden from edge to edge but when we measured the garden before choosing which bouncy castle to review I found that all the bouncy castle sizes were perfect for a standard garden – not the industrial sized ones I'd been thinking of!
From the range on offer at Toyz World we chose to review the 15ft Turret Ball Pit Bouncy Castle as I knew LP would love how much it looked like a castle and the ball pit added an extra play option for the party guests.
The ball pit arrived in two boxes, both of which are compact enough to keep in a loft, shed or garage. One box contains the bouncy castle and pegs to keep it grounded and in the other box there is an electric air blower to inflate the bouncy castle – and keep it inflated during use.
The bouncy castle couldn't be simpler to set up – you just lay out the fabric of the bouncy castle, attach the air blower, plug it in and turn it on. The bouncy castle only takes a minute or so to inflate and the children loved that they had an instant bouncy castle in the garden.
We had the bouncy castle for a week before LP's party but unfortunately the weather was too bad to use it but the children spent a large part of the day before her birthday party on it, testing it out for us. It's well made, durable and stands up to children being quite forceful with it. The only issue came when the children bounced into the netting on the sides of the bouncy castle and their momentum caused them to end up on the floor, inside the netting, with the turrets collapsed on top of them. During a whole day of use at the party this happened 3 or 4 times although the children were always supervised when it was in use but I'd advise having the bouncy castle situated away from any obstructions or having mats down around the bouncy castle.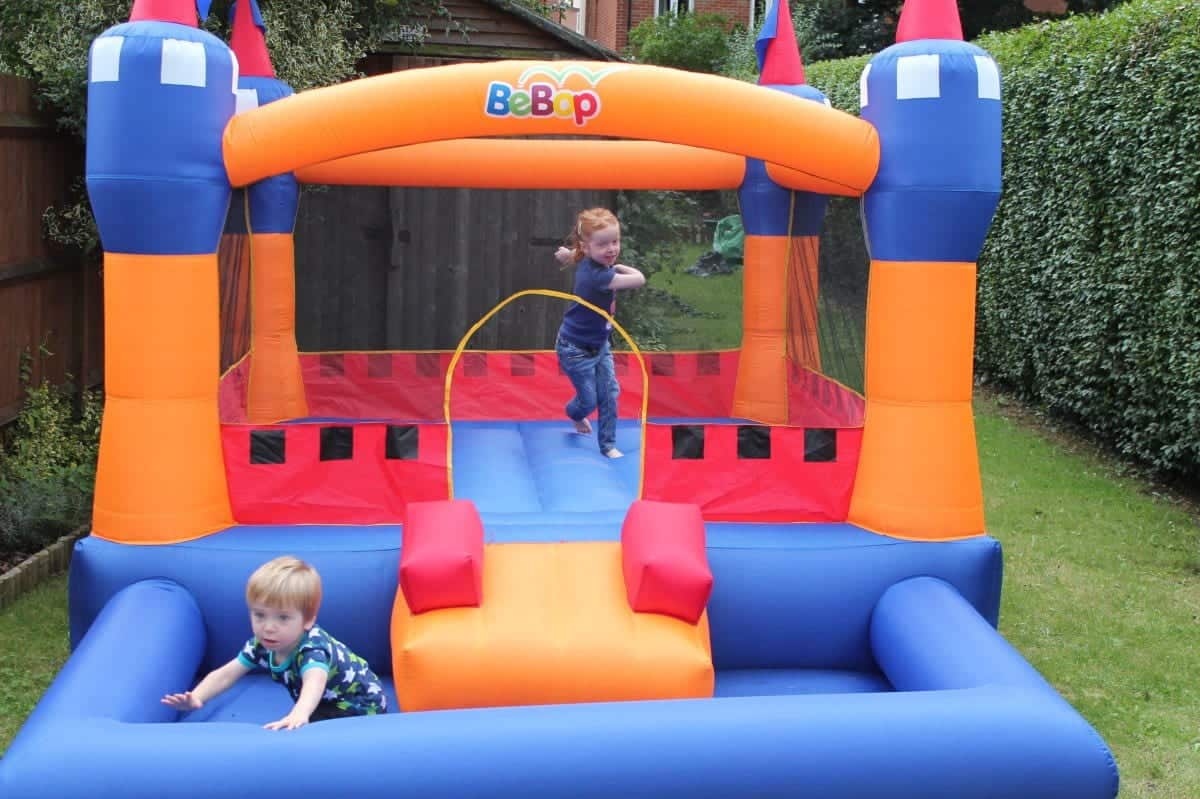 That aside, LP loved having the bouncy castle at her party – it really is a four year old's dream and we loved watching her bouncing around with her friends. We are now considering in investing in a bouncy castle to use at parties going forward as for around £200 I think it would be a great investment as bouncy castle hire is usually a good chunk of that just for a few hours.
The BeBop Turret Ball Pit Bouncy Castle has an RRP of £309.95 but is currently on offer at £229.95