*This is a paid post
When having your first baby there is so much stuff to buy as well as so much to learn. The whole parenting world is a minefield and nearly four years on I still feel like I am winging it. I was asked by Online4Baby to put together a list of things that I thought new parents would need in baby's first year and to be honest, it does vary from family to family and depending on things like feeding and sleeping arrangements.
Whilst you're thinking of things to buy, remember that you can also enjoy things such as a free baby box and other special offers and promotions during pregnancy and the early months with a new baby.
Here are some of the things that I found usewell when I first had LP.
Somewhere to sleep
For the first few months it's traditional for a baby to sleep in a moses basket but there are now a lot of bedside cribs that do the job just as well – if not better. After those first months you could decide to move the baby into their own room and can then have the choice of a cot or cot bed – we chose a cot bed just so that it would last that bit longer and is slightly bigger overall.
A travel cot may also be a good investment if you are looking to spend time away from home. Both LP and Little Man slept in a travel cot on holidays until they were two and you can now get a whole host of travel cot accessories to make them more comfortable too.
A set of wheels
Investing in a decent pushchair is imperative as a new parent. It's great to have one that folds well for easy storage, has a large basket and is travel system compatible – making the transition from car to pushchair that bit easier. Try out pushchairs in shops, read reviews and listen to recommendations from friends – everyone looks for different things in a pushchair so work out what you want from yours.
A baby carrier
I didn't really use a baby carrier with LP but fell in love with babywearing when I had Little Man and regretted not embracing it the first time around. Carrying a baby feels so natural and having them close to you is automatically soothing for the baby. It also keeps your hands free for doing other things but I think most parents who use baby carriers also have a pushchair as there are times when you need to have the choice and flexibility of a carrier and a pushchair.
A car seat
Getting a good quality car seat is so important if you own a car. We had one that came with our first travel system and it fit into the car with the seatbelt around it but we invested in a 'belted base' for the car seat as our car didn't have isofix. This base saved our sanity, letting us click the baby in and out of the car so much more easily than using the belt to fit the seat in.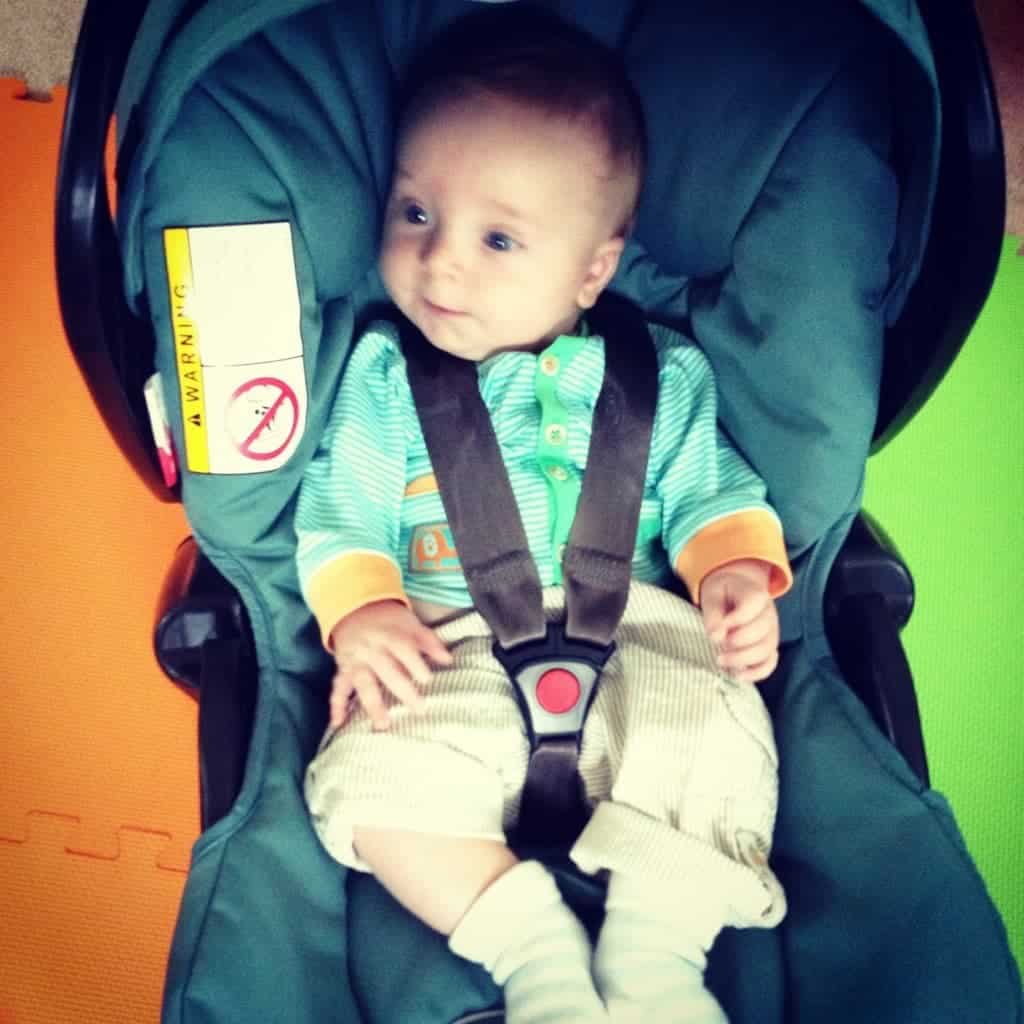 Somewhere to eat
You won't need a highchair until your baby starts to wean and for the first few months of weaning we found it easier to use a Bumbo rather than a big highchair but it really depends on your weaning preference. An easy to clean highchair for us was a priority – one without lots of padding to get food stuck into. Definitely think about how easy a highchair will be to clean when you start shopping for one!
Breast/Bottle Feeding accessories
However you choose to feed your baby a steriliser and set of bottles as well as a breast pump could be a great investment. I know many new mothers, as well as myself, who had trouble breastfeeding and whether it's a bump in the road or the end of your breastfeeding journey you'd probably find it reassuring to have the means to feed your baby with a bottle close to hand.
Muslins
I never even knew what a muslin was before I had a baby and four years on I think they're the best invention ever. Cloths for mopping up milky sick and anything else, a makeshift blanket, hat or sunshade, a bib when you've forgotten one and so many other uses – muslins for me are a baby essential.
It goes without saying that your baby will also need clothes, bedding and so many other things but above I think are the basics. As long as they have somewhere to sleep and you can get them from A to B and feed them you can't go too far wrong.
Also, if the baby has an older sibling it's great to get them a gift from the new baby. Toys or games, books or a soft toy all go down well and make the introduction to a new sibling that little bit easier.
What would be your must have items for someone having a new baby?