Today's Beginning of Us story comes from Clare over at Emmy's Mummy. Clare writes a really lovely blog dedicated to all things family – as well as some of the best giveaways you will see online! If you're looking for something new to read definitely take a look at her blog – and find her on Twitter and Facebook too!
Here's Clare with her story…
When people hear that I knew Paul at school they automatically think it was a childhood romance story but it was far from it at all.
We both went to the same secondary school. He was in the year above me and I first met him at around 15 years of age. I was introduced to his circle of friends by my boyfriend Ben, his best friend.
Ben and I dated from the age of 16 – 21 and got engaged when I was 20. I would spend all my spare time with Ben, going out to the park, pub or to friends houses…. It's what you do really when you're young. That said I didn't really spend much time with his male friends, he didn't trust them around me as they were well know for hitting on friend's girlfriends. They would be around obviously but he was always there close by as he didn't trust them.
I became very good friends with the girls in the group though and we would go out shopping & drinking.
The one friend Ben never had a problem with me being around was Paul, best friends they fully trusted each other. We would visit his house together or go out in a group. I always got on very well with Paul, he got me and soon became a good friend. Only a friend though!!
Paul had a girlfriend too. She would come out with us and our group, I can honestly say I was never a fan but no-one else in the group was either.
As childhood relationships have a tenancy to do mine and Ben's dwindled and we split up. We got back together a few weeks later but it only really lasted weeks after that.
Paul and his girlfriend took me out and we chatted over drinks. It was fine, Ben and I separated on mutual terms as friends.
There was a little spark with Paul that night, a brushed hand by mistake but the spark was there and we both felt it.
Days later Paul and his girlfriend broke up and a group of us all went to our local pub to play pool as was the norm for a Saturday night. Paul drove me home, we lingered in the car chatting and after I got out and went inside without a backwards glance.
Weeks later he confessed he was hoping we would kiss and when we didn't he thought I wasn't interested.
Two weeks later it was a school friends 21st birthday and he had a big party at Spurs. A big group of us got the train down and partied the night away. I was there with my school friends (Steve whose party it was was in my year at school), Ben, Paul and all their friends were there too. We all got on well and chatted, danced and drank together. I was dancing with everyone, including Ben, as we were still friends. Paul refused to dance as he was being boring so I'd dragged him to the dance floor. After a few songs had finished we retreated to the side of the room, chatted and ended up kissing.
Of course it was a party and everyone saw. Instantly Paul went to find Ben to tell him, not to rub his nose in it but to ask if he was OK with it, if he wasn't then he would have backed off but Ben was fine.
That was the start of our relationship and we've been together ever since. That was almost 16 years ago and we've been married for 9 years this March.
There were a few friends in our mutual group who were very against our relationship, they wouldn't talk to us for almost a year. But when they finally realised we were serious and it wasn't a rebound thing they came around. One of those girls actually lived with Paul and I for around a year and another is Emmy's godmother.
As for Ben, he was Best Man at our wedding and we are all still best friends.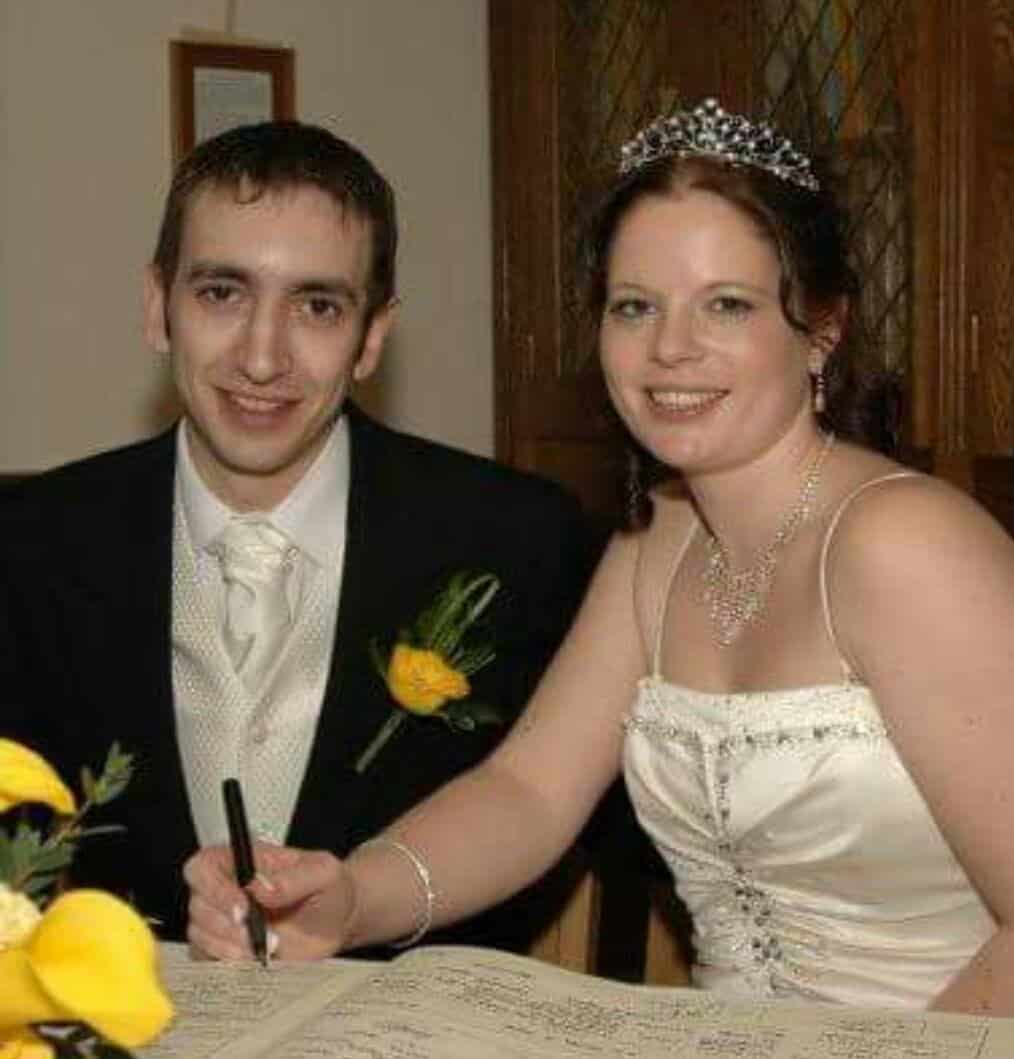 Thanks Clare for sharing your story. It just goes to show that sometimes dating an ex's friend does work out for the best – and it's great that you're all still friends too! It was obviously meant to be.