Disclosure: We were invited on this break for the purpose of this review however all opinions are my own.
We were invited to spend last weekend on the Royal Caribbean Anthem of the Seas cruise ship as part of their 'shakedown' before they opened to the public to see how it fared as a family holiday. It was a truly amazing weekend and I wrote about my first impressions here.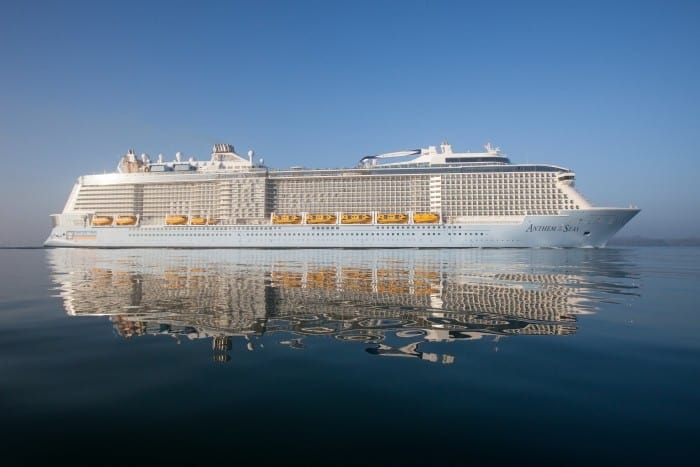 What is Royal Caribbean like as Family Holiday?
The reason for us being invited onto Anthem of the Seas as a Mumsnet Blogger, was to see whether it should be a valid holiday choice for families and whether our concerns about going on a cruise with children were valid or not. I am proud to be part of the first ever Royal Caribbean shakedown that has included children on board and am really pleased to see that Royal Caribbean are doing so much to attract family holidaymakers.
Prior to the cruise I had been on Royal Caribbean's Oasis of the Seas for a day and even after that awesome day I did still have some reservations about cruising. Mainly I was concerned about the sleeping arrangements – would the staterooms be suitable for young children? I was also worried there wouldn't be enough food for the children, the right kind of foods and food available at the right times – children love to snack! I've also been put off cruises because of the extra fees I presumed there would be – tips, extras once you're on board and other hidden charges that there always are with holidays. Lastly, I was worried about 'at sea' days and not having enough to occupy the children for 24-48 hours at a time.
So how was our experience on Anthem of the Seas?
What is Check in, Security and Boarding like on Royal Caribbean?
We arrived at Southampton to be met by one large departures area full of staff ready to check us in using tablets. Unfortunately there was a wifi issue at this point but we were led through to security which was just like being at an airport – conveyor belts to put your belongings on and a machine to walk through. This was seamless, Little Man and LP walked through the scanner, the pushchair was taken through for us and everything couldn't have gone smoother.
Once in the departures lounge we were checked in, given stamps on our sea passes and told to make our way onto the ship. When we walked through to board we passed a member of Royal Caribbean staff who put a band on LP in case she got separated from us on board. I thought it was odd that it was only for over threes as Little Man was just as likely to go missing! After this we went to board through a walkway similar to boarding a plane.
We went and had a drink, where the children looked at the sea out the windows, and then made our way to our stateroom. Royal Caribbean promise that you will arrive at the terminal and then be in your room on board within 15 minutes and they really do live up to this promise.
What is the Accommodation like on Royal Caribbean?
Anthem of the Seas has a wide variety of staterooms to suit every traveller – from single people to larger families and groups travelling together including suites that can convert to offer separate sleeping areas. We stayed in a Superior Ocean View Stateroom with Balcony however the internal rooms without a balcony do have a virtual balcony to make you feel as though you can see the sea. The room had a Royal King bed, sofabed and shower room. The sofa bed converts to a good size double but I was disappointed to find that Royal Caribbean don't supply bed guards, even at request however they did get us a travel cot for Little Man and we made a barrier of pillows for LP to make sure she didn't roll out of bed in the night.
The room had plenty of storage and the shower room was an ok size for us and the children. Although they're used to having a bath in the evenings, they didn't mind the change for a couple of nights and I think even on a week or two holiday showers would be a bit of a novelty for them!
In the room there is a large TV with on demand movies – most of which are newly released and this is a great feature for having down time with the children in the afternoon or winding down before bed.
One feature we appreciated in the rooms was USB charging points as well as European plug sockets – everything seems to charge with USB now so this was incredibly handy – as was the onboard wifi! As well as this we each had 'WOW bands' that were like wearing a watch, let us in to our room, and allowed us to get drinks and things around the ship. Usually you have to carry your Sea Pass around with you so the WOW band is a welcome addition as I never usually have pockets and you can even wear them when you're swimming!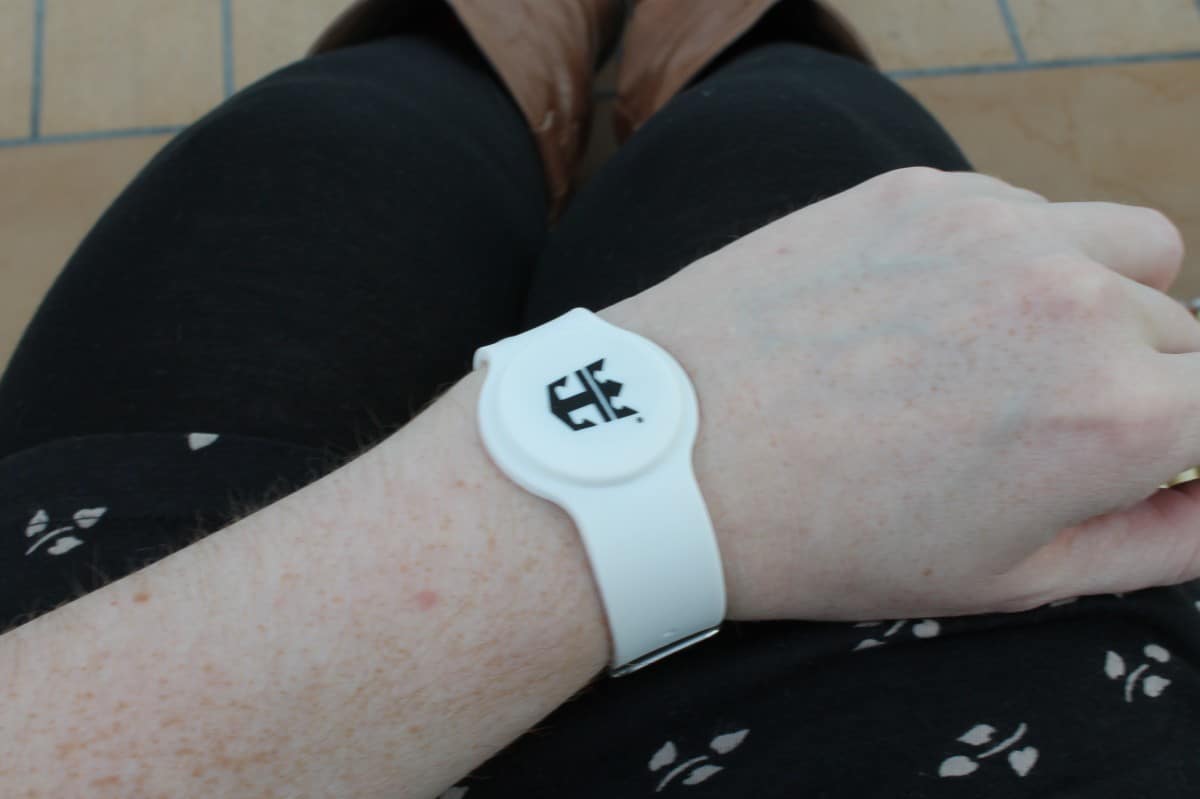 What is the Food and Drink like on Royal Caribbean Anthem of the Seas?
On Anthem of the Seas there are 18 dining options available which we found quite overwhelming. Out of those, 11 are included in the price you pay for your cruise and other restaurants are available at an extra surcharge. It is possible, easily, to eat and drink for the length of your cruise and not pay an extra penny on top of the cost of your holiday and this is something I loved.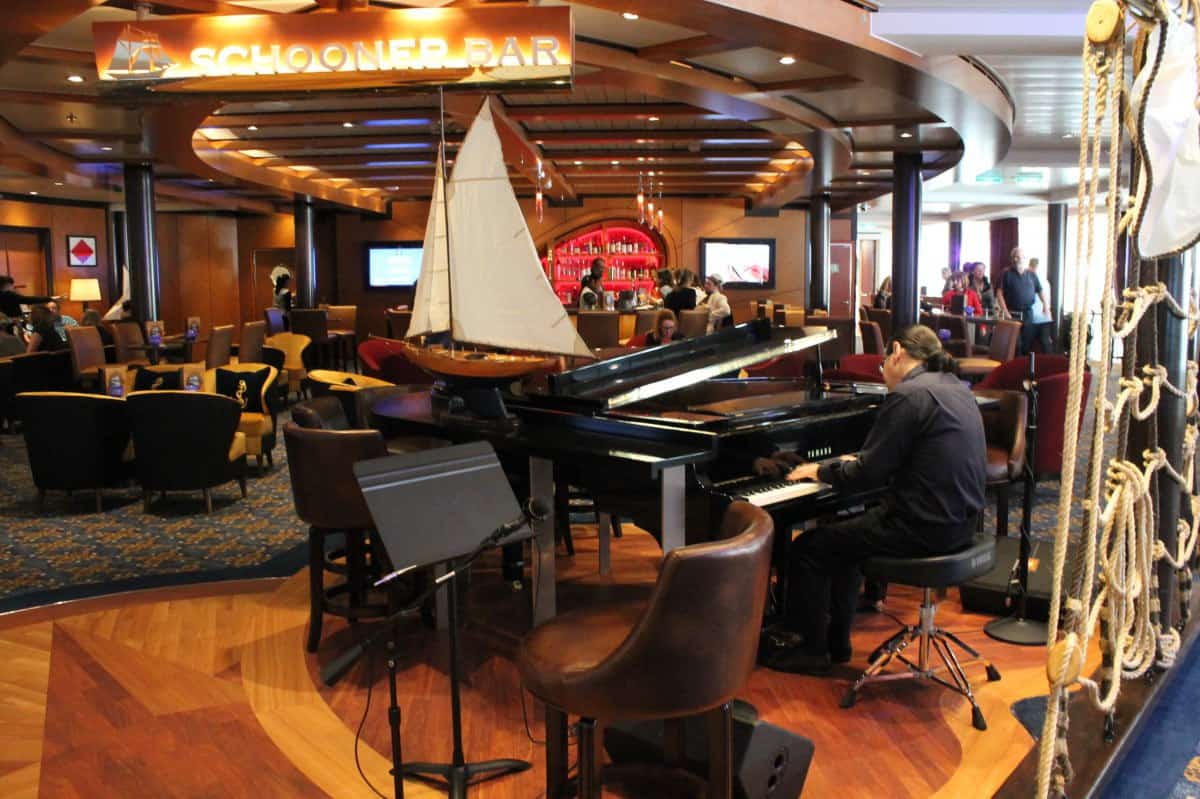 The 'Windjammer Marketplace' has to be one of the most underrated eateries on the ship. It has food available all day, with different options for each meal of the day. There's a huge variety with bread, fruit, hot and cold dishes, side dishes and sweet treats all in a buffet setting. This is the style of all inclusive dining that I am used to, and it would probably be my first choice with young children – high chairs were readily available on request and the atmosphere was casual but they still had proper furniture, cloth napkins and metal cutlery. It was a great place to eat as a family.
There were also a lot of fast food outlets and places to grab a snack – something would be open whenever you wanted food, whatever the time of day or night. There were also five restaurants included in the price that you could book a table at for a more formal dining experience. We tried two of the restaurants whilst we were there – Silk and The Grande – both of which had a mixed menu of the best meals from all of the included restaurants. They were both great dining experiences and the meals were incredible but I wouldn't choose to eat with children in that setting too often – it was just too formal and although the staff were fantastic with the children I would be worried about disturbing other diners and would choose a more relaxed meal in the evening.
Drinks were readily available around the ship with machines dispensing a huge amount of soft drinks – both fizzy and still as well as water. Alongside these dispensers there were also tea and coffee stations that had so many different kinds of tea, coffee and hot chocolate. The staff also gave us straws whenever we asked and I was never worried that the children would be thirsty, drinks were constantly available. Along with the constantly flowing drinks there was also a 'help yourself' ice cream machine with both strawberry and chocolate whippy style ice cream – heaven for both adults and children!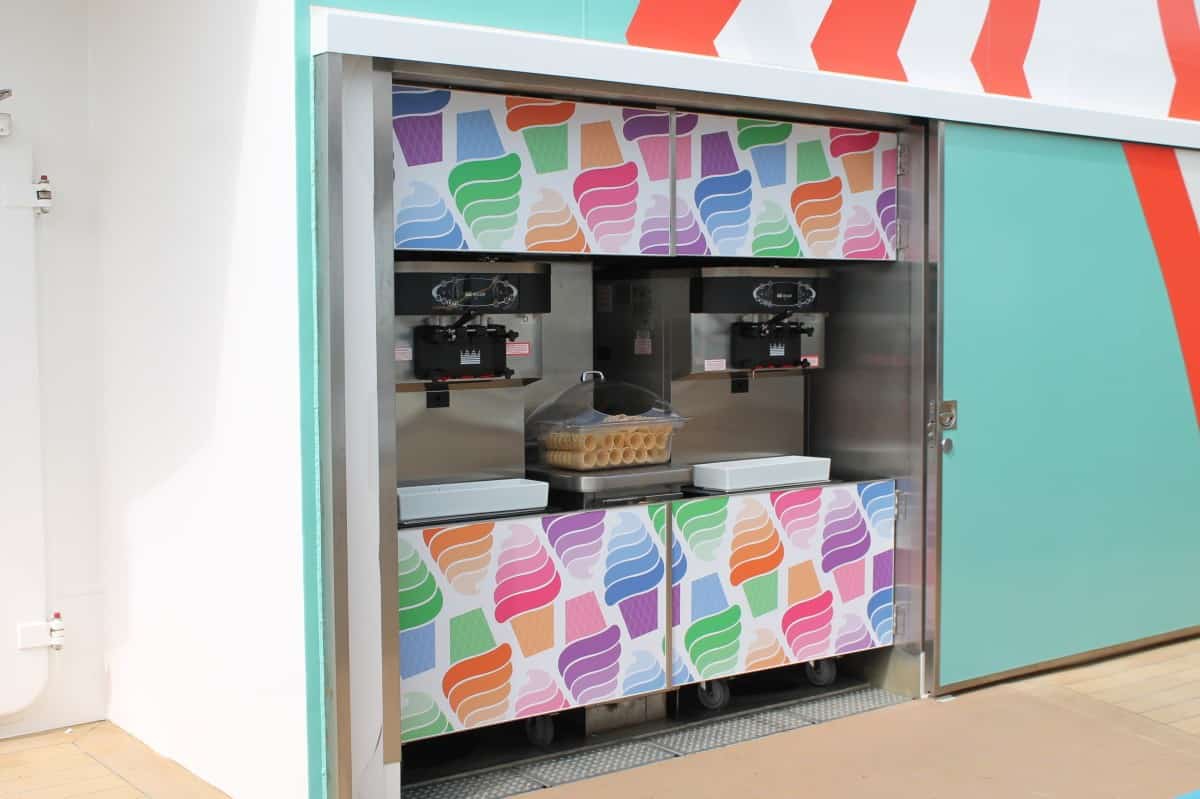 What is the Anthem of the Seas Childcare like on Royal Caribbean?
On board Anthem of the Seas there is the 'Adventure Ocean' children's facility where there are different rooms for different age children. Children under three or those that aren't potty trained go into the nursery – where Little Man spent his time. This room has lots of toys and books to play with, a TV to watch and also cots if the children want to sleep. We were provided with a phone to take with us so that the staff could contact us if anything was wrong which really gave us peace of mind.
The older children have rooms split into different age brackets, LP's being age 3-5, where there are activities tailored to the age of the children. LP didn't want to go into her room though, she found the new room and lots of other children that she didn't know a bit intimidating and so the staff at Adventure Ocean were really accommodating and said that LP could go into the nursery with Little Man. After that they played together happily and would have stayed there all day!
In Adventure Ocean there was also an over two's play area that parents could take the children to and stay with them whilst they played. This was a lovely addition and the only negative – about the whole of the Adventure Ocean really – is that there was no natural light as it's based in the centre of the ship. So many other spaces onboard have huge windows looking out onto the ocean it's a real shame that Adventure Ocean didn't live up to it's name in that respect.
What Activities are there on board Anthem of the Seas?
There is a huge amount of activities for children to do onboard however most are aimed at older children – a climbing wall, arcade, FlowRider surfing simulator, dodgems, teen disco, Living Room nightclub and circus skills to name a few.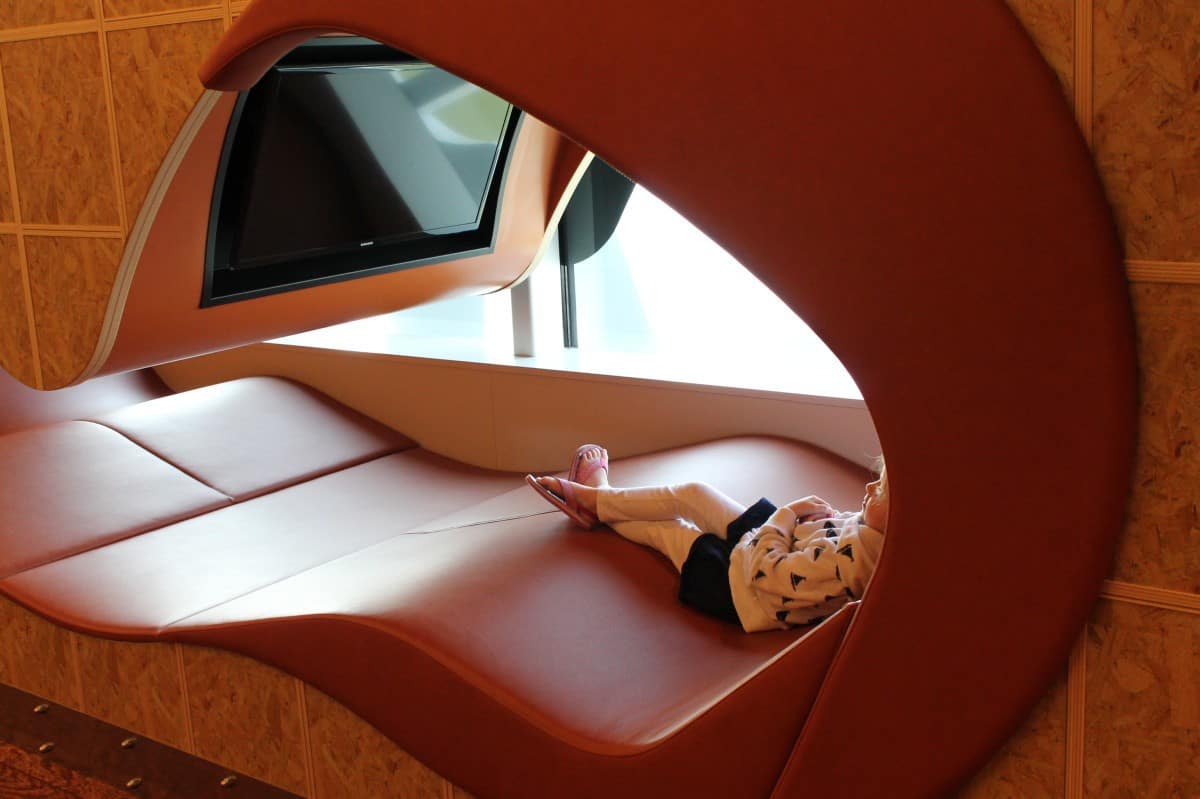 Children aged three and over are able to go on Ripcord by iFly wind tunnel experience however it wasn't the sort of thing LP would want to do – although it was an incredible experience.
One thing I was counting on as something we could do as a family onboard was swimming. Unfortunately, as Little Man isn't potty trained there was only one one 'pool' he was able to use – a very small baby splash zone.
This was the only disappointing part of the weekend as I was expecting the rules in the pools onboard to be the same as most other pools – that children are allowed in with swim nappies. This means that any child that isn't potty trained can't swim properly onboard Anthem of the Seas – realistically this could be many three year olds.
We put Little Man in Adventure Ocean and took LP swimming so that Little Man didn't feel left out by not being allowed to go into the same parts as his sister. I realised at this point that both of the other main pools on Anthem of the Seas were over 5ft deep, not suitable really for a young child to splash about in.
LP went into the indoor pool with Hubby and they had a great time but I would have loved to have seen a 'proper' kids pool. There was a children's area outside but the main part of this, apart from the baby splash pool, was a wave machine that made waves out over a gradual incline but this wasn't suitable for swimming and has limited appeal for LP.
What is the Service and Staff like on Anthem of the Seas?
For me, the customer service levels and the staff as a whole are one of the best things about Royal Caribbean. The staff love their jobs, they are all friendly, happy and go out of their way to do as much as they can for you – and despite many misconceptions, most of Royal Caribbean's cruises have gratuities included in the price of your holiday so they great customer service isn't just so they get a tip – they really want you to have a amazing holiday.
Every staff member we walked past stopped and spoke to the children, giving them a high five or just saying hello, often getting down to their level and really making the children feel so welcome which put us, as parents, at ease. In restaurants – even the most formal of dining options – the children were catered for with their own food choices, getting straws for their drinks, high chairs and even smaller cutlery.
In The Grande, LP wasn't very well and was incredibly tired. She didn't eat anything and the waitress noticed, offering to get her meal ready for when we left so we could take it back to the room with us in case she woke hungry in the night. The showed me how above and beyond the staff go to make sure every person on the cruise has the best possible experience and it really meant a lot.
The service was faultless. Our room was turned down for bedtime when we went down to dinner and we came back up to LP's bed made ready and the travel cot ready to put up. During breakfast the room was put back to a day time room with sofa bed and our room attendant even came and introduced himself and made sure we knew that nothing was too much trouble. We also used the on board laundry service as LP was sick on her jumper and it came back less than 24 hours later perfectly clean. A great service.
Aside from the family orientated aspects of the cruise, there is a huge amount on Anthem of the Seas for adults – a bionic bar (although it does have an average wait time of ten minutes for a drink) it was impressive to see robots mixing drinks and a real innovation – especially on a cruise ship!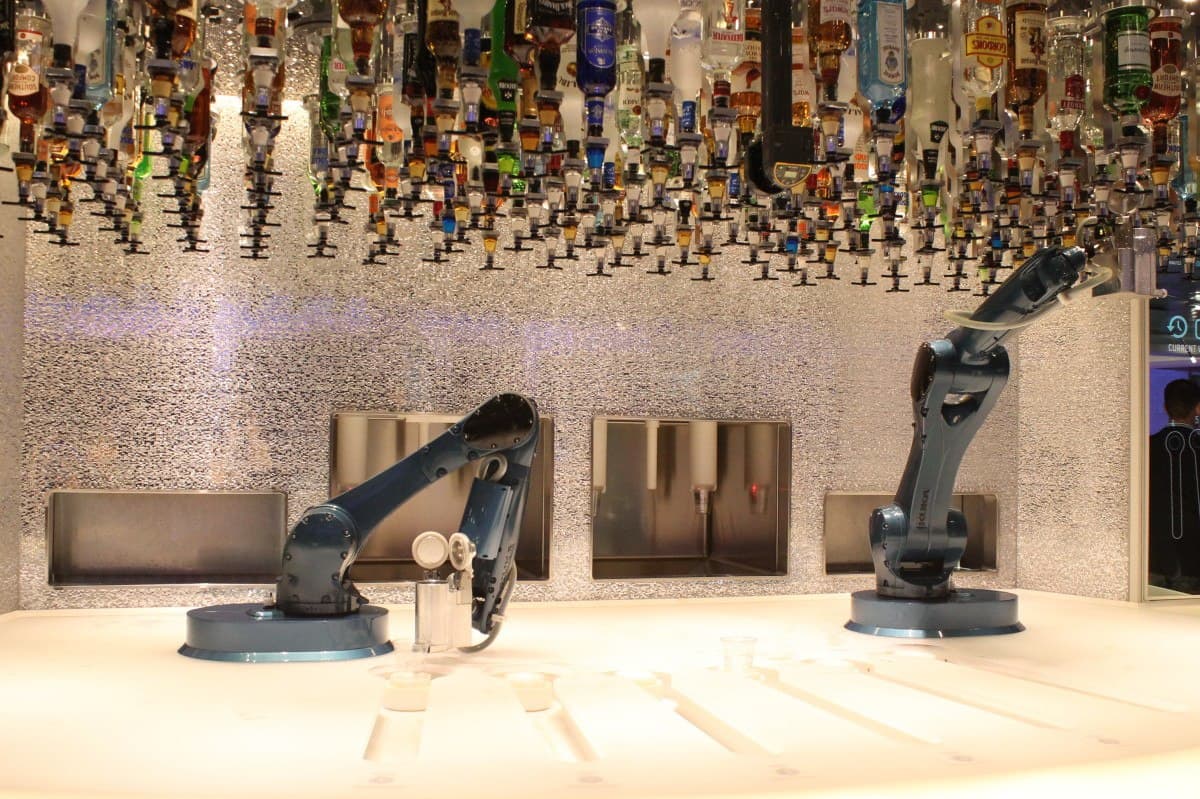 The Music Hall which had fantastic live bands playing as well as a lovely bar with comfy seating and a sociable atmosphere or there's the Theatre that has a whole array of shows – we were lucky enough to see the dress rehearsal of We Will Rock You which was fantastic and featured so many great Queen tracks – great performances all round and even the children enjoyed it.
The Vitality Spa is a great place to unwind and I had a Bamboo Massage whilst I was on board. The spa was really professional, really welcoming and the treatment was just what I needed. I think treating yourself to some pampering at the spa is a necessity of any holiday.
There's also a casino, shops, many places to get a drink from bars to coffee shops, gym, running track and not to forget the North Star which takes you 300ft above sea level to give amazing views like no other.
One of our favourite places to visit and just relax was the adults only Solarium situated at the front of the ship and almost fully glazed to give you great views of the sea and sky.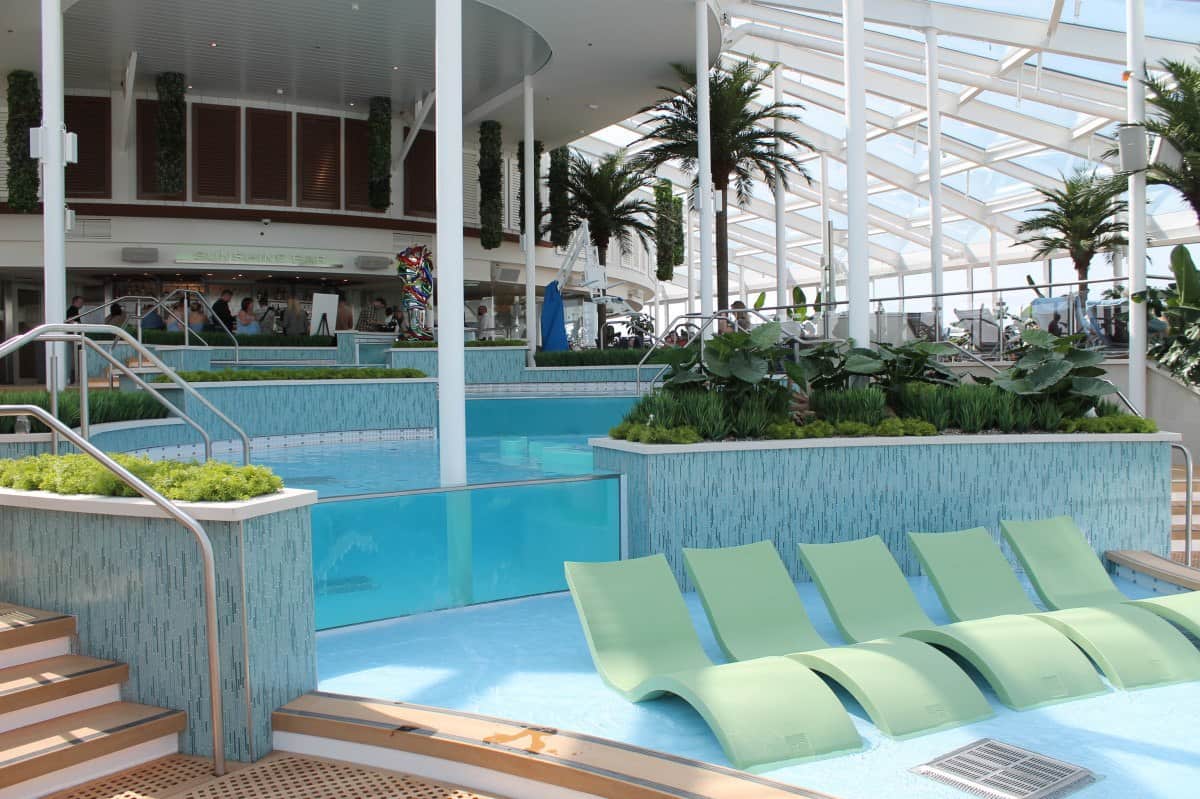 Anthem of the Seas would be a great holiday for anyone – it has a really luxurious feel but is still relaxed, has numerous bars, restaurants and activities as well as an incredible nightlife and with childcare available until 2am there really isn't any reason why a whole family couldn't make the most out of a Royal Caribbean Holiday. I think as far as families are concerned, Royal Caribbean, and Anthem of the Seas, would be a perfect holiday for families with school age children where they are potty trained, can participate in more activities and make the most out of the kids club. For a family with preschool children there was less to keep them entertained – especially Little Man and other children not yet out of nappies. Having said that, the children had a fantastic weekend – they both loved the Adventure Ocean and by the end of the weekend they just wanted to keep going back.
I think at the moment cruises aren't seen as a family friendly option and in reality no cruise will ever tick all the boxes but Royal Caribbean comes pretty close! Give me a bed guard, more pool options for children in swim nappies and natural light in the Adventure Ocean and it would tick all of my boxes for sure!
Disclosure: We were invited on this break for the purpose of this review however all opinions are my own.