Disclosure: We were sent the featured products for the purpose of this post however all opinions are my own.
This post contains affiliate links and I may receive commission if you visit a link and buy something. Purchasing via an affiliate link doesn't cost you any extra, and I only recommend products and services I trust.
It's no secret that Dave is the cleaner in our house. I tidy and put things away but the cleaning is definitely Dave's job and one thing that he has always loved to do is clean our kitchen – he will say he doesn't love to do it, that it just needs to get done, but it will be the first thing he thinks to clean whenever he has opportunity.
Part of cleaning the kitchen is cleaning the lino. We had a very old Vileda spray mop that we used but it was on its last legs so Dave was more than pleased when Vileda asked if we'd like to review their new 100°C Hot Spray Steam Mop.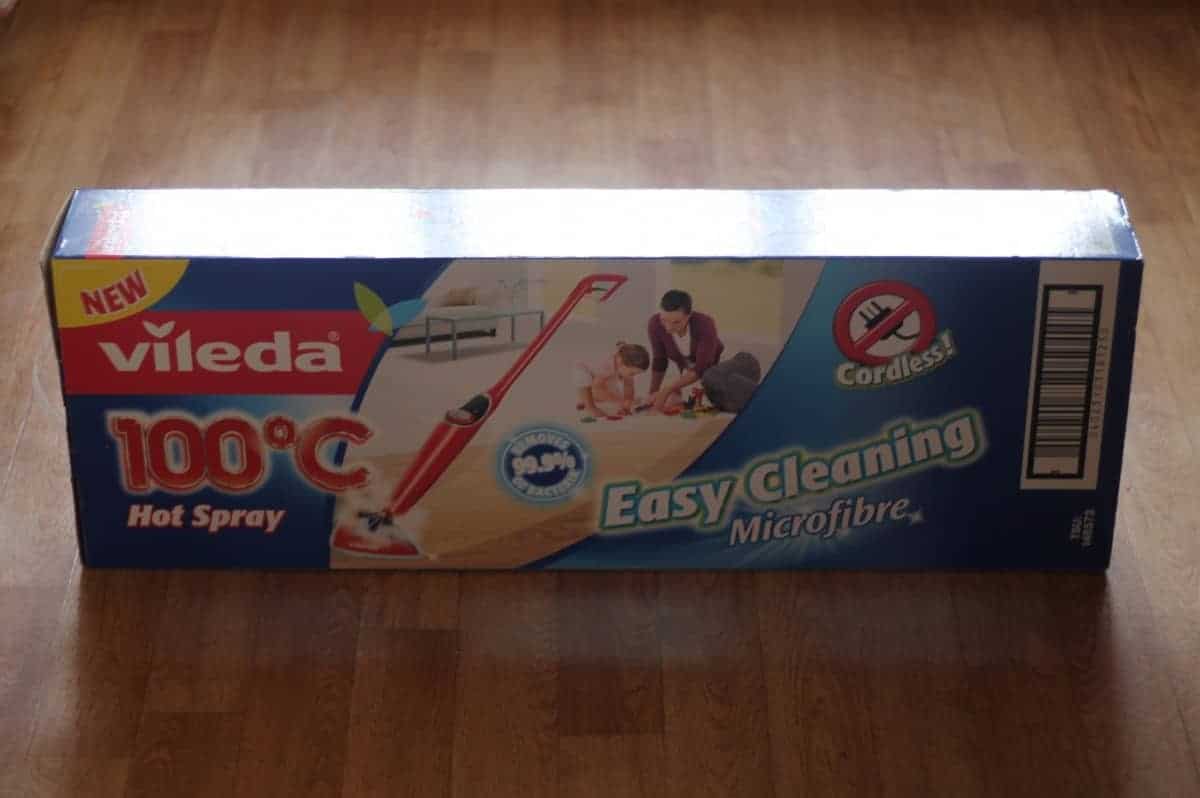 What is the Vileda 100°C Hot Spray Steam Mop?
The Vileda 100°C Hot Spray Steam Mop plugs into the mains, charges in 90 seconds and can then be unplugged to have 30 minutes of cordless cleaning. I thought that it may take longer to heat up or not last as long once charged, but these timings have proved to be realistic and we've found that 30 minutes is a perfect time to get jobs done – even if we need longer it is effortless to wait 90 seconds for the steam mop to charge again.

How do you use the Vileda Steam Mop?
Before the Vileda 100°C Hot Spray Steam Mop is charged you fill it with 250ml water and there's a handy float that stops you from overfilling it. You then charge it and it has a green light to indicate when it is ready to be used. You then mop as normal, spraying water using a trigger on the mop handle. The water makes the mop head pad wet which then cleans the floor. The only slight issues is to spray the water in the right position the mop has to be at a certain angle, which isn't a natural mopping position. This means the mopping is interrupted to change angle and spray – this doesn't take long but does get slightly frustrating. Also, the mop head does have a habit of coming off during use despite clicking into place. The mop head pad is machine washable, which means you don't have to keep buying replacement heads like with other mops.
This Vileda Mop removes 99.9% of bacteria due to the microfibre pads and very hot water. Dave does say that it doesn't have that 'clean' smell though as doesn't need any cleaning agent but that isn't really a big issue, he just finds it strange to not add cleaning fluid to it. The way I see it is one less thing to buy and it really is a fabulous steam cleaner.
One great benefit to me is that the Vileda 100°C Hot Spray Steam Mop is freestanding to make it easy to store. It is also really lightweight and mops really smoothly so cleaning is no effort at all.
The Vileda 100°C Hot Spray Steam Mop has a RRP of £59.99