Disclosure: We were sent the featured products for the purpose of this post however all opinions are my own.
This post contains affiliate links and I may receive commission if you visit a link and buy something. Purchasing via an affiliate link doesn't cost you any extra, and I only recommend products and services I trust.
As regular readers will know, I love to cook, love to bake and love to try new things. When Sugar and Crumbs gave me the chance to review their range of natural icing sugar and cocoa powder I just couldn't refuse – It was an excuse to bake cake! Not that I need any excuse, but hey, we all love cake!
What flavours are available through Sugar and Crumbs?
Sugar and Crumbs sent me a pack of their Chocolate Cherry Natural Flavoured Cocoa Powder as well as three packs of Natural Flavoured Icing Sugar – Pear Drop, Pistachio and Chilli Lime flavours. I could not wait to try a Chocolate Cherry cake as Cherry and Chocolate is my all time favourite flavour combination! I was a bit apprehensive of the flavoured icing sugars – they were definitely not what I was used to, but I thought I'd give them a go – I'll try anything once!
The package from Sugar and Crumbs contained recipes for simple cupcakes and also butter cream icing using the products we'd been sent and so I thought I'd use those recipes as they'd obviously been tried and tested.
How did we find the Icing Sugar and Cocoa Powder?
The Chocolate Cherry Cocoa Powder smelt amazing! The whole kitchen smelt edible whilst LP and I made the cakes and also whilst they were in the oven baking. I really wish I could have a house smelling of Chocolate Cherry all the time! The cocoa powder looked just like the cocoa powder I usually use for baking but the smell was so much nicer.
How did we use the Icing Sugar and Cocoa Powder?
I mixed together the butter cream icing one batch after another and Dave, LP and I had a taste test of each before I piped them onto the cakes – my piping skills leave a lot to be desired but this definitely doesn't detract from the taste of the icing! With all the icing sugars they looked exactly the same as standard icing sugar and were all white – I thought they may show the flavours in the colour of the icing but they are completely natural so no colours at all – you could add colouring to the icing when making it though to emphasise the flavours although the Sugar and Crumb icing sugar flavours are strong enough without any emphasis – The Pear Drops tasted like pear sweets but natural – not a synthetic pear flavour like actual pear drops. The Chilli Lime flavour tasted amazingly limey with a chilli hint at the end – not strong or off putting at all, just a rich heat after you'd eaten the icing. The Pistachio tasted exactly like pistachio – It's one of my favourite flavour ice creams and a flavour I know so well, it was perfect!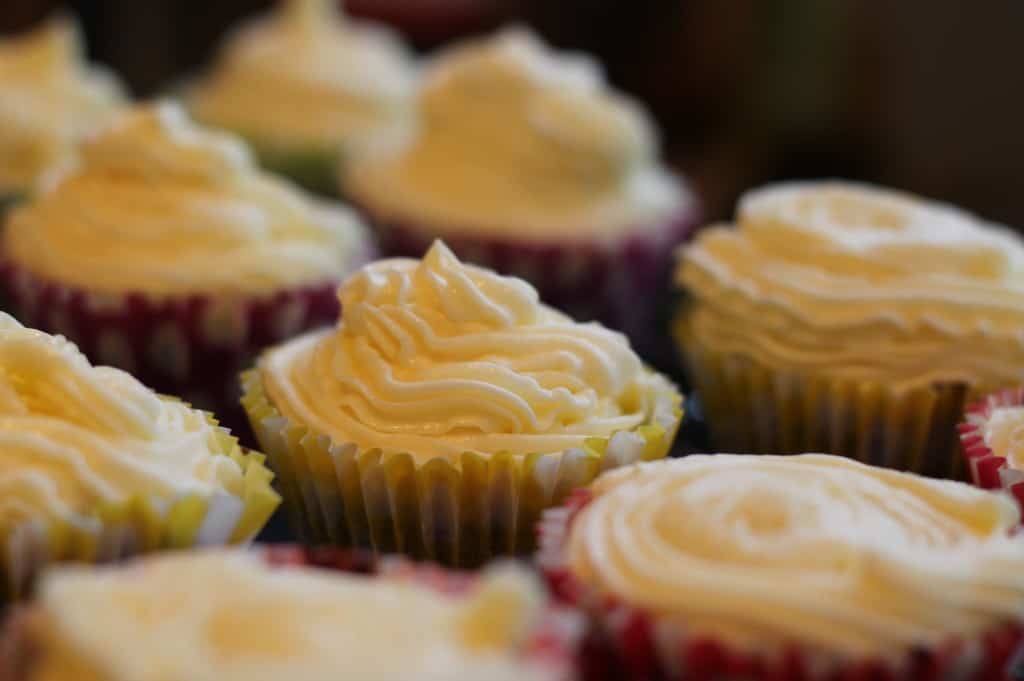 As you can tell, I won't be winning Great British Bake Off any time soon but with the help of Sugar and Crumbs I was able to at least create cakes and icing that tasted amazing – The flavours are strong, natural and add something special to any cake. As well as cocoa powder and icing sugar, Sugar and Crumbs also stock a wide range of coloured sugar paste and their whole range of product flavours is impressive. I can't wait to try some more flavours – strawberry milkshake, chocolate orange jaffa twist, pink lemonade and salted caramel are top of my list!