Disclosure: We were sent the featured products for the purpose of this post however all opinions are my own.
This post contains affiliate links and I may receive commission if you visit a link and buy something. Purchasing via an affiliate link doesn't cost you any extra, and I only recommend products and services I trust.
There is a huge craze around interactive toys at the moment, with so many new ones coming out and children absolutely loving them. There's a real appeal in a toy that can actually play with you, respond and engage. So when we received the Zoomer Show Pony to review LP and Little Man were so excited. None of us had ever seen anything like it before!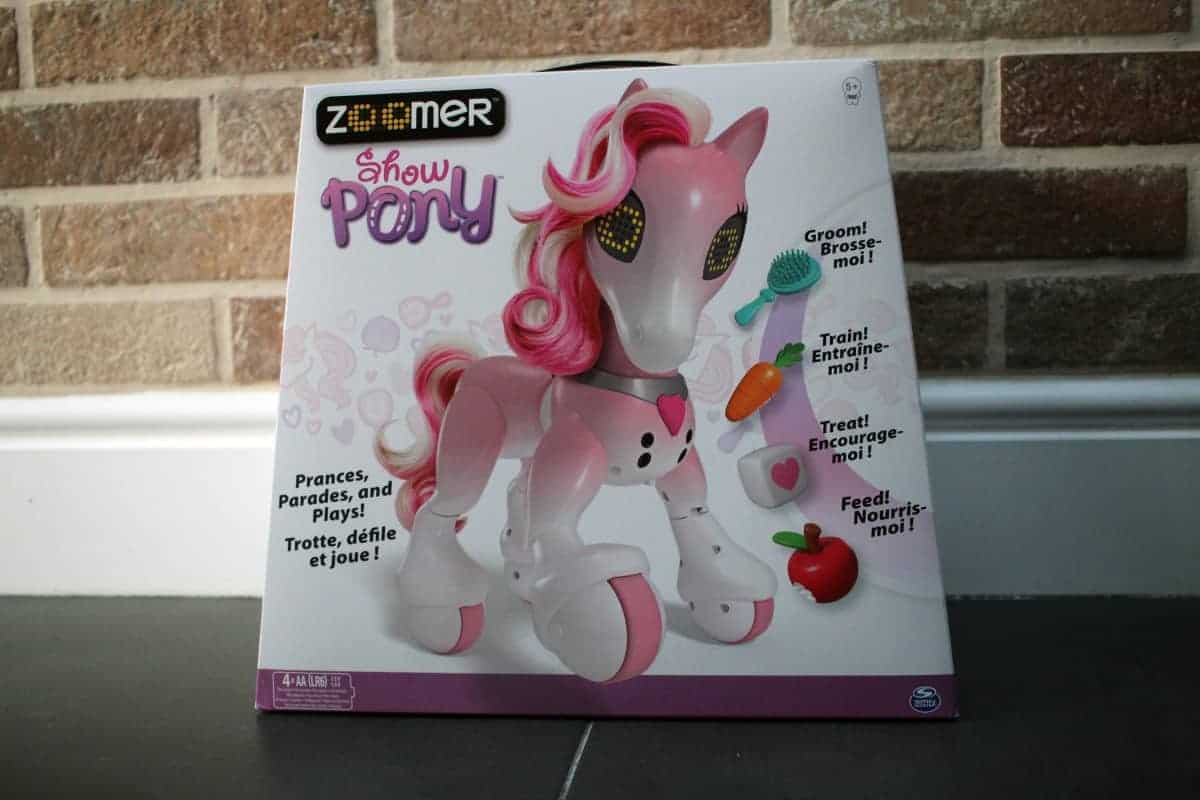 The Zoomer Show Pony is mainly made of plastic with a realistic mane and tail. It has wheels instead of hooves and incredibly expressive robotic eyes. As soon as we turned the pony on she started to wheel around the room in a motion almost like ice skating but with really realistic pony sound effects.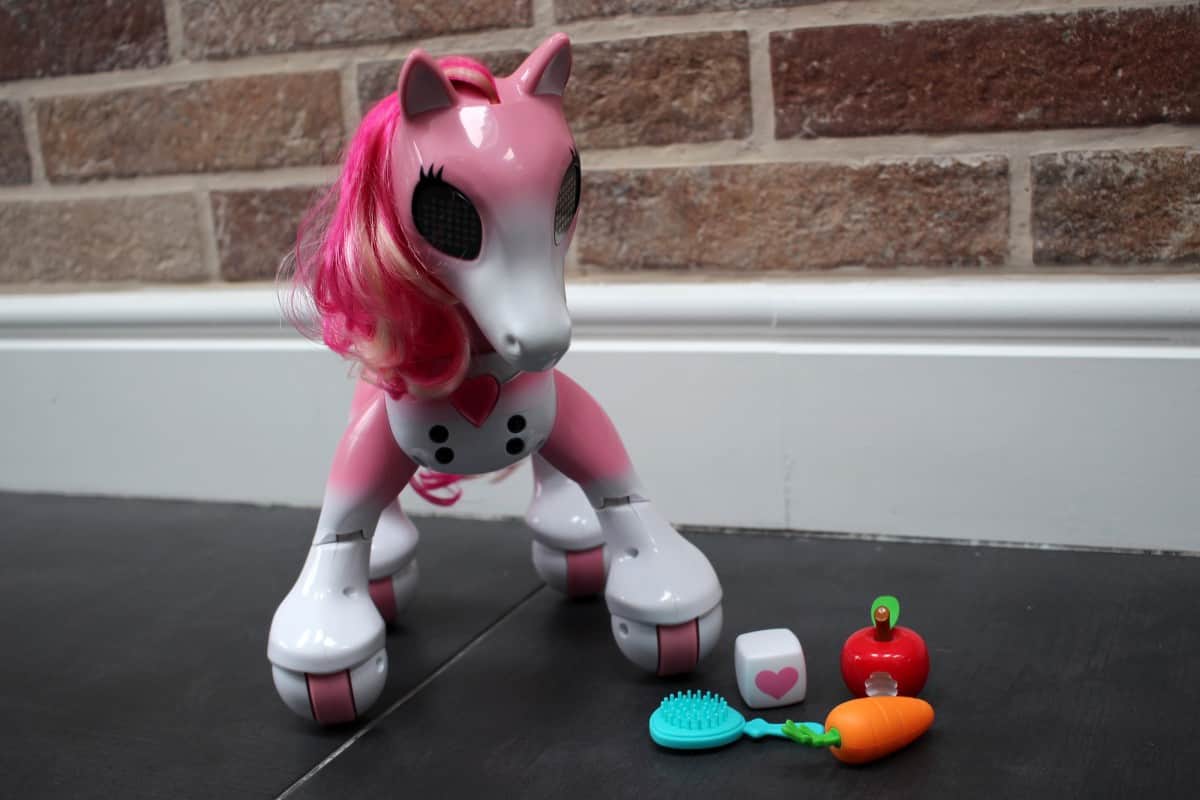 The Show Pony comes with four accessories – a brush to groom it, a carrot to train it, a sugar lump to reward it and an apple to feed it. Using the accessories, hand gestures and a heart button on the pony's front you can interact with it and teach it all sorts of pony tricks and games.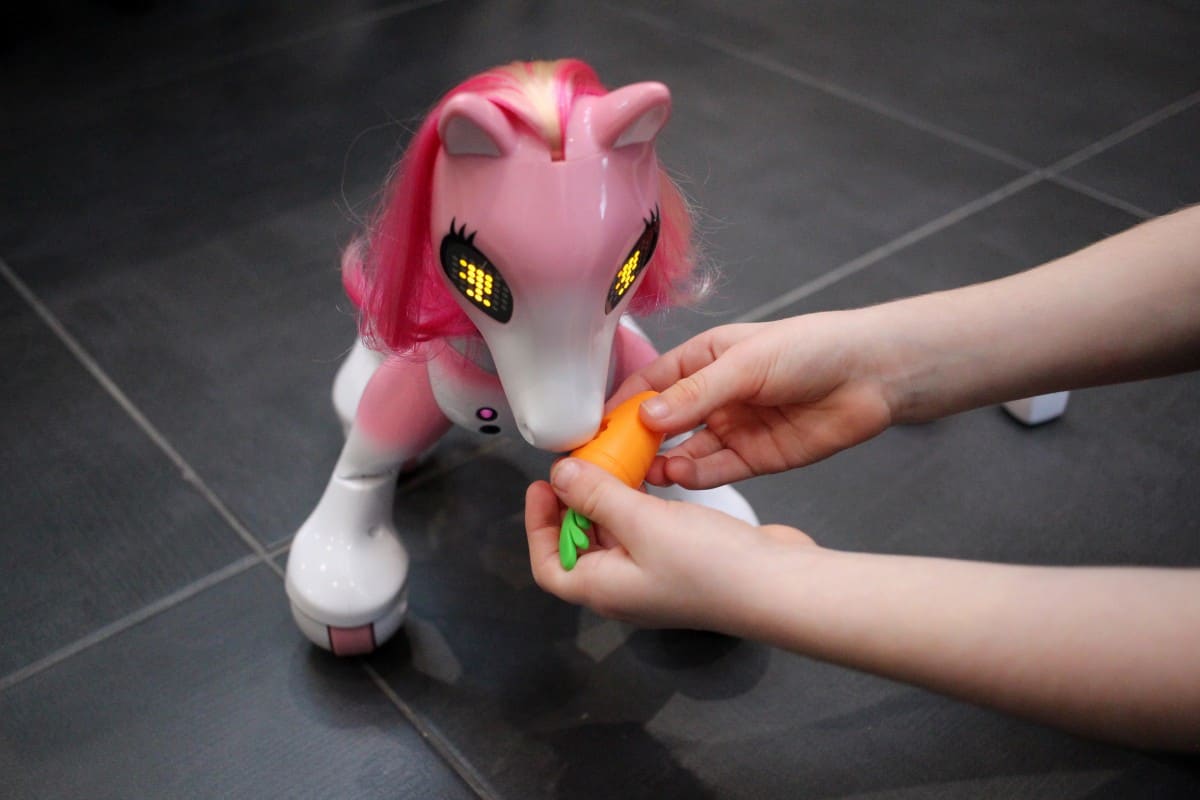 By looking at the pony's eyes you can see a whole range of emotions and really tell how she's feeling. By understanding her emotions you can respond, give her treats, groom her and, ultimately, have fun with her.
When you press the heart button on the pony's chest you can make her perform tricks like dancing and doing a figure eight. The children love making the pony follow them, dance with them and perform tricks. Everything takes a while to learn and master – like with training a real pony – but it gives enjoyment and longevity, making the pony a real companion and play mate.
When LP brushes the pony there are real responses – moving her head and making happy pony noises. When you give her the carrot she'll make chomping noises before entering training mode where you can teach her to count and do tricks. The sugar lump makes the pony happy – and the happier she gets the more hyper she gets which the children always laugh at and enjoy.
Overall LP and Little Man love the Zoomer Show Pony. It's turned into a little interactive friend for them and I am sure it will be featured on many Christmas lists this year.
The Zoomer Show Pony has an RRP of £84.99