Disclosure: We were sent the featured products for the purpose of this post however all opinions are my own.
This post contains affiliate links and I may receive commission if you visit a link and buy something. Purchasing via an affiliate link doesn't cost you any extra, and I only recommend products and services I trust.
When the SmartMax Power Vehicles Mix arrived Little Man couldn't wait to open it. It's one of many SmartMax construction sets that are all centred around magnets.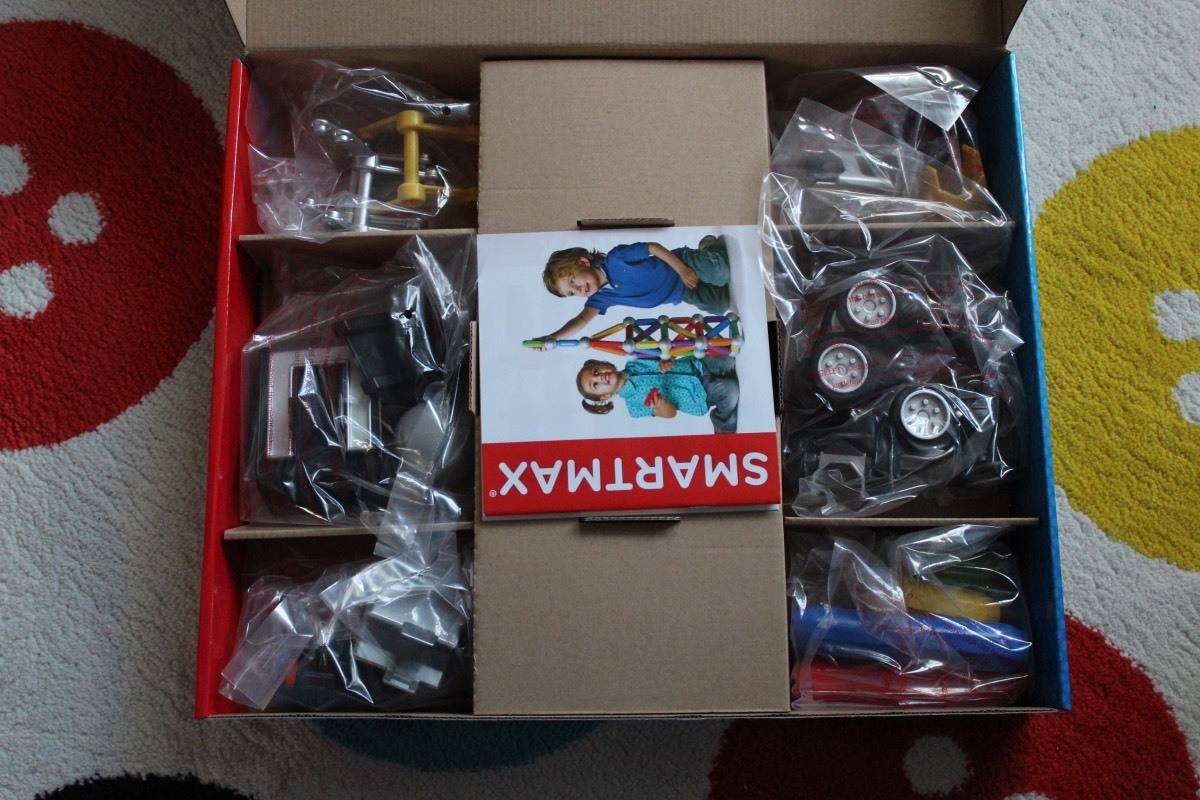 The SmartMax Power Vehicles Mix includes lots of different pieces that click together – magnets for the vehicle bodies, wheels, arms, buckets… Little Man was in his element as soon as we opened the box!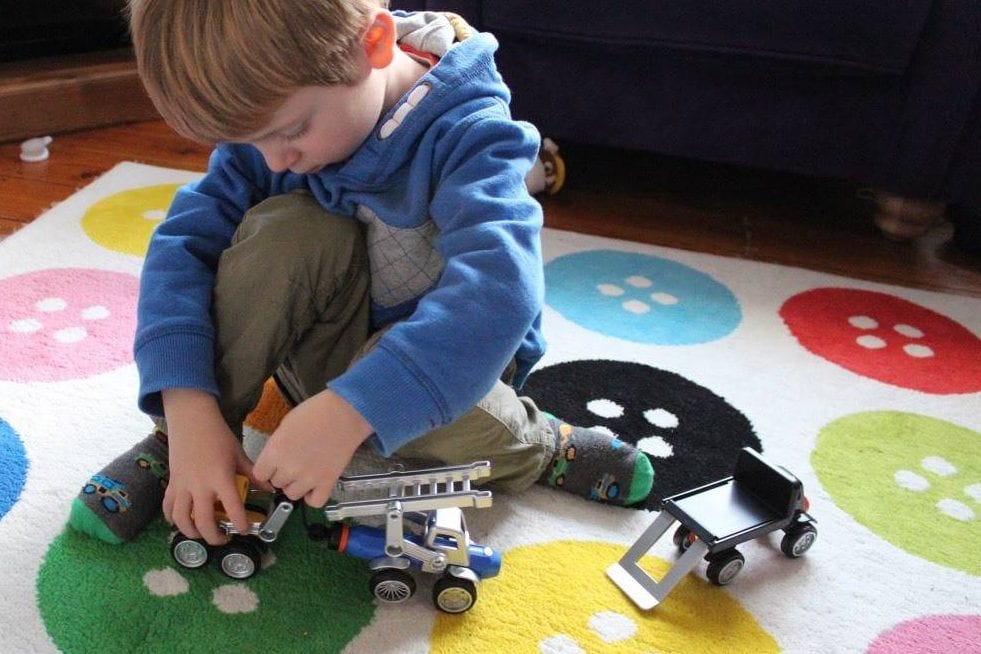 Attaching the pieces together couldn't be simpler and after I'd shown Little Man the concept he happily pulled wheels off and put them back on again, making his own vehicles from the assorted pieces.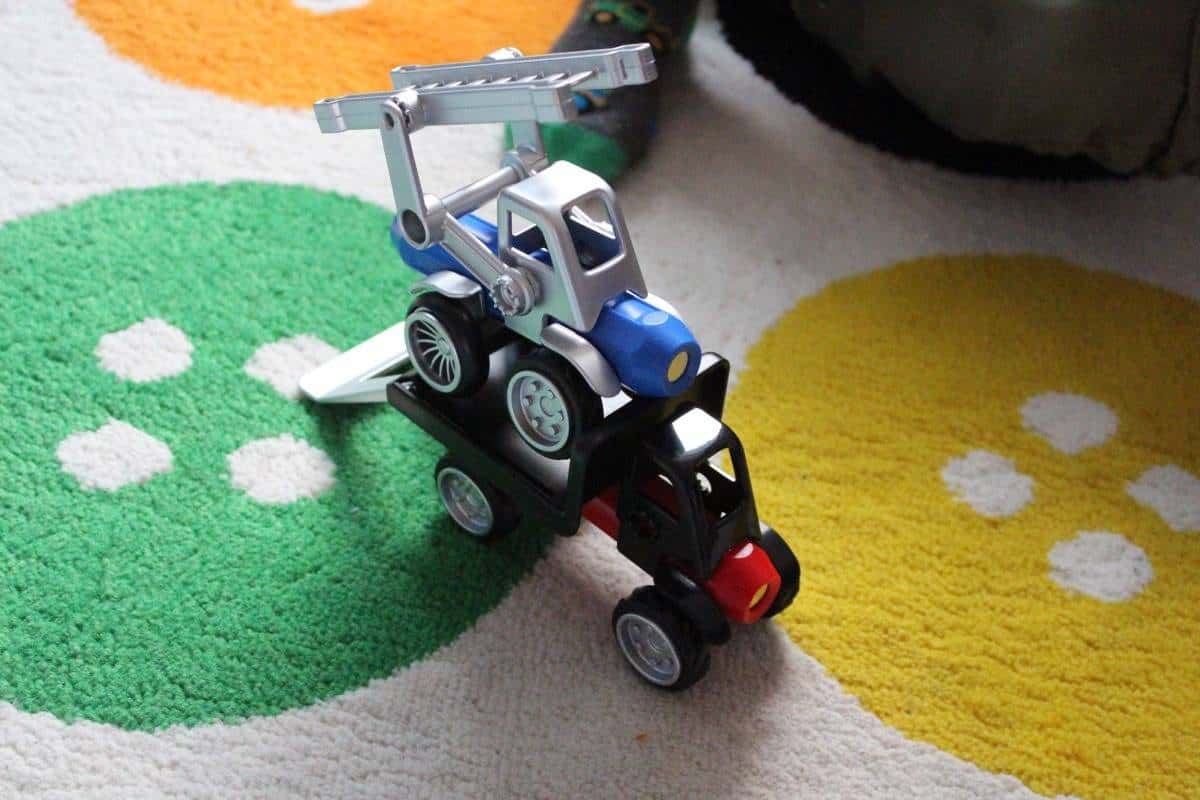 The set has a great range of pieces so that you can make diggers, fork lift trucks, ones with ladders on the back, racing cars and even a tow truck. But, much to Little Man's delight, you could make them all different colours too and had a choice of black or silver pieces.
I loved how much this set got Little Man thinking about how vehicles work, what you need to make them move along and the actual physical process of putting the vehicles together. By the end of an afternoon playing with the set Little Man knew that he needed two sets of wheels on each vehicle and somewhere for the driver to sit and would happily take vehicles apart to make new ones.
This in itself was a huge learning point for Little Man as until now he has only ever been happy constructing things, not taking them apart again afterwards. But, the SmartMax Power Vehicle Mix inspired him to not just create vehicles but to keep making new ones time and time again.
Although he is only three Little Man is more than capable of using this set to make vehicles himself and he only needed a little help to attach the arms for the digger buckets or fork lift to attach too as these are a bit tighter than the other parts.
Once constructed the vehicles are sturdy enough to be used as toys in their own right. Little Man loves making them drive around the room, picking things up and taking them somewhere else – creating whole stories around the vehicles. He loves them.
The SmartMax Power Vehicles Mix is a fantastic toy that is great fun but also educational. It's the sort of toy that can be enjoyed for years, making different vehicles each time.
The SmartMax Power Vehicles Mix has an RRP of £24.99