Disclosure: We were sent the featured products for the purpose of this post however all opinions are my own.
This post contains affiliate links and I may receive commission if you visit a link and buy something. Purchasing via an affiliate link doesn't cost you any extra, and I only recommend products and services I trust.
LP absolutely loves My Little Pony so when we were sent My Magical Princess Twilight to review just before her birthday it was pretty much the best gift ever. I don't think she realised such a big My Little Pony toy existed so she was pretty awestruck!
My Magical Princess Twilight needs 4 C size batteries which aren't included so definitely worth noting if this will be under the Christmas tree in a few months time. The batteries are easy to insert and then Princess Twilight is brought straight to life.
When playing with My Magical Princess Twilight she has four different play modes that you cycle through by pressing a star button on her hoof. The modes are friendship, story, singing and spells.
In friendship mode Princess Twilight talks about friendship, saying phrases and anecdotes about friendship, what it means to her and how magical it is. Listening to My Magical Princess Twilight would make even the most cold hearted person realise that friendship is magic!
In the story mode Princess Twilight tells stories about Equestria. She is so expressive, moving her head, wiggling her wings and blinking so that everything she says has real feeling and emotion – it's easy to forget that she isn't a real unicorn in your house and, as far as LP is concerned, My Magical Princess Twilight is as real as our cat!
In the singing mode Princess Twilight sings songs which LP loves to join in with. So many are familiar to LP from watching the My Little Pony Tv shows and some are completely new to her.
The last mode involves Princess Twilight talking about magic and spells. Her horn lights up and you can touch it to hear her cast and spell and to get really involved in the spell making!
My Magical Princess Twilight has so much play value. She comes with a tiara and you can brush and play with her mane and tail, plaiting them both and doing different hair styles if you want to. Princess Twilight also responds when you talk to her or move nearby but if she's left alone for a while she goes into sleep mode where she makes sleeping noises and doesn't respond but can be easily woken again.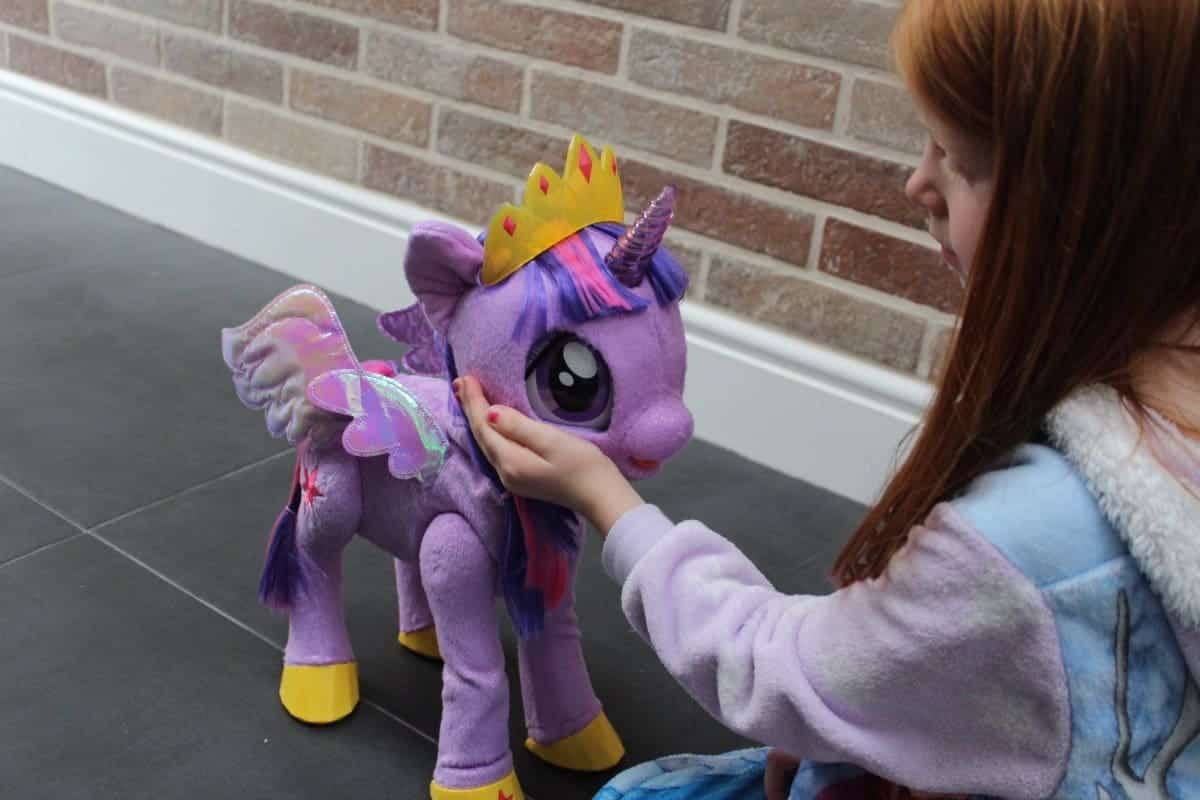 Although Princess Twilight doesn't walk she does have posable legs so you can make her kneel down or cuddle her more easily although she isn't the most cuddly of toys – she's very much a solid toy with a more cuddly, soft head.
LP absolutely loves My Magical Princess Twilight and they have such a lovely friendship. LP spends ages having conversations with Twilight, listening to her tell stories or sing and brushing her hair when it gets messy. She's become a real part of the family and it's nice to find a toy that is so well loved and so interactive too.
My Magical Princess Twilight has an RRP of £139.99
Here's a video we made so you can see My Magical Princess Twilight in action: