Disclosure: We were sent the featured products for the purpose of this post however all opinions are my own.
This post contains affiliate links and I may receive commission if you visit a link and buy something. Purchasing via an affiliate link doesn't cost you any extra, and I only recommend products and services I trust.
Due to Little Man's new found mobility I've been finding it hard to keep an eye on him all the time – Those times I need to take LP to the toilet, answer the door, go put some washing on or the hundred and one other things that parents have to deal with on a day to day basis.
Why would we need the Lindam Safe and Secure Playpen?
It's not always possible to take LM with me when I go somewhere and it's hard to keep him confined for the minute or two that I'll be away from him so I was pretty excited when Lindam sent me one of their Safe and Secure Playpens to review.
How easy was the Lindam Safe and Secure Playpen to put together?
We put the play pen together one evening. When I say we, I mean Dave, I was watching TV! But Dave put the baby playpen together easily within a few minutes. It comes in one fairly compact but heavy box and the only part he needed help with was physically removing it from the box in the first place!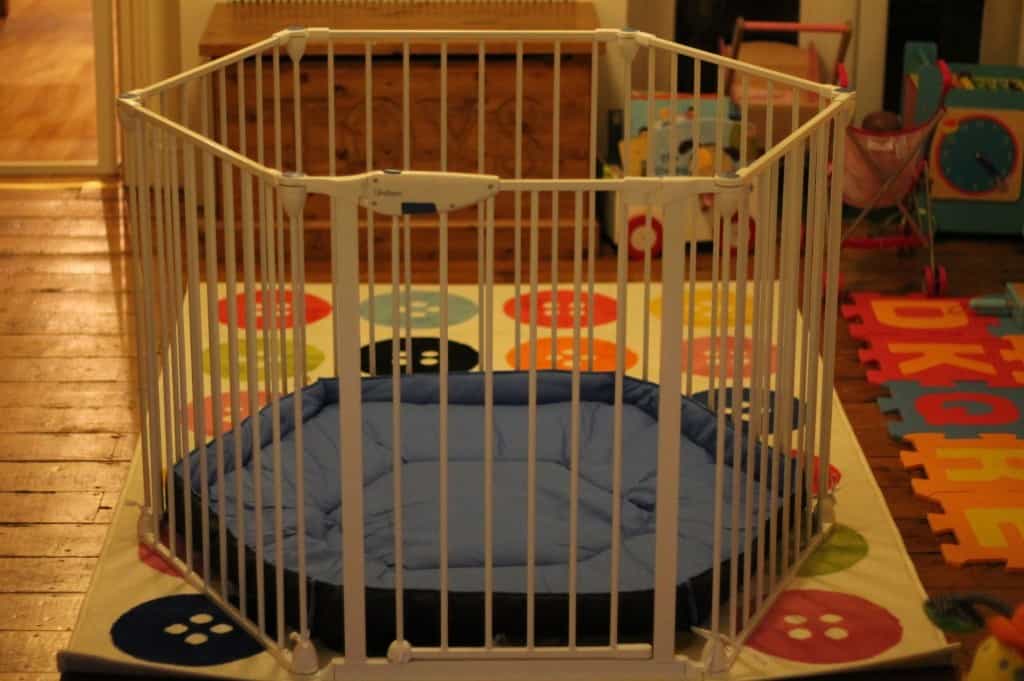 How can the Lindam Safe and Secure Metal Playpen be used?
The Lindam Safe and Secure Playpen can be used as a playpen – complete with padded base, as a room divider or as a baby safety gate. All Lindam playpen wall fixings to attach the Lindam play pen to the wall when used as a baby guard or room divider are included and it's simple to change between modes as your child grows or your lifestyle and circumstances change and it also folds flat for easy storage or travel.
Since LP first saw the playpen she has taken ownership of it and wants to be in it all the time – If we'd known she'd love it this much we would have invested in this a year or so ago! LP would now spend most of her day in it if we let her and happily plays in it with her Brother. This goes to show how roomy the playpen is if a two and a half year old and ten month old can play happily together in it.
One of the best features of the Lindam Safe and Secure Playpen is the baby gate entrance. It's great to have easy access to the children and we find the gate easy to open and close one handed and LP even closes the gate behind her! She hasn't worked out how to open it yet and I hope it will be a while before she masters that trick!
Little Man loves the playpen too. I wasn't sure whether he'd take to it after having ten months of relative freedom but we put toys in with him and he rolls around, sits and plays or stands at the bars bouncing and 'chatting' to us. We've actually noticed a huge improvement in his standing and climbing up since getting the playpen and he now can climb up with ease – Having the playpen bars to practice on has definitely helped him master a few skills.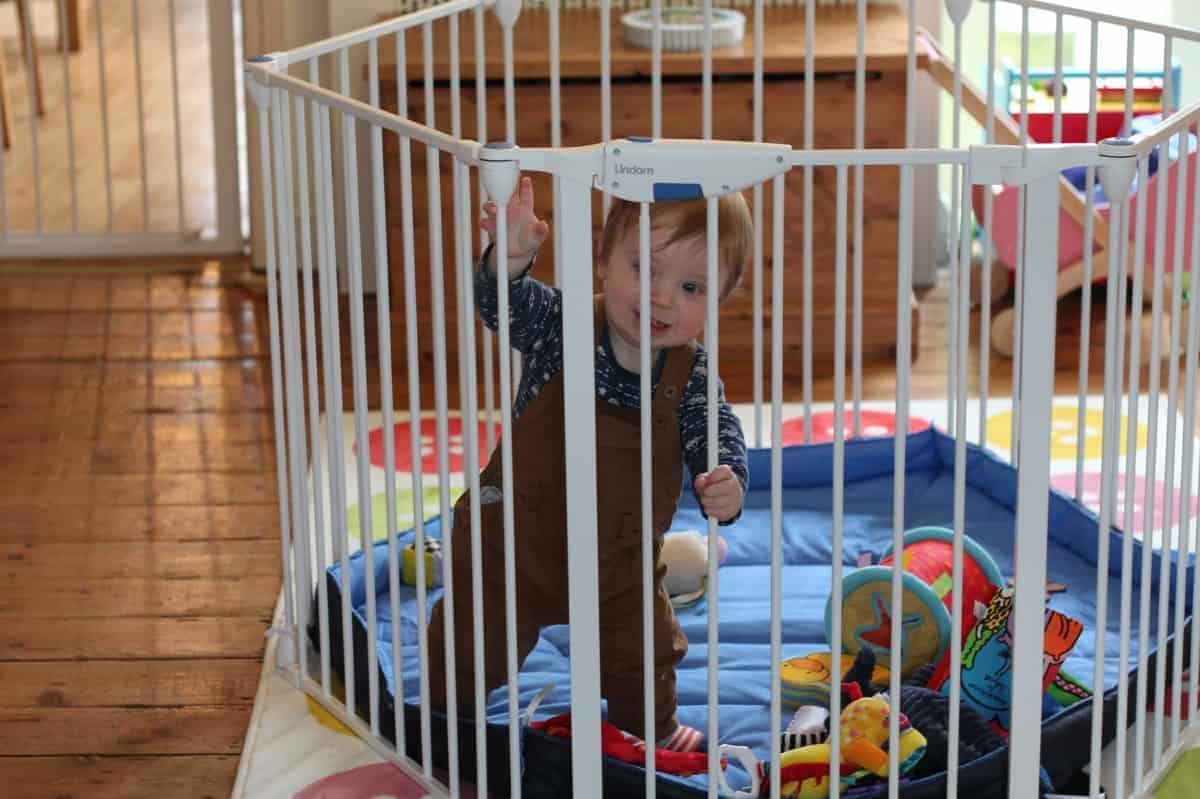 The base of the Lindam Safe and Secure Playpen attaches with fabric ties to the bottom of the playpen and is a really well padded machine washable mat. Little Man has even napped on it at times! The sides of the base curve upwards too which creates a barrier when Little Man loses his grip or rolls into the sides of the playpen. Although he's fallen over, rolled over or lost his balance a fair few times he has never seemed as bothered by it as he usually would and I think this is down to the base of the playpen being a comfortable landing for him.
We couldn't be happier with the Lindam Safe and Secure Playpen and only wish that we'd had one sooner! This will be a feature in our lounge for a long time to come.
The Lindam Safe and Secure Playpen has an RRP of £94.49.