Disclosure: We were sent the featured products for the purpose of this post however all opinions are my own.
This post contains affiliate links and I may receive commission if you visit a link and buy something. Purchasing via an affiliate link doesn't cost you any extra, and I only recommend products and services I trust.
Any regular reader will know how much I adore wooden toys – I love how long lasting and durable they are, how beautiful they are to look at and I love the thought of handing them down to the future generations. When Kids Play Kit got in touch to see if we'd like to review something from their range I spent such a long time choosing something. They have a great range of play kitchens, furniture, ride ons and rockers but in the end I had to choose the Millhouse Packaway Shop – what child wouldn't want to play shops?!
How easy is the Millhouse Packaway Shop to assemble?
The Packaway Shop was delivered incredibly quickly – arriving the very next day. It came in one compact box and Dave put it together in under an hour – there are a lot of screws to put in but the instructions are clear and easy to follow. All the pieces are labelled to help the process and compared to other toys we've had to put together this wasn't too difficult at all – LP's wooden toy kitchen took a whole evening to put together (from a different manufacturer!) and this is something we've found with a lot of wooden toys for kids.
How compact is the Millhouse Packaway Shop?
The thing I love about this childrens wooden shop stall is that, as the name suggests, it folds away when not in use to make it more compact for storage but then folds out for play. The wooden play shop is so much more than just a wood toy. It has a lot of storage areas for market stall produce to sell and a good size counter to stand behind when serving in the shop. The whole toy shop is laid out really well and a great play toy for children playing with a sibling or friend as one person can be the shopkeeper and the other can be a customer – this is an ideal toy for role play.
To add an extra level of play value, the Packaway Shop has a blackboard on the front to draw on, write what's for sale in your shop or just to write if you're open or closed. LP loved this addition and would happily draw on the blackboard all day! Each day starts off with me putting a 'shop' sign on the blackboard that gets rubbed off before long.
The Kids Play Kit Packaway Shop has been played with constantly since it arrived. LP and Little Man fill up shopping bags and baskets, pass pretend play food to each other across the counter and pretend to pay for things. All we need now is a matching wooden cash register and we'll be able to play shops properly!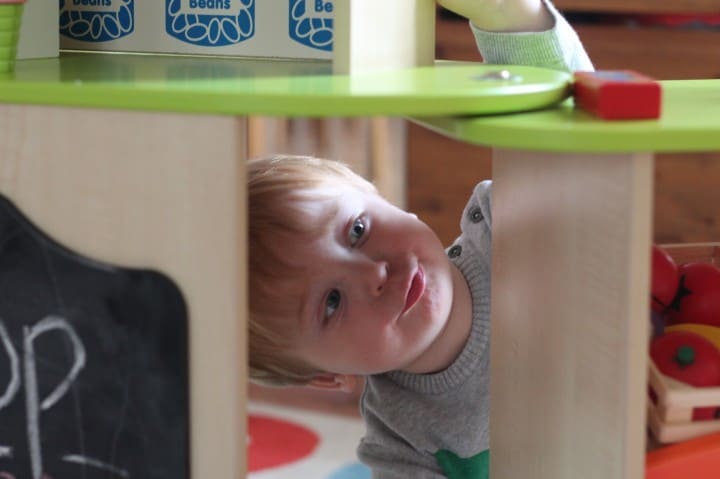 The wooden play Packaway Shop would make a great addition to any playroom and something different from other kids wooden toys too. There are so many food items, baskets, shopping bags and grocery products that you can buy to accessorize the play shop and I can imagine LP and Little Man playing with the shop for years.
The Kids Play Kit Packaway Shop has an RRP of £85.00 and is available to buy from Kids Play Kit.