Disclosure: We were sent the featured products for the purpose of this post however all opinions are my own.
This post contains affiliate links and I may receive commission if you visit a link and buy something. Purchasing via an affiliate link doesn't cost you any extra, and I only recommend products and services I trust.
As a busy family we find it hard to keep on top of all the cleaning jobs around the house – as well as work, school runs, cooking and everything else that comes with a family home. Vacuuming is something that we seem to do constantly, doing it just after the children go to bed or as soon as we get home from the school run in the morning. But what if you could vacuum your home without even being there? We were sent the iRobot Roomba 960 which promised to do just that.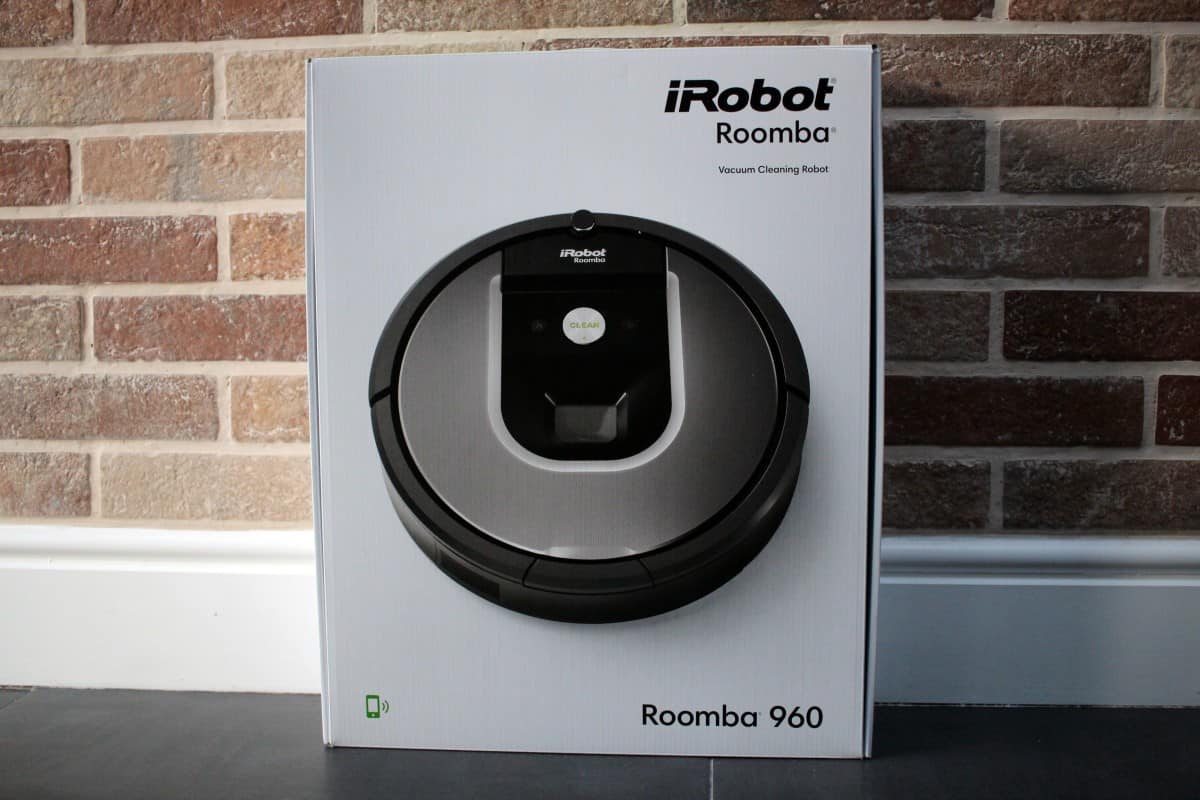 The iRobot Roomba 960 is an automated vacuum cleaner that can navigate an entire level of your home whilst vacuuming and keeping track of where it has been. It can even go and recharge if the job hasn't been completed and then return to where it left off, if it runs out during the generous 75 minute runtime.
The Roomba 960 uses both acoustic and optical sensors to help it to navigate obstacles whilst following the most efficient route around. It will use these sensors every time it is in use to go right up to the edges of the room and around any fixed items, such as an island in the kitchen, a bin or a table.
The Roomba 960 also comes with a small seperate unit that you can tell to emit an invisible beam that Roomba 960 will avoid, to box off an area where you don't want it to go, perhaps near to a pet's food or sleeping area as not to startle it.
The vacuum's low height also allows it to navigate easily under furniture such as sofas and armchairs with ease. This has made cleaning those very hard to reach areas a doddle, and the first time it disappeared under the sofa, we were impressed with what it picked up, and what it continued to pick up the next time it ventured into the void!
Our rug in the living room is now always spotless as it is vacuumed without fail everyday, thanks to the iRobot HOME App. You can set up a daily schedule at anytime of day and the iRobot will activate at the given time and vacuum the entire area you have set. It connects to your WiFi and sends notifications to your smartphone or tablet which can alert you to the dirt chamber needing emptying, if the iRobot 960 is stuck somewhere or when the cleaning job is done. These notifications let us know when our iRobot 960 got stuck under the sofa in trailing extension leads and it also told us that it was 'stuck on a cliff edge' at one point even though it was smack in the middle of the rug! A quick press of the start button sorted it out and it was on it's way again.
The iRobot HOME App also allows you to see statistics about cleaning time, downtime – when it is stuck, charging etc – and even a map of the area that it has covered. This is useful to see where it has actually cleaned and if you need to consider moving any objects next time to get the perfect clean.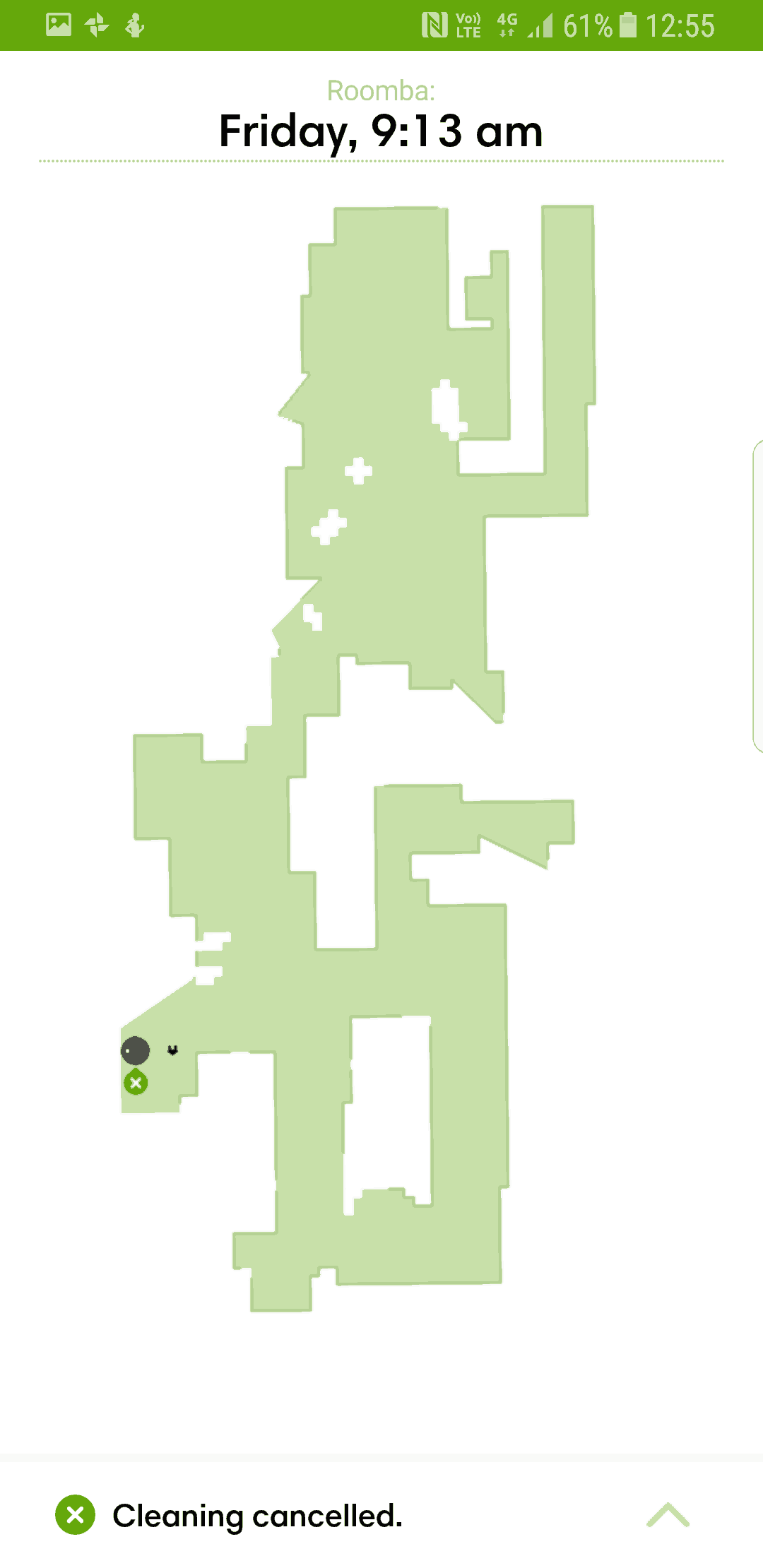 The iRobot Roomba 960 is quite pricey for what you get – essentially a vacuum cleaner at the end of the day. With our recent extension, it takes about forty five minutes to an hour to cover the downstairs area. This is quite a long time considering that with a regular human operated vacuum, I can get it done in about ten to fifteen minutes. Granted, I don't go under the sofa and armchair everyday but it's time out of the day when I have to clean whereas the iRobot 960 is currently scheduled to start at 8:30am during the week, when we leave the house for the school run. I usually return at about 9:15am as it is finishing – provided that it didn't get stuck anywhere! This is, in my opinion, great use of the time when the house is empty and I don't need to take time out of the day to vacuum later on.
We have also found that it is a great motivator for getting the children to tidy up some of their toys instead of leaving them strewn about the floor. Little Man is very protective of his train sets and makes sure that they are out of the way before we leave for school!
The Roomba 960 is definitely a luxury and it wouldn't be suited to homes where there is a lot of stuff everywhere – it needs to be able to move freely to vacuum. It also can't climb stairs and so can only do one floor at a time however, you could, if you wanted to, move it upstairs on one day and downstairs on the next to vacuum your whole home – as it can work out where stairs are and won't fall down them either.
We've loved having the Roomba 960 in our home and it saves us the job of vacuuming, just having to do the stairs when we remember. As it runs for at least 45 minutes in our home it is quite noisy – just like any other vacuum – but this isn't an issue when we set it to run when we're out of the house and it means that we can maintain a nice clean home without even being aware that the cleaning process has happened.
The Roomba 960 also cleans really well. The quality of the vacuuming is fantastic for quite a small device and we've been looking in the dirt chamber each day to see how much dust and dirt it has gathered from around our home and the results are surprising – the iRobot definitely gets into corners that we wouldn't vacuum otherwise!
The iRobot has fit well into our lifestyle, it helps keep our home clean and has taught the children to be tidier too. It's definitely an investment and although we still need a traditional vacuum for the stairs the iRobot definitely has it's place.
The iRobot Roomba 960 has an RRP of £799.99