Disclosure: We were sent the featured products for the purpose of this post however all opinions are my own.
This post contains affiliate links and I may receive commission if you visit a link and buy something. Purchasing via an affiliate link doesn't cost you any extra, and I only recommend products and services I trust.
Last week I shared Little Man's love of his first Hot Wheels set. It was his first Hot Wheels experience and it gave him the taste of fast cars and the whole world of car toys. But this week Little Man's Hot Wheels world got bigger with the introduction of the Hot Wheels Roto Revolution Track Set.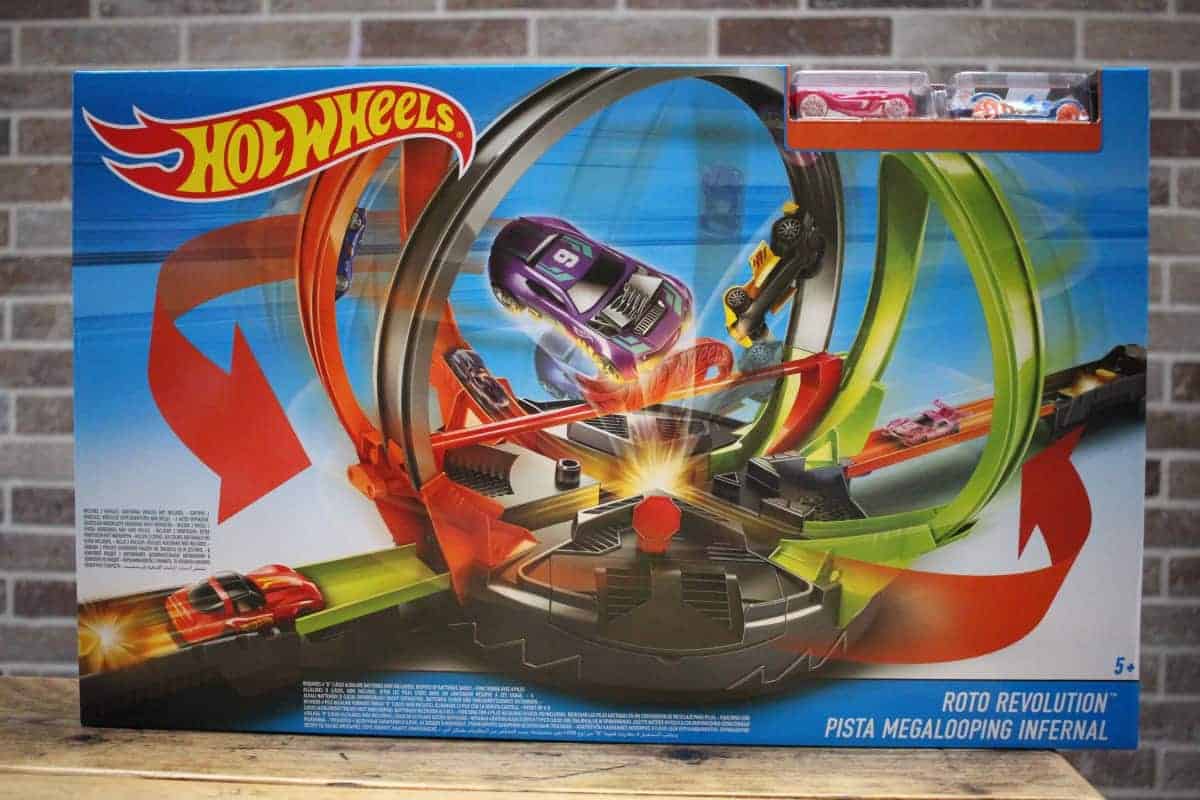 The Hot Wheels Roto Revolution Track Set comes with two cars and takes just minutes to put together and set up. It does need four D batteries which aren't included but once up and running it looks like such an exciting play set.
The Roto Revolution is made up of one main unit with three tracks around it. There are then two car launchers which feed into the main track part of the set. The aim of Roto Revolution is to launch the cars at just the right time for them to pass across to the main unit and fly around the tracks.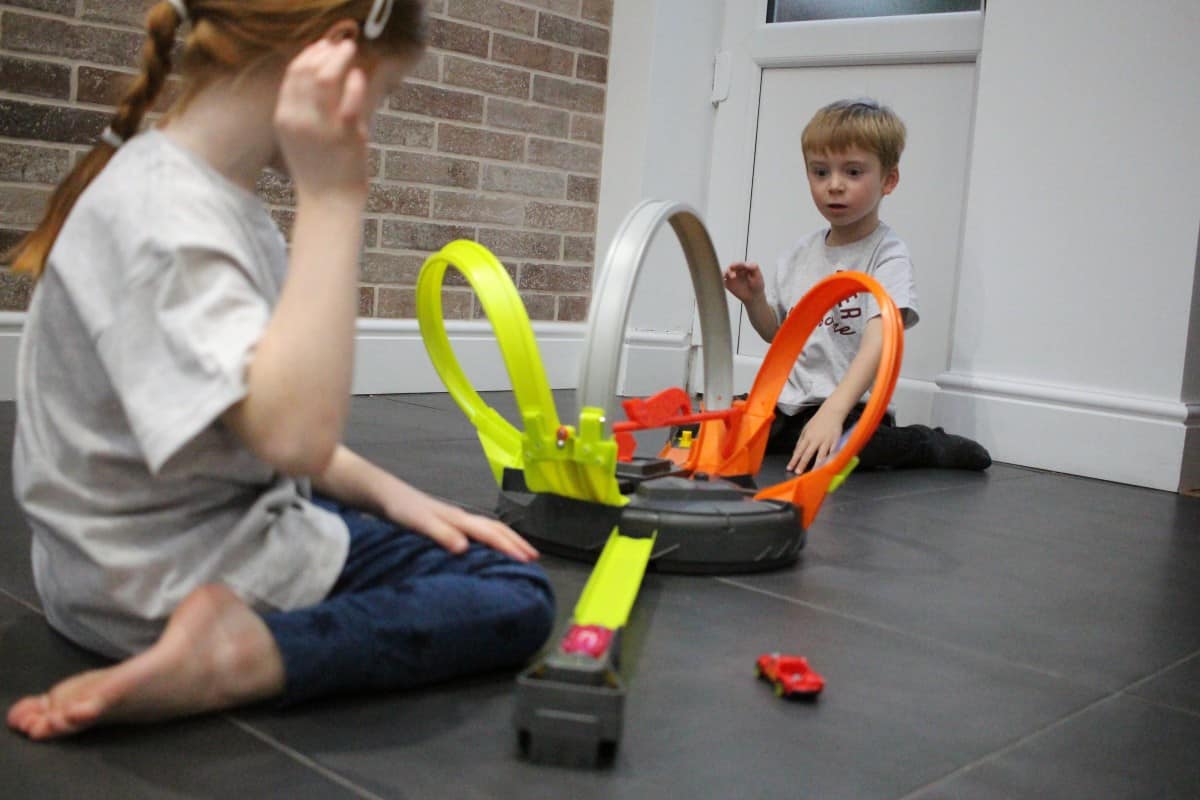 Getting the cars to launch into the main unit is quite tricky – you have to bang down on the launcher really hard and at the right time – something that Little Man got the hang of quite quickly but it took LP a little longer to get used to it. Practice really does make perfect.
Once inside the main unit the cars go crazy! They fly from one track to the next at such speed that the children were constantly in awe of it. They sit back and try and watch the car as it races around, waiting for it to fly off the track or stop half way round.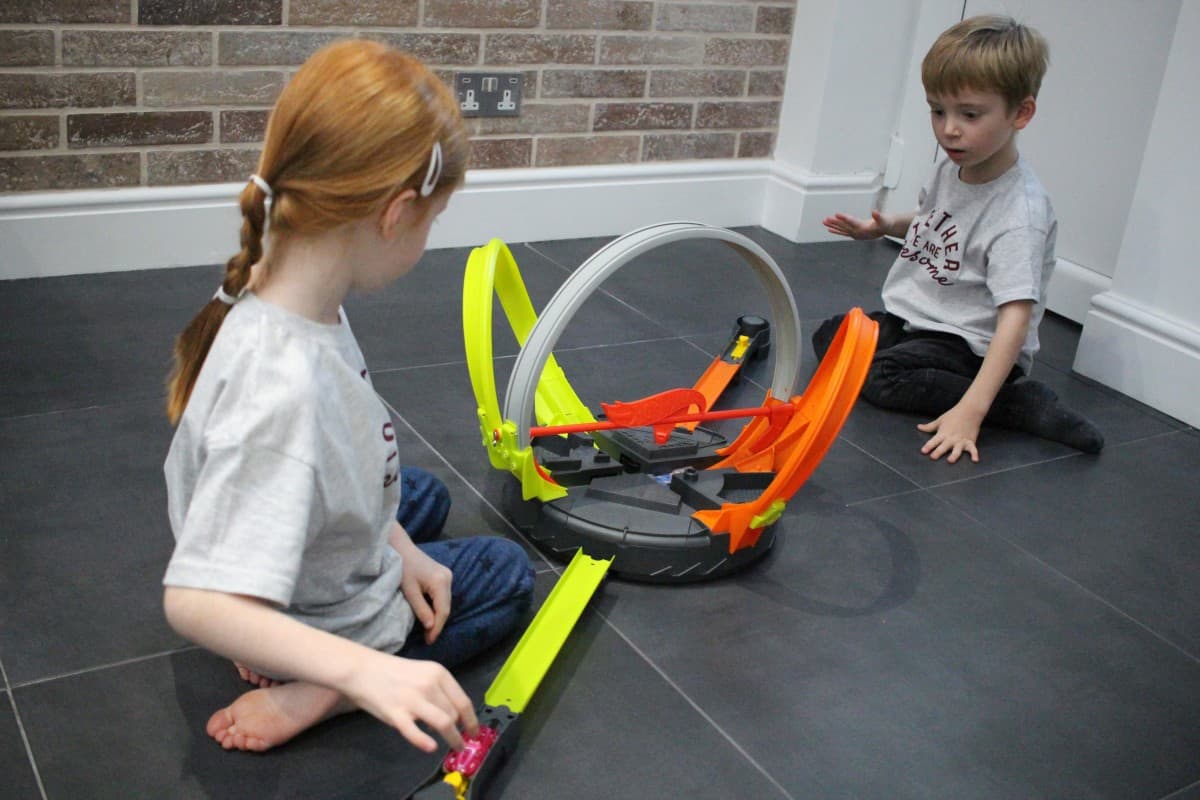 The Hot Wheels Roto Revolution Track Set isn't small – it takes up a lot of space but you can put the launchers onto the base unit as 45 degree angles so that it would sit nicely in a corner and take up less room. It's also really noisy – it makes a constant whirring noise like a vacuum and when the car is spinning around the track it makes a noise almost like a pinball machine.
But, LP and Little Man both love Roto Revolution. They get so excited when their car makes it into the main unit and they get even more excited when it spins so fast around the track.
The Roto Revolution set would be a great investment for any Hot Wheels fan as an addition to a Hot Wheels collection but would also make a great first Hot Wheels toy too.
The Hot Wheels Roto Revolution Track Set has an RRP of £49.99