Disclosure: We were sent the featured products for the purpose of this post however all opinions are my own.
This post contains affiliate links and I may receive commission if you visit a link and buy something. Purchasing via an affiliate link doesn't cost you any extra, and I only recommend products and services I trust.
Little Man has an ever-growing wooden train set collection and regularly spends his afternoons and weekends making a whole world that spans the downstairs of our house. His latest addition to his train set is the Brio Smart Tech Farm which works alongside the Brio Smart Tech Trains that we reviewed a few months ago.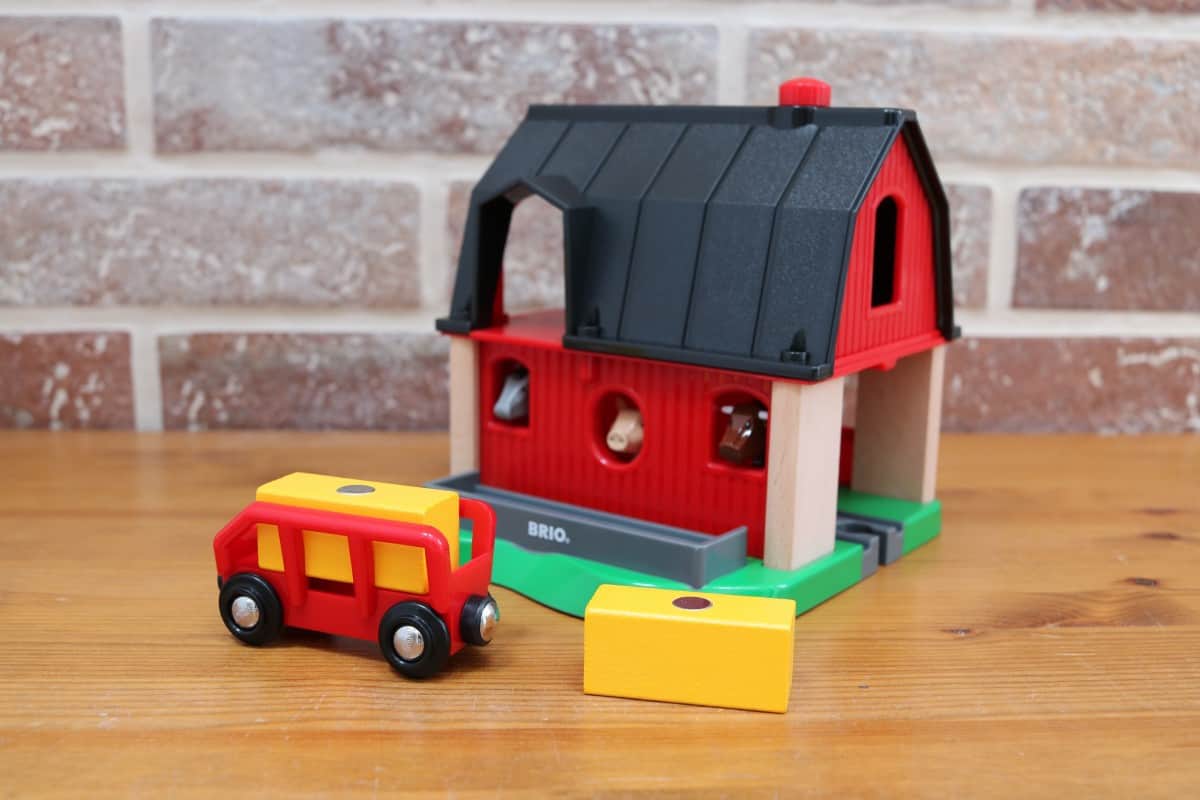 Smart Tech adds a whole new level of game play to any train set. Little Man loves that not only can he build a whole city or even country with Brio World, opening up a vast amount of imaginative play options, but with Smart Tech the train set comes to life like it's never done before. The trains run on batteries and once you have the train there is a whole range of Smart Tech products that work with the train – like the Brio Smart Tech Farm.
The Smart Tech Farm is Little Man's first rural addition to his train collection and he loves how he can move trains seamlessly from city to countryside – and straight past animals too. The Farm features a horse, pig and cow that come to life when a Smart Tech train goes through the farm.
Smart Tech not only lets the train move by itself around the track but also prompts other things to happen as the train moves. In the farm's case it makes the animals move and make realistic noises. Plus, the set comes with two hay bales that the train can hold – and there's even storage space in the roof of the barn to keep hay bales too.
The Smart Tech Farm also has a stop and go dial on the top which signals the train to either pass through the farm or stop at the entrance. When the train stops the farm animals make noises as if they know the train is right there carrying the hay for them to eat.
The Brio Smart Tech Farm is a fantastic toy and a great part of Little Man's train set. It's lovely to bring an element of country life into Little Man's wooden train world and it's the sort of toy that any train fan will love to play with.
The Brio Smart Tech Farm has an RRP of £44.99