Disclosure: We were invited on this break for the purpose of this review however all opinions are my own.
This post contains affiliate links and I may receive commission if you visit a link and buy something. Purchasing via an affiliate link doesn't cost you any extra, and I only recommend products and services I trust.
We were lucky enough to win a week's holiday at Bluestone National Park Resort near Canaston Wood in Wales and it was our first holiday as a family of 4. We were really looking forward to our family self catering break away.
What were our first impressions of the Bluestone National Park Resort?
We arrived just before 5pm in the evening, as the standard check in at Bluestone Wales is 4:30pm – a lot later than other check in times I've experienced. The first thing we noticed about Bluestone at night is that it isn't very well lit – all of the main signs that direct people to things like 'Arrivals' weren't lit and so Dave and I didn't have a clue where we were going!
Eventually we found the Arrivals building and the check in was very straight forward – you just drive up to the arrivals lodge and speak to someone through the window. They then give you a map and your accommodation keys and you drive on to find where you'll be staying.
What was our lodge like at Bluestone National Park Resort?
The roads within Bluestone are all one way and we worked our way around until we found our lodge. After a long journey and with two tired children the accommodation couldn't have been better, it really was a beautiful lodge and the perfect place to spend a week.
The lodge had been built with the bedrooms on the ground floor and the living space upstairs to make the most of the view and so when we walked into the lodge we were greeted by two bedrooms, one double, one twin and both had en suite bath/shower rooms.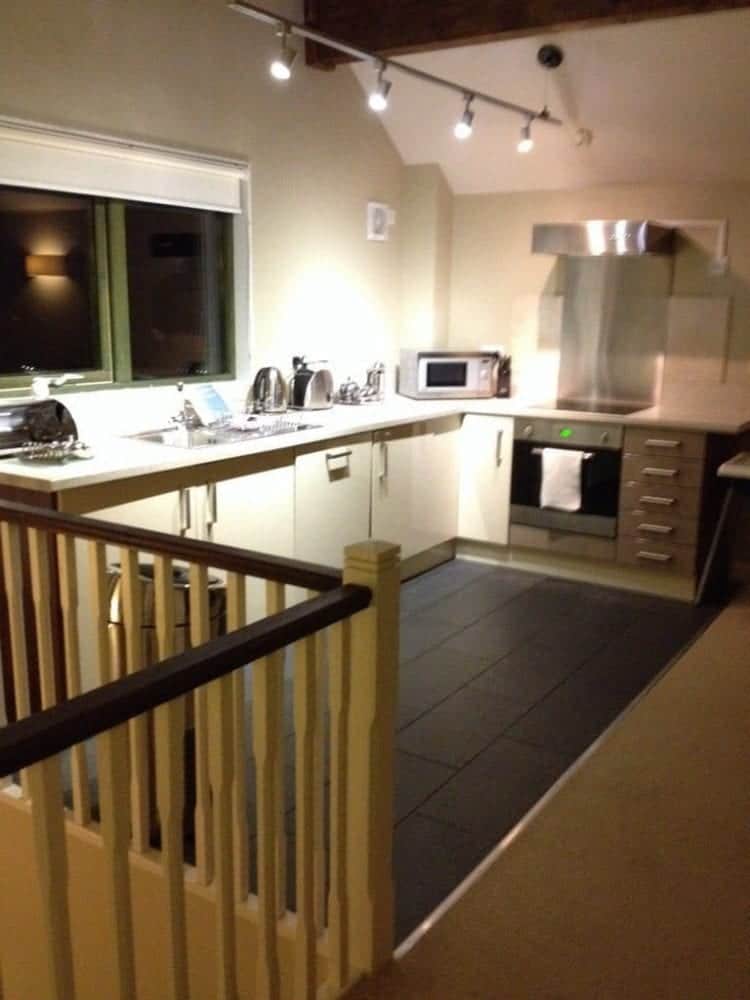 Upstairs was one big open plan living space with a kitchen, dining area and lounge. It was all very modern and well looked after and I really couldn't fault it – especially as they had safety gates on the stairs as standard.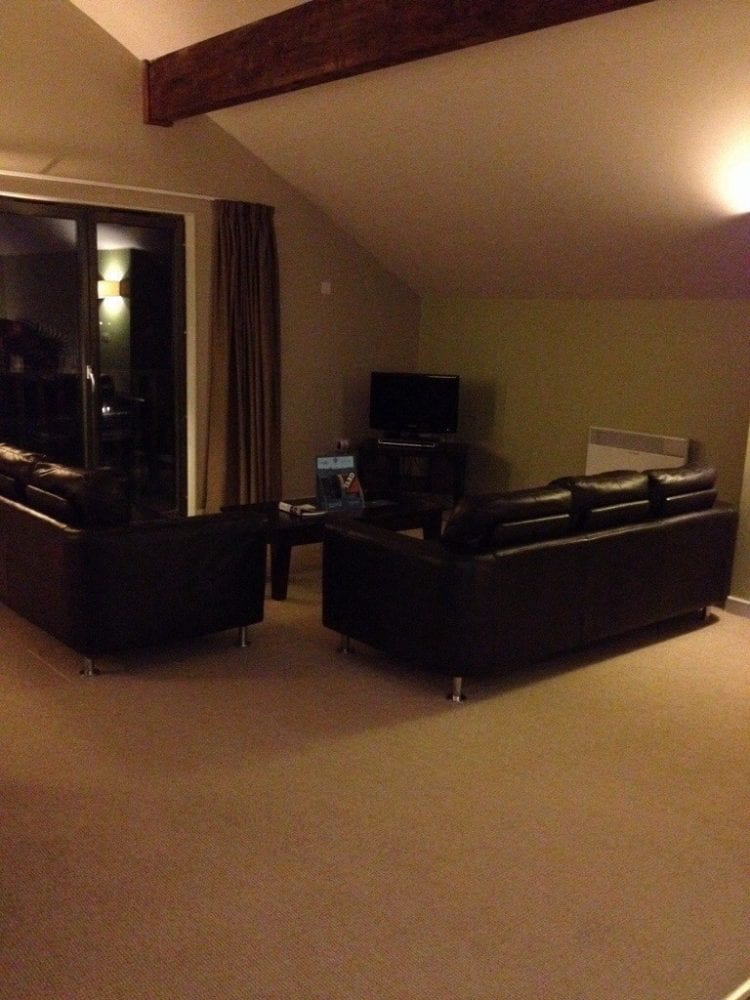 Are cars allowed in Bluestone National Park Resort?
The whole of Bluestone is car free, you have until midnight on the day of arrival to return your car to the car park at Arrivals so the first thing we did was unpack the car and get the kids ready for bed.
Little Man slept in our room in a travel cot that Bluestone provided, although we took a mattress for it as I know when travel cots are provided they usually only come with the standard thin mattress. LP was in the twin room and after a bit of shuffling around of furniture the room was suitable for LP, complete with the bed guard we'd brought from home.
Dave took the car back to the car park and it took him about 10 minutes to walk back – not far at all. This set up of not having a car immediately accessible was somewhat alien to us but it wasn't a bad thing. Bluestone rent out bikes or golf buggies to help you move around the resort more easily, but we decided to make do with the pushchair, baby carrier and walking!
What is there to do at Bluestone National Park Resort?
The first morning at Bluestone began with opening the curtains to the amazing views. Our lodge on Knights Rest was at the top of the resort, in the hilliest part and so we had views down the hills over all the other lodges. It was lovely to be surrounded by countryside. We went swimming every morning that we were at Bluestone and the Blue Lagoon swimming complex really was amazing.
It was far better than any other swimming complex I've been to in the UK. The Blue Lagoon was a buggy free area so we had to leave our pushchair in a designated storage area and made our way to get changed. The changing rooms were split into male, female and family so we could all share a large family changing room which really made getting small children ready a lot easier. Lockers were operated by a pound coin and we found that we needed two to fit everything into, not surprising really with 4 of us!
The swimming pool was great, it was set out like a beach with the water on a gradual incline so that babies and small children could stay in the beach-like shallow end. There were also fountains on the beach part that sprayed water in the air which were a favourite with LP!
There were other areas around the sides – one with actual sand in and another with a lot of showers that looked like burst pipes and a shipwreck. The different zones were great and all added to the theme of the pool. Deckchairs were also available around the edges and you were free to leave towels and things on the chairs for when you were finished swimming.
The swimming complex also had water slides and a lazy river that went not only inside but outside the Blue Lagoon too – quite a shock going out into the cold November air from inside the lovely heated swimming pool!
Little Man didn't like swimming so after the first day I stayed with him in the cafe whilst Dave and LP swam. The cafe was in the corner of the swimming pool area and was over three floors. Sitting in the cafe, by the side of the pool, with the humid temperature and sun shining through the glazed roof it really felt tropical, like taking a break from swimming on an exotic holiday.
It was easy to forget we were in Wales in the middle of November! I had drinks every day from the cafe and one day we stayed for lunch. The prices were pretty average although more expensive than I'd seen on the Bluestone website, the menu was obviously out of date. We had fish and chips and burger and chips and the fish was lovely – although watch out for bones!
Where can you eat at Bluestone National Park Resort?
Whilst staying in Bluewater we didn't get the chance to eat out anywhere else but there was a huge amount of variety on offer, restaurants and cafes everywhere – definitely something for everyone. There was also a take away service that you could telephone and they'd deliver to your lodge – a definite benefit if you didn't feel like cooking!
What is the Bluestone National Park Resort village like?
One of the days we had a wander into the village which is mainly made up of holiday rental cottages and a few shops/restaurants but is lovely to look at – a picturesque village in the centre of the resort. It also has a brand new adventure playground that only opened this year.
If you need anything in Bluestone then the village should have it – Dave forgot his toothbrush and we bought one from the Village Store – there's also a cafe, bakery and Village Central where you can book activities for your holiday – There is so much to do that we would have taken advantage of more of it if our children weren't so young. In the village we also found a post box and even a vending machine that sold milk and cheese! Amazing!
What's the Bluestone National Park Resort Adventure Centre like?
We spent a couple of afternoons in the Adventure Centre which was a great space for kids to play and families to relax. Crazy Golf and soft play all under the arms of a huge adventure playground! LP loved the soft play and ball pool and it was difficult to get her to leave each evening – especially when she found trikes and Little Tikes cars dotted around the room!
My only negative to the Adventure Centre as a whole is that at this time of year Christmas has taken over – the signs to the Adventure Centre have been covered with ones that say 'Kingdom of the Elves' and we spent quite a while wandering around the forest in the rain looking for the Adventure Centre – when we were right next to it and didn't realise.
Also once in the Adventure Centre rooms containing the Lego Room and other sections of play have been taken over with Kingdom of the Elves and so weren't available. Instead lego and computer games machines were put into the main Adventure Centre room and it was all a bit cluttered and slightly disappointing – as the website hasn't been updated with the seasonal differences it wasn't what we were expecting – But LP wasn't fussed, she loved the Adventure Centre and doesn't mind a bit of clutter 🙂
What is Kingdom of the Elves?
We were given complimentary tickets to the Kingdom of the Elves and I have been in two minds as to whether to blog about it or not. As I've already said, the whole of Bluestone at this time of year is focused on Kingdom of the Elves and everything 'Christmas'.
If you go to Bluestone at this time of year and have children then by the end of your holiday your children will have come into contact with some sort of promotion for the Kingdom of the Elves – be it the whole entrance to the Adventure Centre taken over with Elves and Christmas related souvenirs or the brochures left in the lodge for your arrival. We unfortunately missed the Kingdom of the Elves booking that had been made for us as we hadn't received notification of it, but the staff made us a new booking for the following day.
We turned up to the Kingdom of the Elves and were in a group of around 8 children and 12 adults and were greeted by Pretty Perfect, the first Elf of many. She was lovely, giving all the children an Elf uniform to wear and painting everyone's cheeks red although LP point blank refused on both counts! We then went from one room to the next, meeting Elves and gaining badges for the children's uniform as they learnt how to invent new toys and wrap new presents. There were 5 rooms in total and the whole experience took around 2 hours.
As these tickets were complimentary it was a nice way to spend an afternoon – although LP was not bothered by it at all. LP is 27 months old and hadn't the foggiest idea what was going on. This is the part I didn't know whether to blog about or not… We didn't pay for the tickets. If we had, they would have been £15 per ticket for anyone over 18 months old – including the accompanying adults.
So for Dave, LP and I to have our two hour experience it would have cost £45 – which is A LOT of money. I think that realistically any child under 3 (at the bare minimum) is not going to understand what is going on or really appreciate the Kingdom of the Elves. If LP were 3 and we were taking her to the Kingdom of the Elves, to then have to pay £15 each for Dave and I to accompany her when we get much less from the experience than she does is a bit deflating.
If the experience was aimed at ages 3 and over and you paid £15 purely for the child then I think the Kingdom of the Elves would be great value for money and something that children would definitely enjoy – the majority of the other children loved the Kingdom of the Elves experience and for them, as they were older, it was well worth the £15 fee.
Add to this the fact that the prices aren't available easily online – until you book your holiday and are displayed nowhere in the resort or in any of the information given to you throughout your stay. How do you then feel when your children want to go to the Kingdom of the Elves, because they've seen it everywhere, so you go in to the desk surrounded by elves to make the booking, where there are no prices displayed, to find that it will cost £60 for a family of 4? You either end up with an empty wallet or disappointed children. Plus, you didn't actually get to meet Santa either…
After the Kingdom of the Elves we had a wander through to the Winter Fair that we'd read about in the resort programme when we arrived at the lodge. We were expecting a buzz of rides, excitement, festive spirit and winter treats. Instead we found a white plastic marquee with a carousel, a couple of stalls and no visitors let alone festive atmosphere and fun. Unfortunately it had been promoted by the programme and posters around the resort to be a lot more than what it was.
Were there any negatives to Bluestone National Park Resort?
Aside from this the whole resort was lovely, perfectly landscaped, well maintained and everything was easily accessible. The downside for us was that we'd visited in winter and at a time when the festive promotions had overshadowed the true beauty of Bluestone.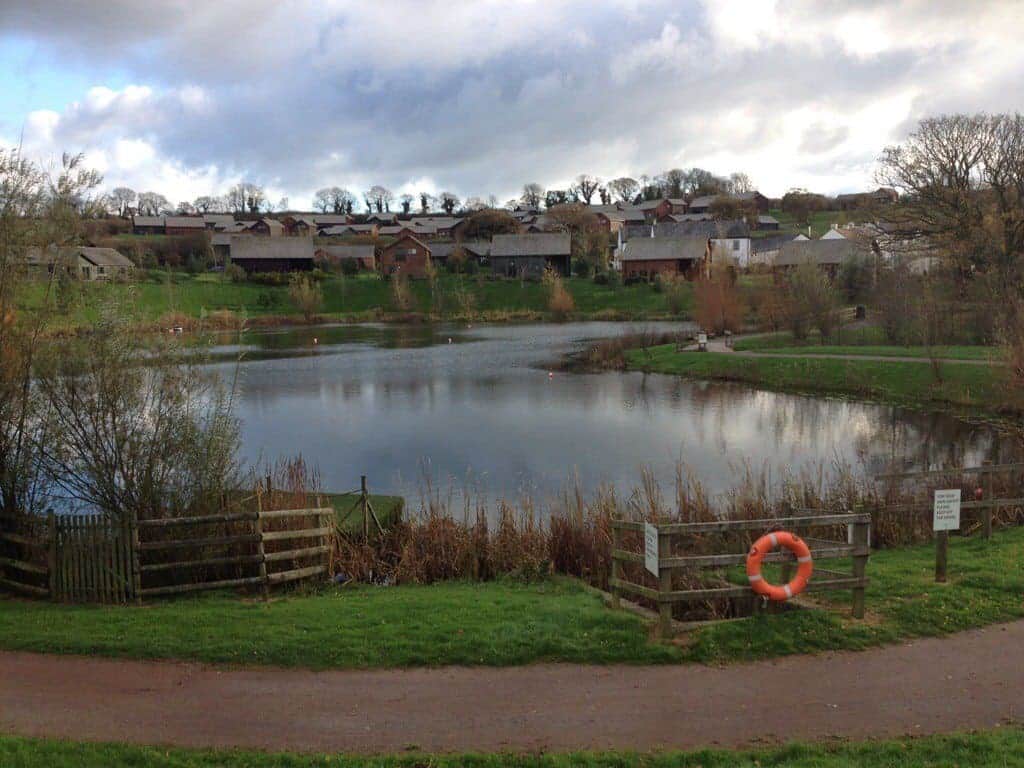 The main downside to us was the weather though, something that Bluestone cannot help – walking outdoors with a baby in a carrier and toddler in the pushchair whilst it was hail stoning and raining with strong winds wasn't the most pleasant of experiences but it's to be expected for this time of year in Wales. I would love to return to Bluestone in the Spring/Summer when the children are a little bit older – so that we can all swim, make the most of the activities on offer and maybe even stay out a bit later in the evenings.
Bluestone was lovely and I would definitely return. Thanks again to Bluestone for giving us this break!