Disclosure: We were sent the featured products for the purpose of this post however all opinions are my own.
This post contains affiliate links and I may receive commission if you visit a link and buy something. Purchasing via an affiliate link doesn't cost you any extra, and I only recommend products and services I trust.
We are now at the point where Little Man sleeps from going to bed at 7:30pm all the way through until 7:30am with only one feed at about 5am. This is something I haven't written about because I didn't want to jinx it! On occasions though Little Man will wake up at other times when he rolls over and crashes into the side of the cot – He wakes crying, we wake suddenly and it takes ages to get him back to sleep.
What is the Airwrap Deluxe?
Babydino sent us an Airwrap Deluxe cot bumper to review and I hoped this would fix the problem of him banging into the side of the cot at night and generally make his cot more comfortable for him. With the Airwrap Deluxe, Airwrap have created a natural and breathable cot environment with a quilted appearance.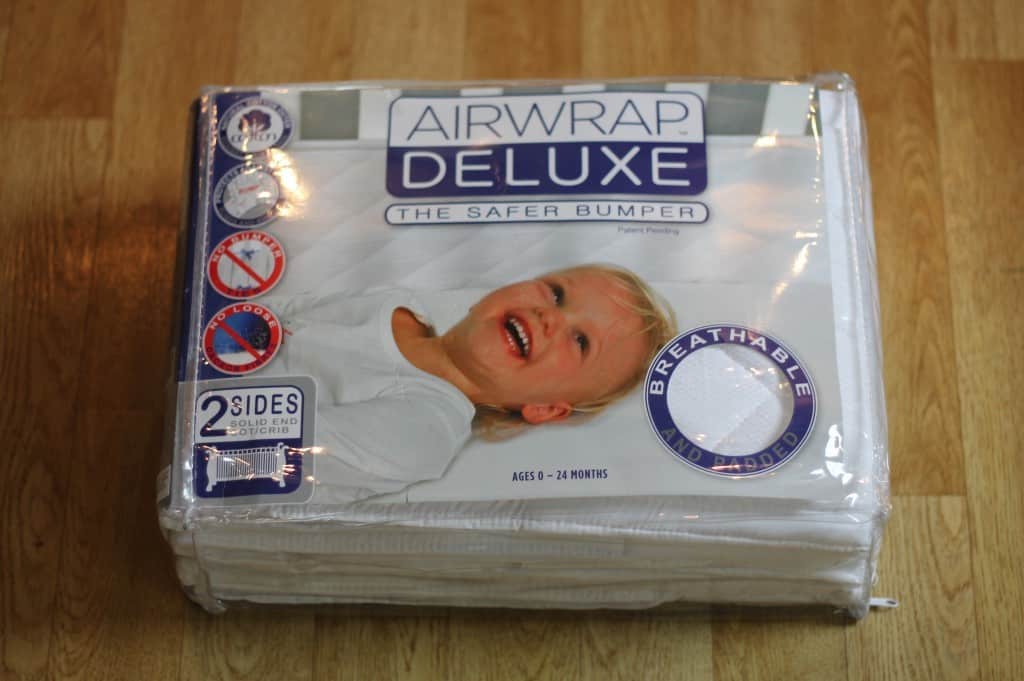 How do you use the Airwrap Deluxe?
The Airwrap Deluxe comes in either two sided or 4 sided cot bumper options depending on whether you have cot bars on all four sides of the cot or just two – Like us. We have never used a cot bumper before – We bought one when we were pregnant with LP – Not realising that it's not recommended using bumpers until 12 months – Airwrap Deluxe though is from birth to two years, completely breathable and with no ties to keep it in place so a lot safer to use than 'normal' cot bumpers. It also goes lower than the top of the mattress to make a snug edge to the cot.
The Airwrap mesh was easy to put in place, wrapping around the first and last bars on each side and staying in place securely using grip tape. It literally took a couple of minutes to do and looked great on the cot, instantly creating a cosy sleeping environment.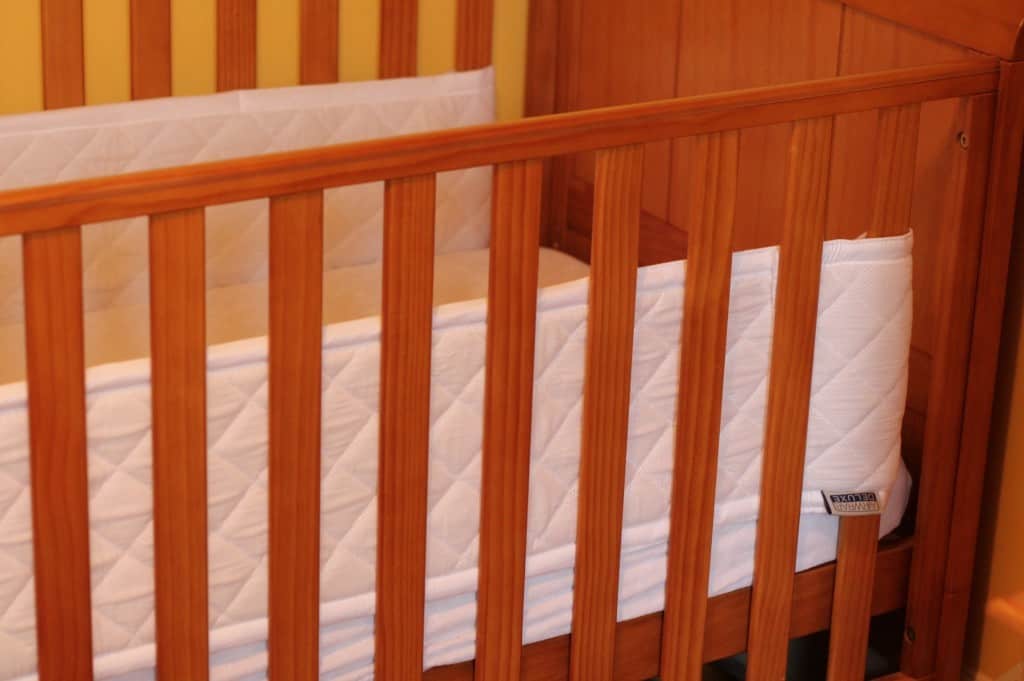 Does the Airwrap Deluxe help a baby sleep better?
Since having the Airwrap Deluxe Little Man has slept incredibly well – No more banging against the side of the cot or sticking his arms between the bars. It's great having him sleeping so much better and also lovely to have the reassurance that the Airwrap Deluxe allows maximum airflow and reduces overheating.
Little Man often stands up in his cot in the morning when we go to get him and the Airwrap Deluxe flattens when he stands on it – There isn't any risk of him using it as leverage to climb out of the cot. This is a great feature and it doesn't take much to smooth it back out when he's stood on it – It doesn't happen that often.
One thing about the Airwrap Deluxe that has surprised me is that Little Man self settles a lot better with it. When he's laying in the cot and I walk away, he can't see me go because the Airwrap Deluxe blocks his view. Most times now he doesn't get upset when I leave the room and stays laying happily in his cot.
Little Man seems perfectly happy with the Airwrap Deluxe on his cot and sleeps better with it to. There isn't much else I could ask for!
AirWrap Deluxe has an RRP of £39.99