*This is a paid post
Have you ever had your carpets cleaned? Until last week I hadn't – I hadn't even thought about it. The closest we'd ever got was hiring a carpet cleaner to do a patch of a carpet when we'd spilled something but we had never had a whole area cleaned professionally. When Carpet Bright UK got in touch to introduce us to their carpet cleaning services I wondered why we hadn't done it sooner!
Why should you have your carpets cleaned?
I didn't realise until I started researching online but getting your carpets cleaned really increases the lifespan of the carpet, making sure that dirt, dust mites and other particles don't damage your carpet and make it wear quicker than it really should. Carpet cleaning also restores a carpet to looking how it did when it was first fitted – brighter and fresher than you'll ever remember it looking. Carpet cleaning is really essential maintenance to make sure you get the best from the carpets in your home especially as carpets are often one of the most expensive purchases you make.
Who are Carpet Bright UK?
Carpet Bright UK are an award-winning carpet cleaning company covering pretty much the whole of the South East of England. They've been voted the top carpet cleaners in Surrey, Kent and London by their customer and 98% of customers would recommend them. I easily booked an appointment with them as soon as the children were back to school after the summer and I couldn't wait to have our carpets cleaned.
What can Carpet Bright UK clean?
Since having our extension done we've replaced all of the bedroom carpets so I didn't feel they needed to be cleaned just yet. However, Carpet Bright UK are able to clean as much carpet as possible in each room with minimal disruption to a home. They just ask for any loose items to be picked up off the floor and sides and they will clean any available carpet and move furniture where possible to clean the carpet under furniture too.
I asked Carpet Bright UK to clean our stairs, landing and upstairs hallway carpet as I know it's such a high traffic area and one that often gets forgotten about. As well as fitted carpets, Carpet Bright UK are able to clean rugs, upholstery, curtains and mattresses – with all technicians fully certified in carpet, upholstery and fabric cleaning. This means you can give pretty much your whole home a refresh with Carpet Bright UK.
Our first impressions of Carpet Bright UK
I was contacted by Andy from Carpet Bright UK on the morning of our clean letting me know that he was available to start a little sooner if it was convenient. This wasn't a problem and I soon had a happy, smiling carpet cleaning technician on the doorstep. It was actually so nice to have someone turn up at the door that obviously loved their job. He was in Carpet Bright UK uniform and came in a Carpet Bright UK van which I really liked – having clear branding not only makes a business more professional but also adds a level of trust too.
The Carpet Bright UK cleaning process
Andy explained the carpet cleaning process to me and got straight into setting up the carpet cleaning machine. I was impressed to hear that Carpet Bright UK's machines remove up to 98% of dirt, bacteria and water used in the cleaning process – especially as the portable machines we've used previously left the carpet quite wet for such a long time afterwards.
Carpet Bright UK use a ten step cleaning process which removes even the toughest and dirtiest stains. Andy cleaned our carpets using Carpet Bright UK's powerful dual suction system. The main machine sat happily outside our front door whilst it's hoses could reach to the furthest point of our home. Carpet Bright UK can clean properties up to the fifth storey and all their costs include stain removal and deodorisation. Thankfully we didn't have any stains on our carpets but the deodorisation left a really fresh feeling throughout our hallway.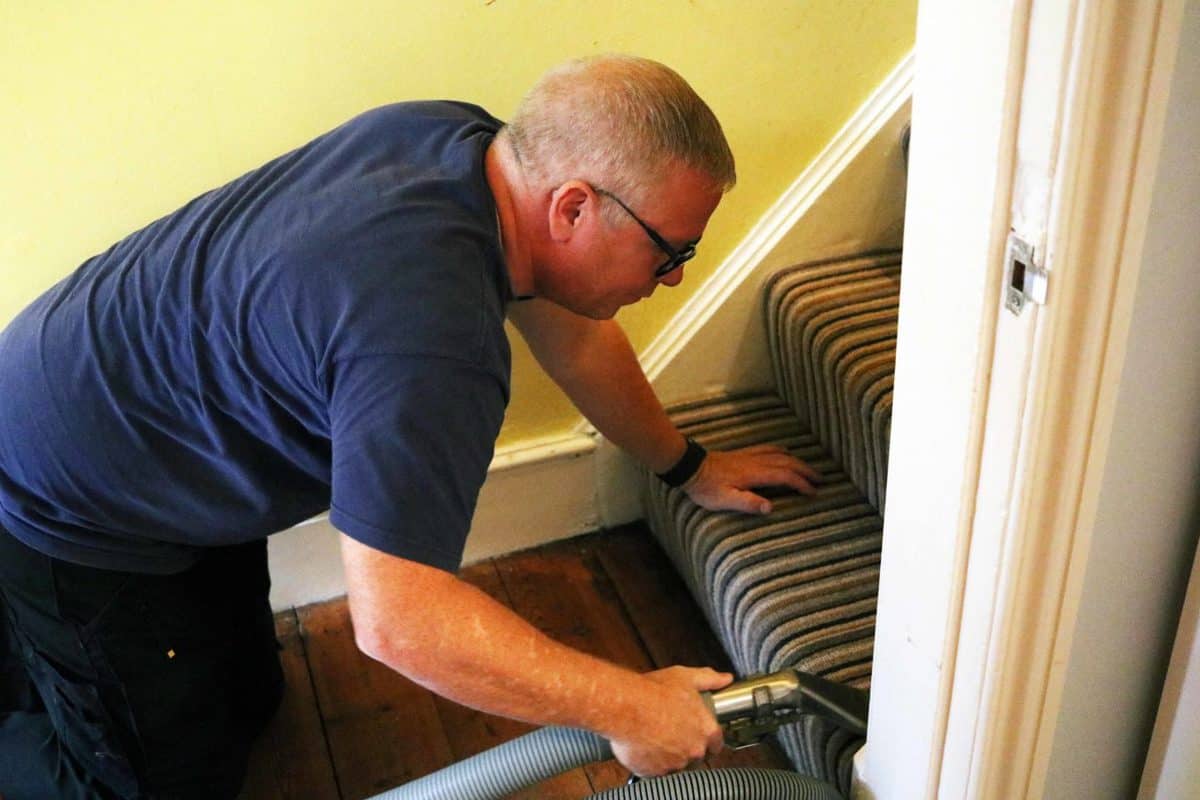 It took less than an hour to clean our stairs, landing and hallway carpet and Andy made sure I knew the job would take as long as it took to clean the carpets – doing a great job and making sure customers are satisfied is at the heart of everything Carpet Bright UK do.
When Andy had finished cleaning the carpets he took everything away with him and left the house just as he had found it – but with carpets that felt like new. The carpets only took a couple of hours to dry once the job had been completed thanks to how much water is removed in the cleaning process.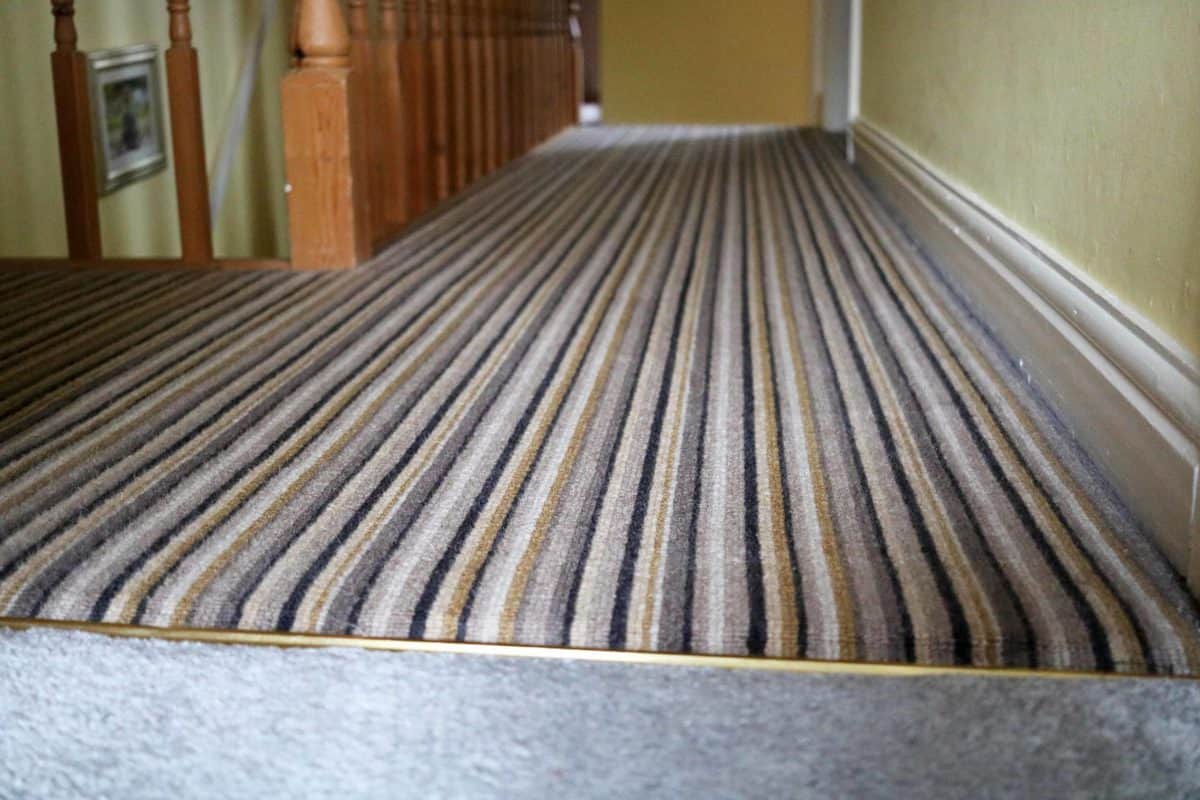 What were our overall thoughts of using Carpet Bright UK?
I cannot fault the Carpet Bright UK service. It was easy to book and we had minimal disruption from the service – I could even get on with my work whilst Andy cleaned the carpets as the machine was no noisier than a vacuum cleaner.
I know that we'll now be getting our carpets cleaned regularly as I want to make sure our bedroom carpets especially last the test of time and I know that Carpet Bright UK can help with that. If we hadn't just bought a new sofa we'd be enlisting their services to give it a new lease of life too I'm sure.
I have teamed up with Carpet Bright UK to give away a carpet clean to one lucky reader in the Carpet Bright UK area. To find out more and enter pop over to Instagram – good luck!
You can see if Carpet Bright UK cover your area and find out more about their services here. Make sure you quote What the Redhead said in order to get FREE stain protection when you book!
Watch a little video of our experience below: