Disclosure: We were sent the featured products for the purpose of this post however all opinions are my own.
Here are a few food and drink products we've been enjoying this month:
Bahlsen Choco Leibniz
Bahlsen's Choco Leibniz are our favourite biscuits. Hubby and I often buy them as a treat with our weekly shop – him choosing the milk chocolate ones and going for the dark chocolate ones myself. But Bahlsen sent us a few of their other Choco Leibniz varieties and it was great to try the orange, white chocolate and caramel flavours.
All Choco Leibniz biscuits contain nine biscuits, each one a good size biscuit coated in really thick chocolate. They are lovely to enjoy any time of the day but Hubby and I enjoy them especially in the evening, accompanied by a cup of tea.
Bahlsen Pick Up
Bahlsen Pick Up are a really great individually wrapped biscuit perfect for any time of the day. The biscuits are a great size and we've loved putting them in lunch boxes, taking them on days out and just enjoying them at home.
Bahlsen Pick Up are made of two biscuits with a thick layer of chocolate between them making a really lovely sandwich biscuit – with the perfect crunch.
The biscuits come in a range of flavours – dark chocolate, caramel, white chocolate and milk chocolate and we really enjoyed them all. Even the children loved Pick Up biscuits and asked for them every time we had a picnic.
Tilda Kids
I love Tilda Rice and was recently sent the new Tilda Kids range to try out. The packs of Tilda Kids rice especially created for children and microwave in just 45 seconds, making them a really quite and nutritionally balanced meal.
The Tilda Kids range has a great variety of flavours from vegetable to mild curry so that there's a flavour to suit every child. They're perfect to have as part of a meal or can be used as an ingredient within a meal. I used the Cheese and Tomato Rice pouch in the Tilda recipe for Beans Means Boats – although we had tacos instead of boats and the children absolutely loved it!
Claudi & Fin Frozen Yogurt Lollies
We picked up the Claudi & Fin range of Frozen Yogurt Lollies in our local supermarket and loved how there were both full size and the brand new mini versions available. They come in strawberry, mango and peach and apricot flavours and are perfect for the whole family.
The Mini Frozen Yogurt lollies are under 40 calories, perfect for children or a little treat for adults too and the box contains all three lovely flavours. The children have loved having them after school or just when they've been playing in the garden and they've found them a great snack, a great way to keep hydrated and a treat too.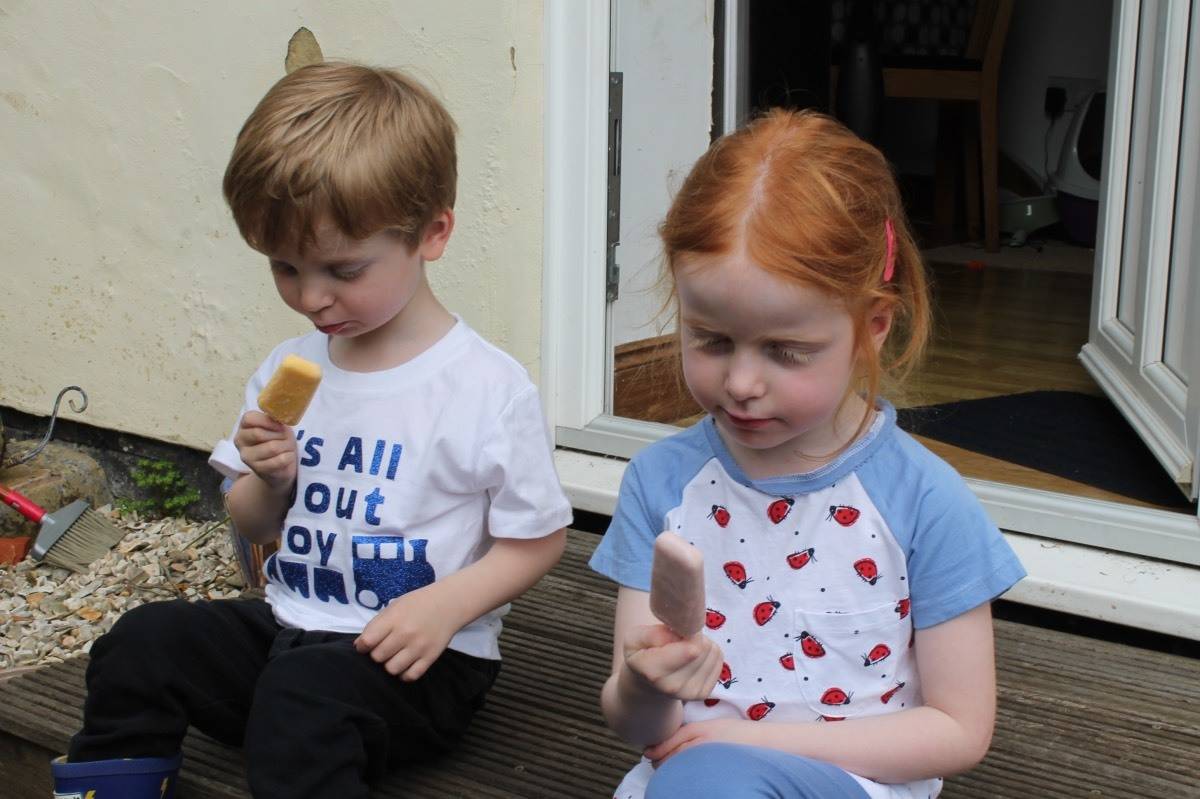 Costcutter Independent Ice Cream Tubs
The children love ice cream and so they've been really excited by having Independent Ice Cream Tubs from Costcutter in the freezer. The children love the Strawberries and Cream flavour which is made up of strawberry ice cream, a creamy ice cream, strawberry sauce and sprinkles. It's like a whole sundae in a tub!
The Double Chococlate Ice Cream is really thick chocolate ice cream with chocolate sauce and sprinkles. This is my favourite although it's far too easy to eat – I would happily eat the whole tub in one sitting!
Costcutter Independent Ice Cream Lollies Range
We've also been trying the Independent Strawberry and Vanilla Cones which are a bargain at 4 for £1. They are a really good size, completely full of ice cream and the cone is lined with chocolate too. They are the perfect summer treat.
The Independent Milk Chocolate Ice Creams are also a really good size with lovely thick vanilla ice cream encased in thick milk chocolate. These are one of my favourite ice creams and they didn't disappoint. Perfect for a hot day in the garden.
Dr. Oetker Ristorante Large Pizza Salame Arrabiata
We love pizzas in our house and LP especially loves really meaty ones so we just had to try the new Dr. Oetker Ristorante Large Pizza Salame Arrabiata. The pizza is bigger than the usual Dr. Oetker pizzas and is topped with pepperoni, salami, peppers, red onion and cheese and a spicy Arrabiata sauce.
As a family we really enjoyed this pizza. The base was lovely and thin but really crispy and the flavours worked well together. The sauce wasn't too spicy and just had a nice kick to it, something the children were even happy eating. It's definitely something we would buy again.
Disclosure: We were sent the featured products for the purpose of this post however all opinions are my own.