Disclosure: We were sent the featured products for the purpose of this post however all opinions are my own.
Now that spring has well and truly sprung – although the weather may think differently – we are spending as much time as we can in the garden. The children love being outside and days in the garden are some of our favourites – we have picnics for lunch, barbecues for dinner and so much playing in between.
To ease us back into time outside Argos gave us some of their great Chad Valley range of outdoor toys to review and the children couldn't have been more excited – they love toys but they really love outdoor toys.
Little Man instantly loved the Bubble Lawn Mower. We have bubble machines and we have a toy lawn mower but a lawn mower that blows bubbles as you mow the lawn – genius! He was literally bouncing up and down whilst I put the three pieces together, put in 3AA batteries and added the bubble mixture.
The Bubble Lawn Mower gives hours and hours of entertainment to both the children. They can easily turn it on and off by themselves and when they've pushed it around enough they spend time chasing the bubbles instead. It's definitely going to be one of their favourite outside toys this summer.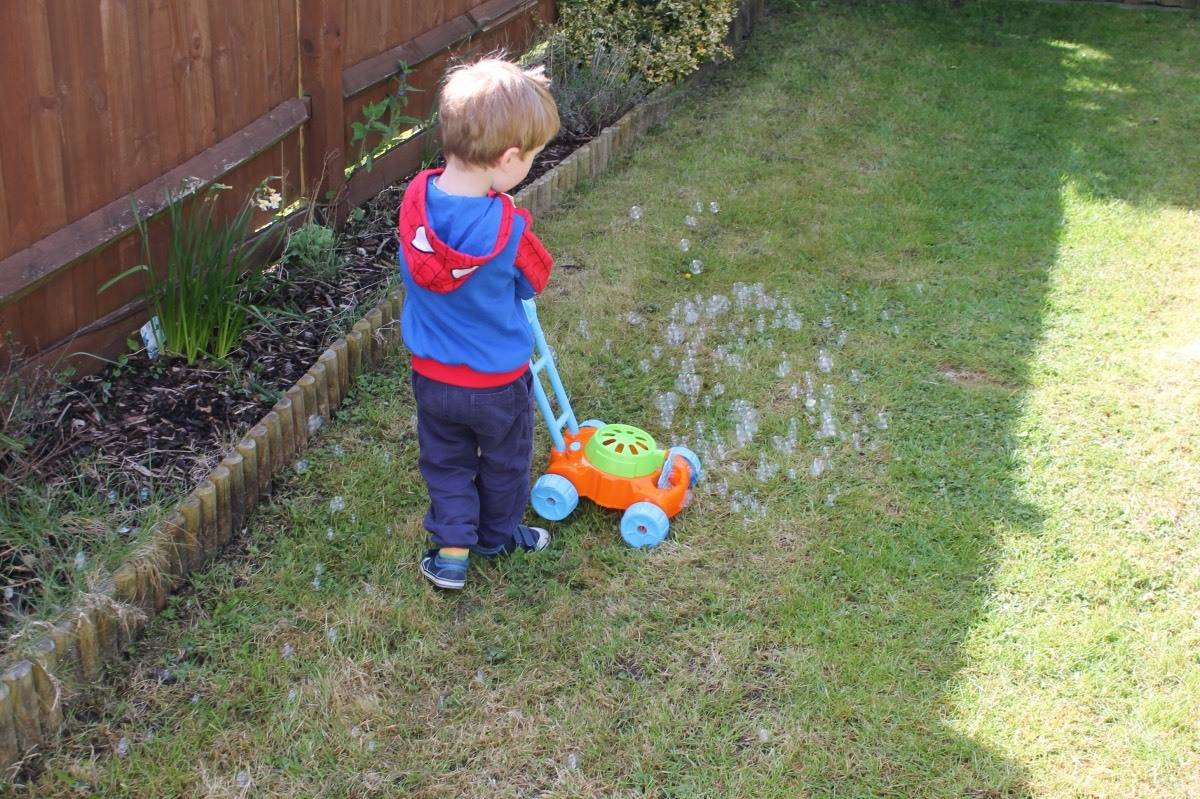 We also had the Chad Valley Wheel Barrow which was full of so many things for the children to use around the garden – hand tools, a watering can and even a bucket and flower pot. The wheel barrow needed a couple of pieces attaching to it and then it was good to go.
The wheel barrow set would be a great investment for any size garden but would also be perfect for playing in sand too – or taking for a day at the beach. The children love to fill the wheelbarrow up, use it to help them plant seeds and then, when they're done, pack it all back up again.
The last product we have been trying out is the Chad Valley Crazy Golf Set. This is a great game that can be set up in no time at all and has really introduced the children to turn based games in the garden.
The crazy golf comes with four balls and a range of different doors to get the balls through as well as obstacles and two clubs. LP and Little Man both love setting up the crazy golf as much as playing it and the game is great for improving their hand eye coordination too.
We are all set for summer now as far as garden toys are concerned. The children love having new things to play with but I know that they will be things that are played with constantly over the coming months.
Argos have such a great range of toys for the garden and the Chad Valley range has so many offers on too – The wheel barrow and lawn mower are currently on 2 for £15 – bargain!
Disclosure: We were sent the featured products for the purpose of this post however all opinions are my own.