Disclosure: We were sent the featured products for the purpose of this post however all opinions are my own.
This post contains affiliate links and I may receive commission if you visit a link and buy something. Purchasing via an affiliate link doesn't cost you any extra, and I only recommend products and services I trust.
Over the last few weeks the children have been playing a new Orchard Toys game with me – Money Match Cafe. We love Orchard Toys as whatever game we play I know there will be an educational element and that as well as being fun the children will take something away from the game – usually without even realising it.
Money Match Cafe helps children to learn the values of different coins, the prices of different things and which coins add up to which amounts. I immediately spotted that in Money Match Cafe there are two sets of playing pieces – red or green – for easier or harder game play. We started off with the green easier level but it's great to know that as the children learn more we will be able to move on to the more difficult red level.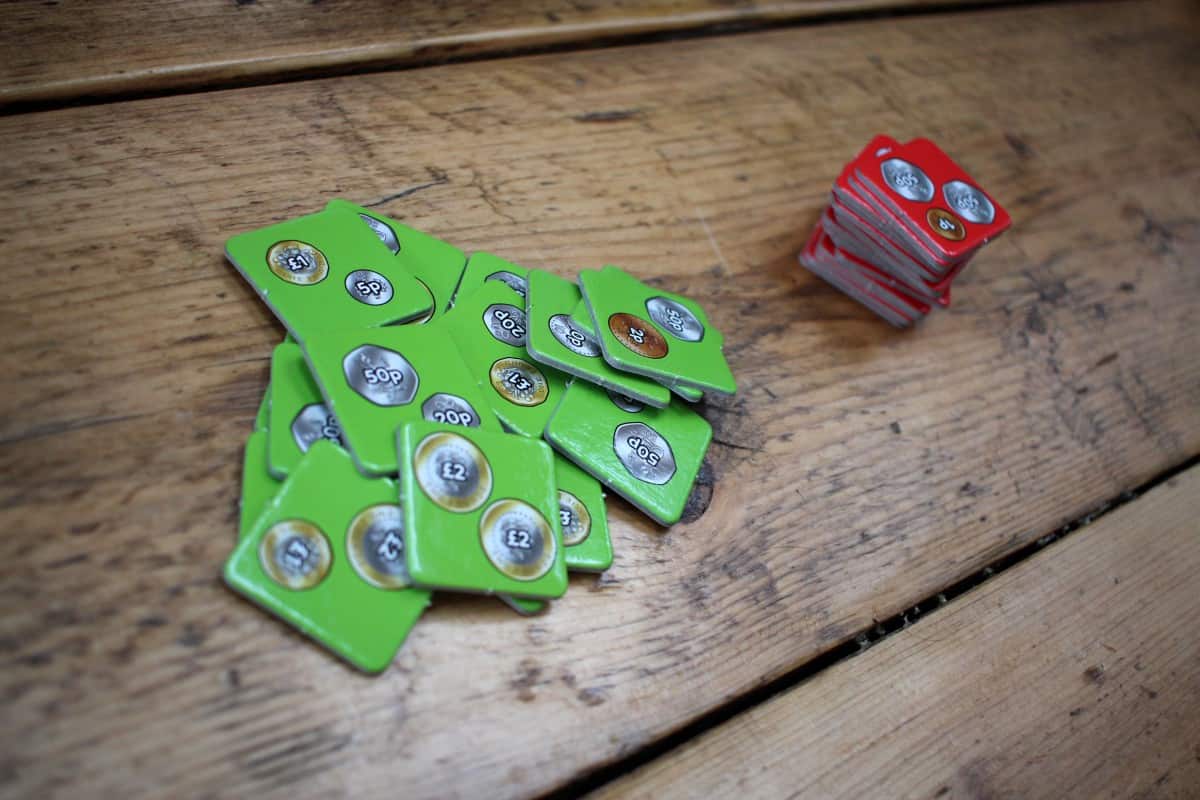 To start playing Money Match Cafe you set up tables – with cuddly toys as guests at the cafe. The aim of the game is to then serve guests their food and drink orders by placing the dish on your tray and taking it over to them. But, you can only serve them their food if you pick up a piece with coins adding up to the cost of the food.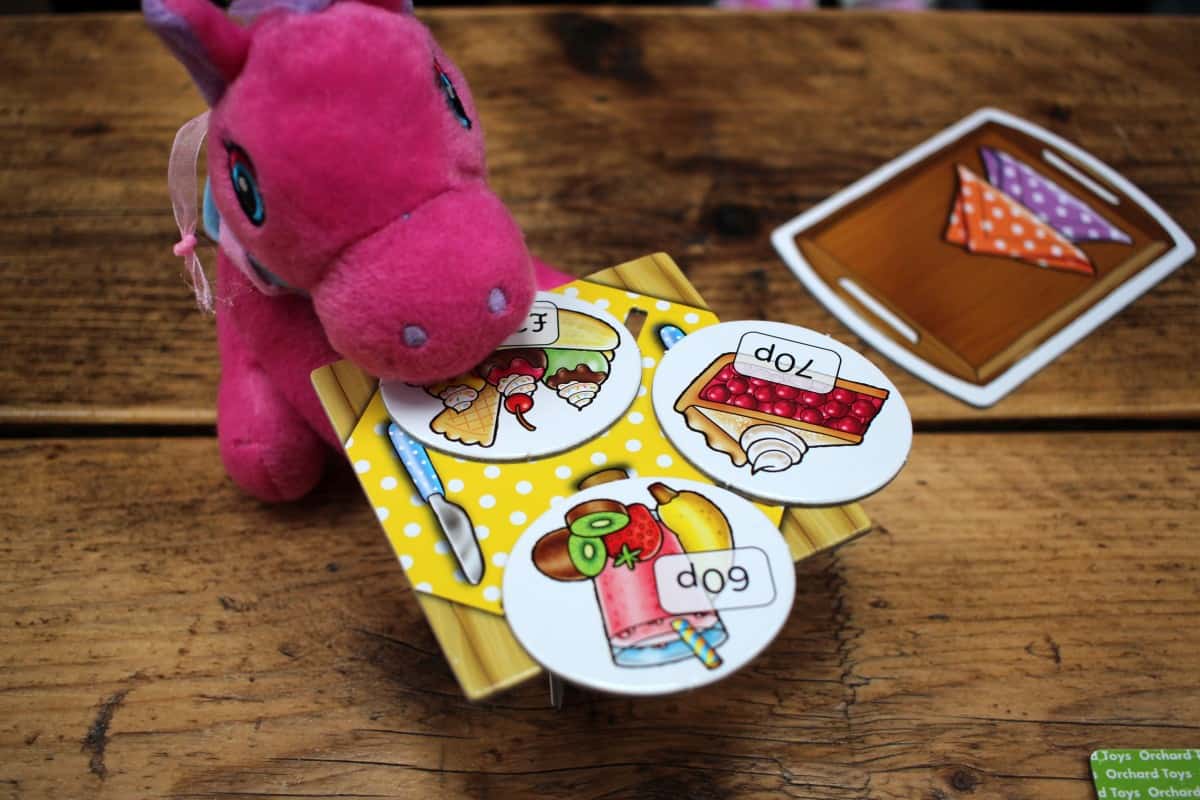 Players take it in turns to pick up a card with coins on from the middle of the table. If the coins add up to one of the meals they have in front of them then they can spin a spinner to see which table they should serve it to. The first player to get rid of all their meals wins.
The children took their time playing the game – as they will until the coins and maths get familiar to them. They added up their coins and then looked for the corresponding numbers on the plates in front of them and it was great to see their minds working as they tried their best with the addition and reading involved.
Money Match Cafe kept the children's attention throughout and they really enjoyed playing the game. I think having their cuddly toys around them really helped keep them engaged and added a new level of excitement that they haven't had with other games before.
I know that Orchard Toys Money Match Cafe will help them to learn more about money and the more we play it the easier it will get for them to recognise different coins and what different sets of coins add up to.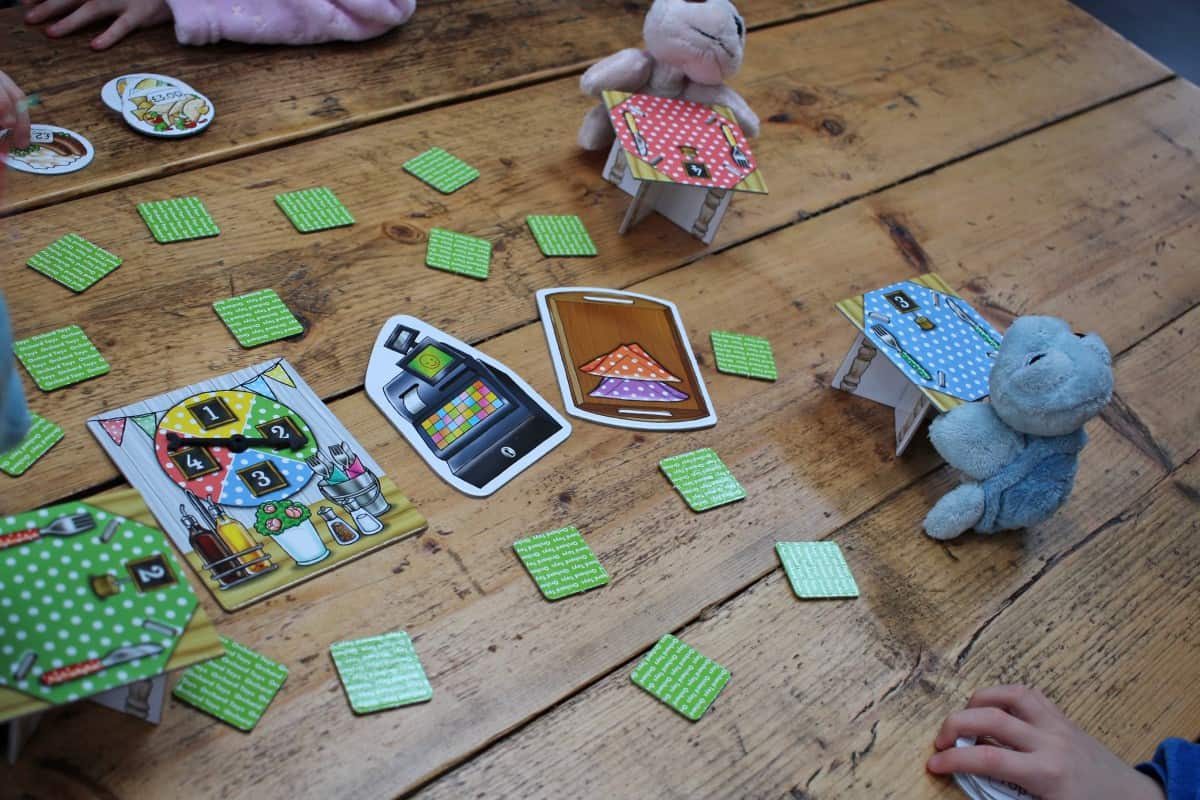 Money Match Cafe is another great learning game from Orchard Toys that I know we'll be playing for years. It's well made, fun, colourful and the children absolutely love it.
Money Match Cafe has an RRP of £12.50